In a more-than-ever electronically connected world, sound digital infrastructure is of particular relevance as it provides a framework linking physical and virtual technologies in an effort to transform the digital environment through the greater use of digital channels by the government, individuals, and companies. Access to reliable and affordable internet and mobile connectivity is key to unlocking equitable growth opportunities. For example, the provision of online services by the government can result in time and money savings by eliminating multiple trips by companies and individuals to complete standard transactions. The automation of such services can also result in faster resolution and in increasing levels of transparency.
Barbados boasts high-quality infrastructure; however, the infrastructure stock is becoming outdated. The decline in the quality of capital stock is exacerbated by the country's increasing vulnerability to climate change and natural disasters and the narrowing fiscal space for investments, resulting in a negative impact on development.
Digital Infrastructure Gap
Barbados is making good progress in its digital transformation of public sector administration and in improving service quality. The reforms were strengthened by the Barbados Economic Reform Transformation plan under the IMF's Extended Fund Facility, introduced in October 2018 and further prioritized given the COVID-19 shock. Overall, Barbados is taking steps to digitally transform its economy, including an investment of US$40 million that was secured from the Inter-American Development Bank (IDB) to bridge the digital gap, equivalent to 0.8% of GDP.
This IDB-supported Public Sector Modernization Program aims to achieve (1) greater use of digital channels by individuals and companies to access public services; (2) greater efficiency in public sector administration; and (3) strengthened public sector skills to operate in a digital economy.
The government has brought their digital agenda to the forefront and has begun its digital transformation across several departments and processes as follows: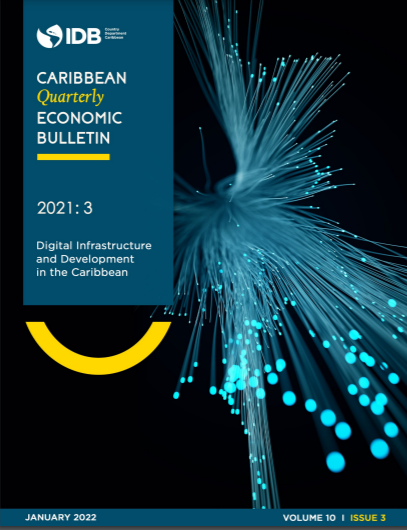 Closing the Gap: Barbados and IDB
The IDB's gap analysis as presented in our January 2022 Economic Bulletin: Digital Infrastructure and Development in the Caribbean highlighted key areas for improvement in digital infrastructure across Latin American and Caribbean countries, which all hold true for Barbados. The biggest gaps exist in:
the telecommunications and digital areas
access to Internet connectivity,
the speed required to improve the telecommunications infrastructure across mobile and broadband platforms, and;
providing digital training for teachers to enhance their educational services skills, given the challenges of the COVID-19 environment.
As developed countries keep investing in digital infrastructure, narrowing and even closing the gap should be a priority to not fall behind. According to IDB estimates, Barbados currently requires an estimated investment of US$10.6 million to close the digital infrastructure gap, equivalent to 0.24% of GDP. The gap for mobile broadband amounts to US$10.3 million, while the gap for fixed broadband is less significant at US$29,000.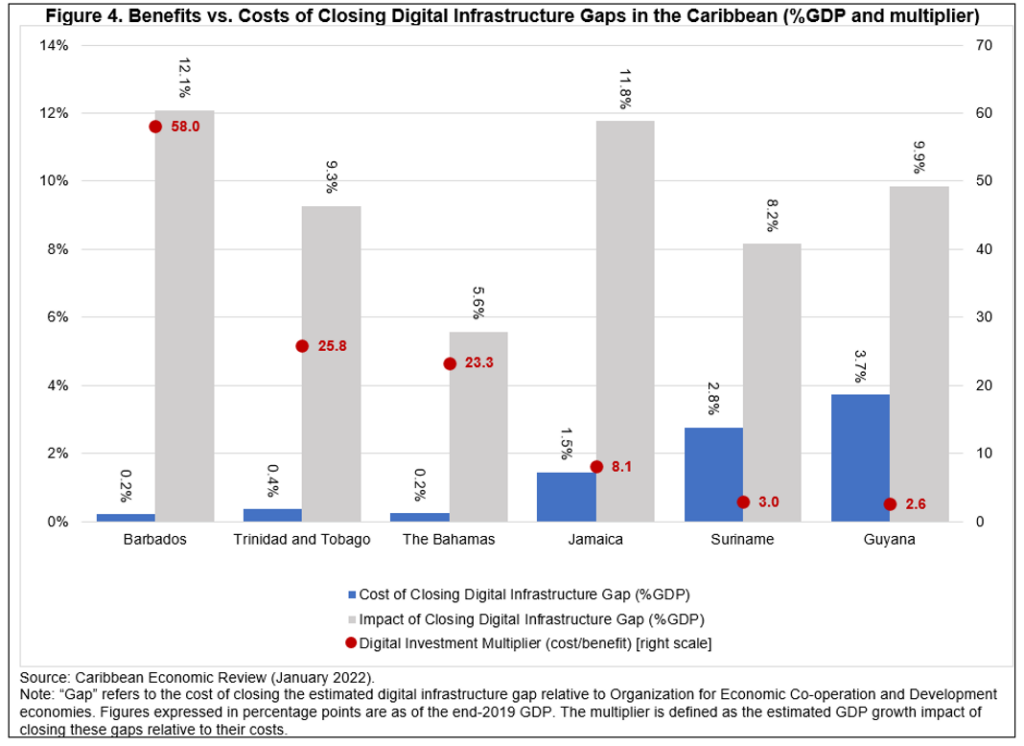 Closing Barbados' digital infrastructure gap would bring estimated benefits of 12.1% of GDP and the creation of approximately 7,456 jobs compared to a cost of 0.2% of GDP. This represents the largest cost vs. benefit gap in the LAC region with a digital investment multiplier of 58. As a result, Barbados' productivity gains can increase by 9.9%, much greater than the Latin American and Caribbean averages of 7.7%. It is a compelling case.
The IDB's Vision 2025 recognizes the digital economy as a priority for investment and is committed to supporting Barbados in accelerating this transformation. After all, equitable access to digital solutions will make an enormous difference in achieving to sustainable and equitable economic growth, creating good-quality jobs and providing a better quality of life to all who call Barbados home.