"We have to guard against anything at all that will hamper the chances of ordinary citizens from being the best that they can be." These words from Barbados Prime Minister Mia Mottley sum up the tone at the opening of the IDB's IX Annual Consultation of Caribbean Governors in Barbados. Prime Minister Mottley opened the meeting along with IDB President Luis Alberto Moreno who also shared a message about harnessing the untapped potential of Caribbean people.
In his address, President Moreno recognized the work of Barbadian computer scientist Alan Emtage, the creator of the world's first search engine. In 1990, Emtage invented a tool called Archie, a program which has been described as the great great grandfather of Google. Using Emtage as an example of Caribbean brilliance he said "think about the region's next great computer scientist. Are we educating her in a way that increases her potential? Are we making it easy for her to get from home to school safely? Are we protecting her from gender-based discrimination and violence? When she comes of age, will it be it easy for her to open a business and protect her intellectual property?"
Caribbean potential and its link to inclusive growth will be in focus as the meeting continues today. The Annual Consultation of Caribbean Governors is an opportunity for 6 Ministers of Finance and Planning from the region and 1 representative from the Caribbean Development Bank to discuss and debate innovative solutions to the development challenges with international thought leaders.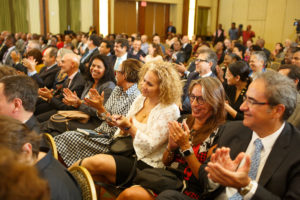 Quality education is one critical sector that will be discussed.  It can be "the great equalizer," but that goal will only be achieved if education is effective in improving labor productivity and hence the earnings prospects of poorer segments of society. Many educational reforms have been implemented around the world, and in the Caribbean, and new experimental techniques have been deployed to measure the results of those reforms.  One popular reform has been to introduce school choice mechanisms, sometimes including charter schools.  There have also been efforts to understand the role of families in ensuring better educational results, as well as other social dimensions of educational performance.
Another session will focus on financial inclusion. Both access to credit and access to payment systems can be critical for small firms to prosper, grow, and create jobs.  The financial systems of the Caribbean have had mixed results in achieving this objective.  International experience can help to put the right policies in place to promote financial inclusion.
In addition, there are traditional economic sectors that can be transformed to secure stronger and more inclusive growth.  Tourism and agriculture continue to be major sectors in Caribbean economies, and there is potential for greater value chain linkages between the two.  Questions to be discussed include: How can these sectors be structured to maximize linkages to other sectors and create more and better job opportunities?  How can the food supply be structured to improve access to nutritious food?
Finally, disaster risks continue to plague the region, and the less advantaged are disproportionately affected by these events.  The meeting will discuss how to improve pre-disaster planning, including the need for modernized construction codes.  By these means, one can protect the future of inclusive growth.
Photos by Himal Reece