COVID-19 has brought the urgent need for regional integration to the forefront of the political discourse. This is particularly important in the Caribbean region, where countries depend on trade. However, between 2000 and 2015, the share of intraregional trade in the Caribbean fell from 13 percent to 10 percent of total trade. Costs, particularly those linked to non-trade barriers (NTBs) are a key factor behind these trends. Could the application of Distributed Ledger Technology (DLT) – such as Blockchain- ease some of these constraints and promote greater intra-regional trade in the Caribbean? Blockchain networks are distributed and decentralized ledgers, where transactions are organized in blocks and registered chronologically in an immutable and tamper-proof way guaranteed by cryptography.
In our latest publication, we analyze this issue and find five key points:
The CARICOM region is one of the most trade-dependent regions in the world, yet non-trade barriers have continued to increase. Exports and imports combined have averaged 100 percent of GDP in Caribbean countries over the past two decades, higher than the volume of trade in large countries and regional blocks such as the United States of America (USA) (27 percent of GDP), or the Euro Area (81 percent of GDP). While tariffs are low intra-regionally, non-tariff bilateral trade costs in CARICOM countries increased from 95.4 percent in 2000 to 128.6 percent in 2015.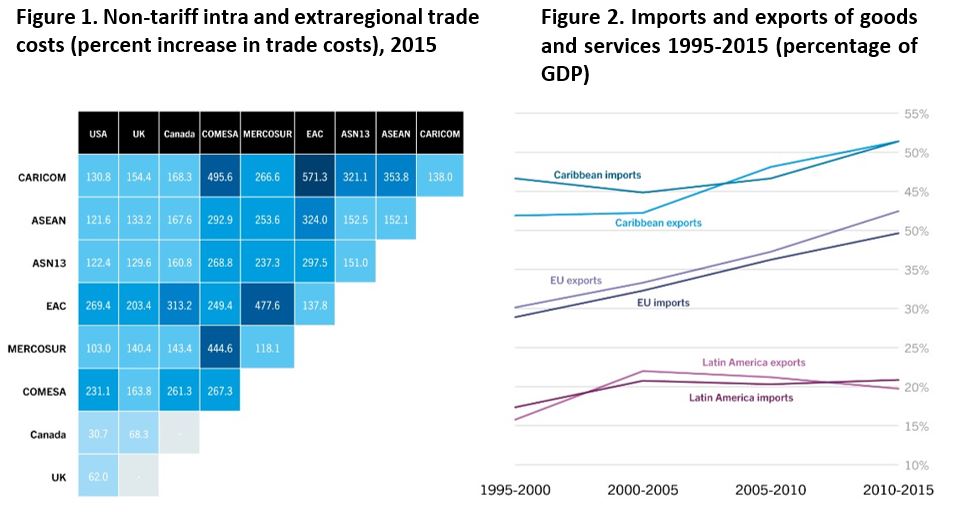 2. Our paper provides evidence that the following factors related to NTBs affect intraregional trade:

3.The use of DLT could help lower NTBs. The possible channels are many, including lessening bureaucratic red tape, increasing transaction speed and efficiency, or reducing procedural costs. Additionally, if the settlement networks are connected to real time gross settlement accounts, the counterpart risk can be eliminated completely. All these effects could contribute to lowering trade costs.
4. The number of pilot projects worldwide that are analyzing potential applications of DLT in trade is rapidly expanding. Some examples we review in our paper are included in Figure 3. Since 2018, the Inter-American Development Bank also joined this list, supporting the development of CADENA, a blockchain-enabled solution for customs administrations of Mexico, Peru, and Costa Rica. CADENA cuts red tape, increasing transparency and trust.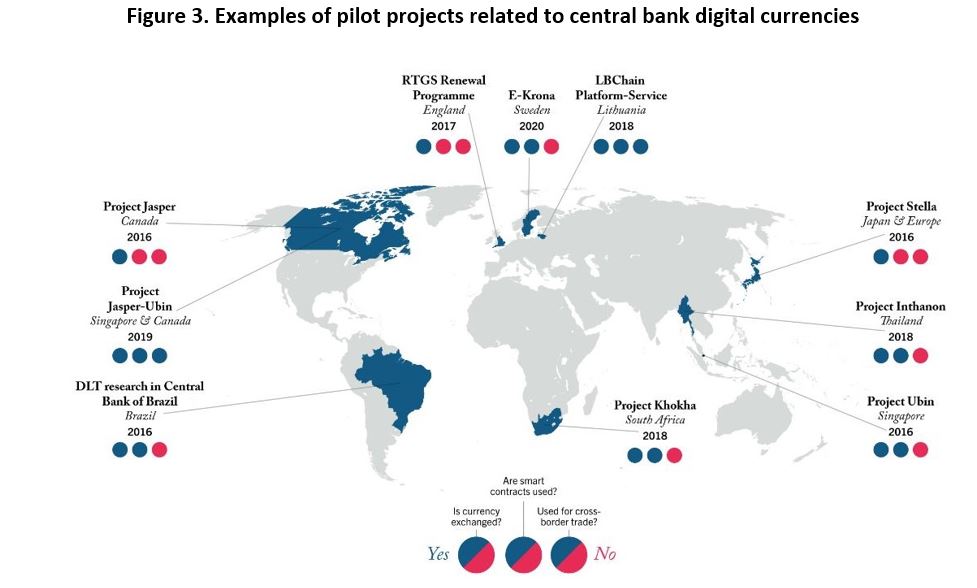 5. There are still important challenges and concerns related to the application DLT for trade transactions between states. First, the required upfront financial investment to design and maintain blockchain applications is significant and is not always appropriately estimated. Second, there is still limited literature on the cost-benefit analysis of such initiatives, particularly in the region. Third, we find that the potential returns to intraregional trade would be modest when applied solely to CARICOM countries. However, they would be much larger if the pool of countries increased and included larger, extraregional partners such as the USA.
Based on these results, policy recommendations emerge which could have profound effects on trade in the region and in the development of any Caribbean settlement network based on DLT.
Build on more advanced projects that test blockchain technologies in larger financial institutions, or in other countries. Although our paper provides a wide overview of examples, more homegrown evidence of how transactions could work in the region is necessary.
Promote strong and committed governance structures, public acceptance, and championing authorities for both greater regional integration through trade and an increased use of DLT.
Support network maintenance. Underlying orchestration vehicles, whether government-based or non-government-based, seem to be necessary to maintain productive DLT networks to ensure compliance with regulation, guarantee economical sustainability, and establish liabilities and responsibilities among the participants.
Revise countries' regulatory frameworks to allow for the safe use of DLT in trade. These should take into consideration differences across countries to ensure regulatory harmonization and compatibility, both within the region and with major trading partners.