The number of refugees is at a record high worldwide and the Caribbean is no exception. How refugees are integrated into the communities that receive them is becoming a key development issue, for the Caribbean and other regions. This blog takes the opportunity to review some key trends and issues relating to refugees in the Caribbean region and analyzes factors that impact their potential integration.
Based on the latest data from the United Nations High Commissioner for Refugees (UNHCR), there were approximately 71.4 million refugees worldwide in 2017, of which about 9,530[1] were located in the Caribbean and 2,400 in C-6 countries.[2] C-6 countries have experienced a rise in the number of refugees in recent years, primarily owing to political and economic factors. For instance, in 2017, Trinidad and Tobago had approximately 2,249 refugees, representing a 586% increase from 2016. Of these, 51% came from Venezuela and 37% came from Cuba. Going forward, the influx of displaced persons should continue an upward trajectory compared to historical averages,  likely buttressed by the indirect consequences of the effects of natural disasters and further climate-related event.
Figure 1. Number of Refugees in C-6 countries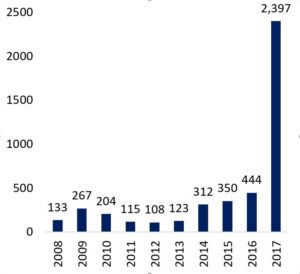 Figure 2. Refugees by Origin (10-year average)
The successful granting of asylum and integration of refugees can have positive effects on the host country. The mainstream argument is that in the short and medium-term, refugees can pose an economic burden, stemming from costs related to immediate aid provision, processing asylum applications and social integration measures. Yet in the long run, refugees, particularly those who are integrated in the labor market, can positively contribute to their host country's economy by: i) improving the ratio of active to non-active persons and supporting pension systems; ii) contributing to innovation and entrepreneurship; iii) making a positive impact on the public purse, with employment being the most visible determinant of their net fiscal contribution. However, the granting of asylum and the integration of refugees, particularly in the labor market, are key preconditions for these positive net economic effects to take place.
According to Kuhlman's 1991 Economic Integration Theory, the rate of integration of refugees into host countries depends on four factors:
Investing in the integration of refugees in the Caribbean can reap benefits for host countries. Alleviating some of the challenges stemming from language barriers and the characteristics of the settlement country – such as limited capacity or skills demand and supply mismatches – could support the integration of refugees in the region. Most importantly, revising the current regulatory and legislative framework for granting asylum and work permits is important to foster better integration of refugees in Caribbean countries. More data on the quantity and status of refugees can also support evidence-based policy and a greater understanding of refugees' net impact on the host economy. Addressing these constraints can thus unlock the benefits that these persons could bring to the region, ultimately supporting greater productivity, competitiveness and growth.
[1] The figure omits values for Haiti and the Dominican Republic. The data for Dominica is also excluded due to data limitations.
[2] C-6 states include Bahamas, Barbados, Guyana, Jamaica, Suriname, and Trinidad and Tobago.
[3] For instance, growing numbers of refugee children remain out of school in Trinidad and Tobago as there is a shortage of spaces in children homes.
[4] Antigua and Barbuda, Bahamas, Belize, Jamaica, Saint Kitts and Nevis, Saint Vincent and the Grenadines, Suriname and Trinidad and Tobago.