Latin America and the Caribbean is known as one of the least equal regions in the world – and it is also unequal in terms of health. Did you know that digital tools can help reduce these inequalities?
Health inequalities in Latin America and the Caribbean
In many countries of the region, the infant mortality rate for the poorest families is more than double of the richest families. According to the World Health Organization (WHO), in Colombia, the difference is almost four times, with 5.4 deaths per 1,000 in the richest quintile and 21.8 in the poorest income quintile. Also, a 2019 report published in The Lancet discovered that most of the causes that decrease life expectancy at birth in Latin America and the Caribbean are due to socioeconomic factors that are potentially avoidable.
Another way to assess inequalities in health is through the composite coverage index, which uses the weighted averages of the percentage coverage of different health interventions. The index is comprised of eight indicators of coverage of reproductive, maternal, newborn, and child health care. Many countries in the region had a substantial difference between the poorest and the richest households, according to the Health Equity Monitor database from 2009 to 2018. In Haiti, only 37.9% of the poorest quintile received composite coverage, almost doubled by the richest quintile (65.3%). In Panama, the difference in the same index for the richest quintile and the poorest quintile was 23.8 percentage points.
Inequalities in health is an important topic for many Latin American countries in which an ample proportion of people work in the informal sector – as high as 80% in Peru and Honduras. Informal workers have inadequate access to quality health services, so the real inequalities could be more severe than what is captured in existing access numbers.
In the region, there are efforts to reduce health inequalities through digitalization. Two key conditions to achieve this are connectivity and digital health literacy.
In recent years, digital health solutions have been implemented with the objective of reducing health inequalities and improving health outcomes. Digital health tools enable people to enjoy improved access to health services while reducing costs so that people can enjoy a better quality of health care. Among many other (potential) benefits of digital health tools, a big advantage is that digital health systems can help reduce inequalities in health by making health information and support networks more accessible for patients.
Conditions for the success of digital health tools
To enjoy the full potential benefits of digital health tools, internet connectivity and digital health literacy are crucial preconditions. Lack of connectivity and digital health literacy threaten to exacerbate existing health inequalities, especially to vulnerable groups. How is the region doing in terms of connectivity and digital health literacy?
Condition 1: Connectivity
In 2016, only 45.5% of total households had internet access in Latin America and the Caribbean, compared to 86.3% in OECD countries.
Connectivity is related to various socioeconomic factors, such as living in urban or rural areas, income level, and age. Latin America and the Caribbean has a substantial urban and rural gap in internet access. According to the IDB, in 2018, 38.1% of the urban population in Peru had internet in their households, but only 2.1 % of the rural population did. In Bolivia, 23.5 % of the urban population had internet in their homes, whereas only 0.6% of the rural population did.
Households with Internet by Location, 2018 (%)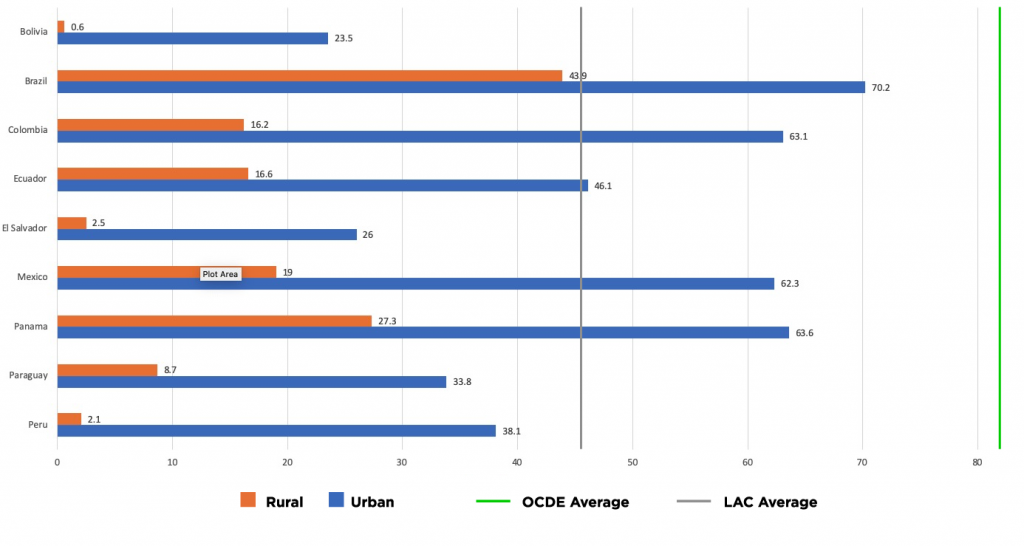 Source: IDB, The impact of digital infrastructure on the consequences of COVID-19 and on the mitigation of future effects 2020.
Income level affects connectivity because of affordability. In Brazil in 2014, while only 3% of top income level were non-internet users, 72% from the bottom income level did not use the internet. And 37% of respondents regarded affordability as one of the biggest barriers to use the internet. Furthermore, a recent report discovered that the lowest income quintile spends 10% to 12% of their income on the internet, which is 5 to 6 times higher than what is deemed "affordable" by the Broadband Commission for Sustainable Development for the Internet.
Age is another factor related to connectivity in the region. According to the World Telecommunication Indicators database of 2017, more than 60% of 15 to 24 years old used the internet in Chile, Uruguay, Brazil, Mexico, Colombia, Ecuador, while less than 10% of people more than 74 years did.
Internet users by gender and age, 2015 (%)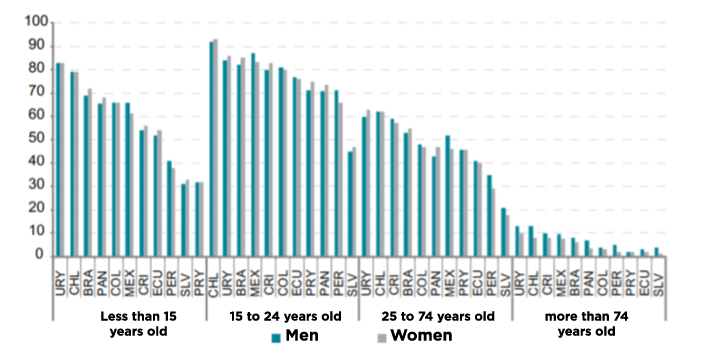 (Source: CEPAL, Estado de la banda ancha en América Latina y el Caribe ,2017)
These results indicate that people of older age, from rural areas, with lower levels of income, would have lesser chances of having access to the internet and other digital technologies such as digital health tools in Latin America. The problem is that these are precisely the people who would need and benefit the most from digital health tools such as telemedicine.
Condition 2: Digital health literacy
Access to the internet is a must-have condition to use the internet; however, knowing how to use the internet is equally important.
When digital health tools are readily available, people who are "digital health tools literate" would enjoy the tools' full potential. This concept is a step further from digital literacy and health literacy. Norman and Skinner (2006) defined Digital health literacy as the "ability to seek, find, understand, and appraise health information from electronic sources and apply the knowledge gained to addressing or solving a health problem". The variables influencing digital health literacy are age, health status, educational background, digital literacy skills, and motivation for seeking information, among others. Digital health literacy can not only enable clinical care (such as telemedicine), but also help to prevent illnesses and promote health through self-care (such as mHealth apps, wearables, and eHealth services).
The region must improve people's digital health literacy. Though there is scarce data on digital health literacy, available information suggests that the lack of digital literacy is an important obstacle for internet use in the region. According to GSMA's 2016 report, lack of digital literacy and skills was perceived as an important barrier to non-internet users in Brazil, Chile, Colombia and Nicaragua, where more than 40% of non-users responded so. Another interesting piece of evidence from Chile shows that lack of knowledge on how to use digital tools and lack of interest were among the greatest factors that determine non-use of the internet among older adults (65 years old and above) in the poorest households.
The recent efforts of the countries in the region have been focused on building digital literacy as a whole through including basic digital skills in school programs – like Argentina, Bolivia, Brazil, Colombia, Jamaica, and other countries did. Nonetheless, there should be more projects from the countries, especially since PAHO included digital health literacy improving programs in its strategic goals for strengthening health information systems in the 2019-2023 period.
What next?
Ensuring that the most vulnerable can access and adopt digital health solutions is key in reducing inequality gaps. To that end, it is important to achieve the aforementioned two preconditions, but we need to think and work a step ahead, too.
Firstly, we need more and better evaluations of digital inclusion projects with a focus on costs and benefits. It is also important to gather better data to monitor improvements in access to digital solutions in health and design better and more inclusive projects.
Secondly, user-centered design should be implemented. When designing and implementing technological solutions in health for the most vulnerable, it is of primary importance to understand their real needs, their forms of use, their habits, and their expectations concerning technology. For this, user-centered development techniques can be especially relevant in favoring technological adoption and adapting digital tools to reality and people's uses in vulnerable conditions.
Lastly, spreading good practices from one country to another is important, especially in Latin America and the Caribbean, where most countries share similar difficulties in terms of access to the internet and low digital health literacy. These are minimal steps to advance in an inclusive technological transition in health that could benefit everyone and reduce the region's important inequality gaps.
---