Deserted parks, shuttered businesses, rush-hour traffic reduced to a trickle: it no longer comes off as hyperbole to say the world has been put on hold. In Latin America and the Caribbean, 13 countries have chosen to enter complete lockdown, and 12 have gone the route of a partial or sector-based quarantine. While measures are constantly evolving in response to changing infection rates, governments must prepare to gradually lift lockdown measures, drawing on all tools available to them as they do so. This article shares why digital tools, when used correctly, can play a vital role in reopening Latin America and the Caribbean.
Lockdown in Latin America and the Caribbean
As the chart below shows, all countries in the region except Nicaragua have adopted complete or partial lockdown measures. Some countries, like Ecuador, Paraguay, and Panama, started by advocating social distancing and were forced to implement lockdowns when confronted with a steep rise in cases.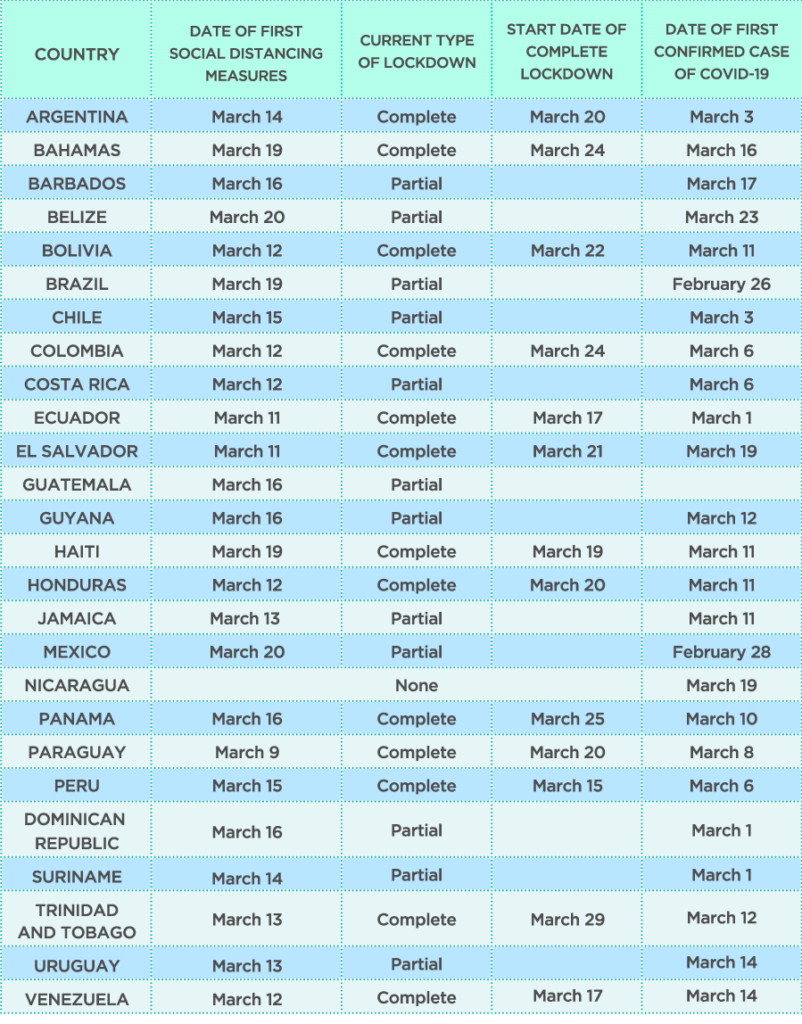 Lockdown has a higher cost in the region
The cancellation of all nonessential activities has bought different concerns to the fore. One is the economic repercussions. Another is how to protect high-risk groups like older people. A third is the heavy burden on caregivers—especially mothers—as classes move online and the workload within the home intensifies. No less important is the surge in domestic violence triggered by lockdown.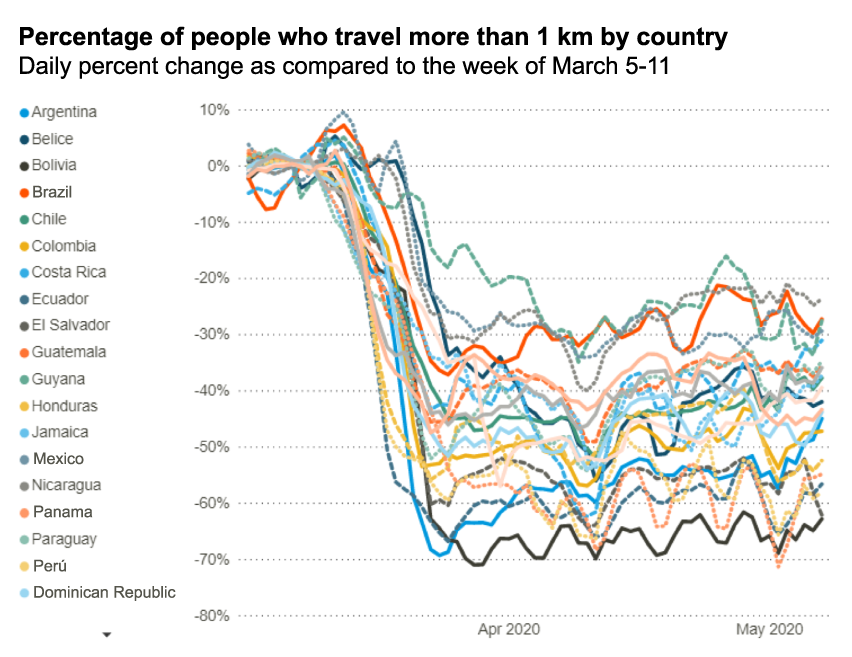 Do the benefits of lockdown outweigh the costs in our region?
There is no simple answer. Lockdowns:
Keep the virus from spreading via asymptomatic cases.
Protect at-risk groups like older people and those with pre-existing conditions.
Help flatten the curve of infections to avoid overwhelming health systems with more cases than they can handle.
Buy authorities' time to take steps for resuming activities after infections have peaked.
Digital tools as allies
When used properly, digital tools are a major aid to governments in their efforts to reopen nonessential activities. The good news is that they are evidence-based, since using digital tools in health and applying them to epidemics is not a new concept. In our publication Detect, Prevent, Respond, and Recover Digitally, we draw lessons from how these tools were used in epidemics between 2005 and 2020, analyzing which were used most and which were most relevant.
4 aspects where digital tools can help countries reopen.
In our latest publication , we look at different tactics the countries in the region can use. The publication identifies four groups of tools that countries can deploy to enhance traditional methods and achieve a smarter epidemiological response in the following aspects:
Evaluating and identifying cases.
Though no substitute for the accuracy of traditional tests, certain digital tools can help identify potential cases by processing information like temperature, travel history, prior contact with infected people, and other factors. Some countries in the region have developed chatbots or self-diagnosis systems to inform citizens and gather information on their symptoms.
Event-based surveillance.
Countries can complement traditional surveillance systems with tools that use the GPS or Bluetooth on people's cell phones to measure their contact with other people's phones. When someone tests positive for Covid-19, this tool makes it possible to quickly alert all potentially infected people. Countries like Israel (Hamagen) or Singapore (TraceTogether), have taken this route.
Case monitoring.
These tools can be used to track people suspected to be contagious, monitor their symptoms, and make sure they are remaining in isolation. These tools can save time and money by gathering information normally collected by phone.
Population-level monitoring.
These applications use aggregate data like traffic volume and cellphone tower stats to gain insight about the population's general behavior. For example, Google's Mobility Maps can be used to analyze whether people are respecting lockdown measures in certain geographic areas. To learn more, visit our coronavirus impact dashboard.
These technologies, when used to complement the work of the health system and government, can bolster efforts to fight COVID-19. Want to know more about digital tools in the countries in the region? Visit +Digital, our digital solutions platform with information on different types of digital responses to coronavirus.
Know of other solutions? Leave us a comment or mention us using @BIDgente.