When you have an appointment with a Doctor, one of the first questions will probably be if you are under any medications. For some people, this is an awkward moment, in other cases, patients forget the name or dosage of the drugs they are taking. When dealing with a patient that is not able to respond, the problem is worse. And what happens when two drugs have similar names? In his book "The Information," James Gleick warns about the danger of confusing, for example, Methadone, for opiate dependence, with Metadate, for attention-deficit disorder.
In 2018, in South Korea, cancer-causing substances were detected in a specific imported type of valsartan, a drug to treat high blood pressure and heart failure. With robust data on when and to whom the medication was prescribed, the Ministry of Health was able to react immediately. Drugs were recalled, citizens were warned, and affected patients were refunded and re-prescribed. This is an example of how digital tools can help improve healthcare services, and even further saving lives. And this is only a small part of the capacity of quality data meeting the right digital tool.
Collecting data in digital health
 In the 21st century, information is an economic resource; so collecting and managing quality information can increase efficiency and stimulate creativity and innovation in health. The World Health Organization's (WHO) 2018 report, "Delivering Quality Health Services", identified that improving quality relies on clear and accurate performance data. To measure and conduct performance feedback and reporting, an information system that reinforces nationally driven quality efforts is fundamental. Accordingly, the application of digital technologies in healthcare information systems has emerged as a new solution to improve quality and efficiency.
Better Data for Better Systems: The Colombian example
Some countries in the region have made progress in gathering and utilizing the information for health.
For instance, Colombia's Ministry of Health operates a digital platform called SISPRO (Sistema Integral de Información de la Protección Social or System of Information in Health and Social Protection), which consists of indicators related to the provision of health services and health outcomes in the countries. SISPRO combines all information in the sector including affiliation, services provided, care costs, and payment for services. Furthermore, SISPRO allows all actors in the health and social protection system to access epidemiological and statistical information, as well as an analysis tool to facilitate management and decision making. It also contains data on financing and healthcare accounts and on quality and outcomes indicators for providers, which can help assess the cost-effectiveness of healthcare in Colombia.
Nonetheless, the system faces challenges such as improving data usage and strengthening data integration from the community and individuals into SISPRO's information system.
 How could Colombia manage and utilize this system in a better way? And how could other countries in the region develop similar, context-based health information systems using digital transformation to improve the quality of services and healthcare? Studying cases in other countries might help. 

Learning from South Korea
Ranked #3 in the DEA ranking, South Korea leads in the collection and usage of high-quality data for both consumers and governments.
The country has a single-payer health insurance system and universal health coverage, which enables the collection of health-related data from the entire population. The assessment and review for healthcare are carried out by the Health Insurance Review and Assessment Service (HIRA), an institution dedicated to ensuring quality and cost-effectiveness of healthcare in Korea. As a value-based healthcare purchaser, HIRA collects and manages information on medical fees, and assesses appropriateness of the services. HIRA follows strict codes on privacy laws so that it has the legitimacy to collect minimum necessary personal data for its review and assessment service only.
Here are some other examples of HIRA's works through digital tools.
 Improving Drug Prescription
HIRA operates the Drug Utilization Review (DUR) program, which gathers and provides real-time information on drug safety to doctors and pharmacists through a communication channel that connects physicians' digital records with HIRA's system.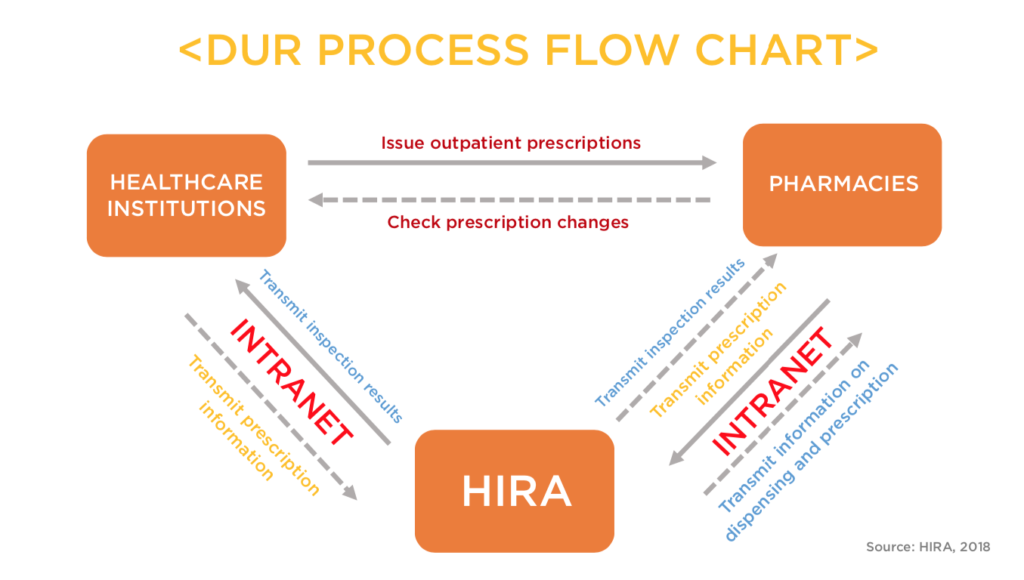 With the providers' consent, DUR screens for contraindications of different drugs, or usage of prohibited drugs for vulnerable groups –such as pregnant women or children– and alerts healthcare providers who are attempting to dispense the medicine. As of 2019, 96% of healthcare providers in Korea consent to use DUR.
Cost and Care Efficiency
The Korean government has increased efficiency and quality of healthcare services through HIRA. HIRA's systematic management and rational healthcare purchasing activities saved about 14 billion dollars annually. The aforementioned DUR Program resulted in the savings of 1.7 million dollars.  In 2017 alone, the program monitored more than 11 billion cases and prevented more than 6.6 million cases of unsafe usage of drugs. Countries in the region could potentially learn from such a system.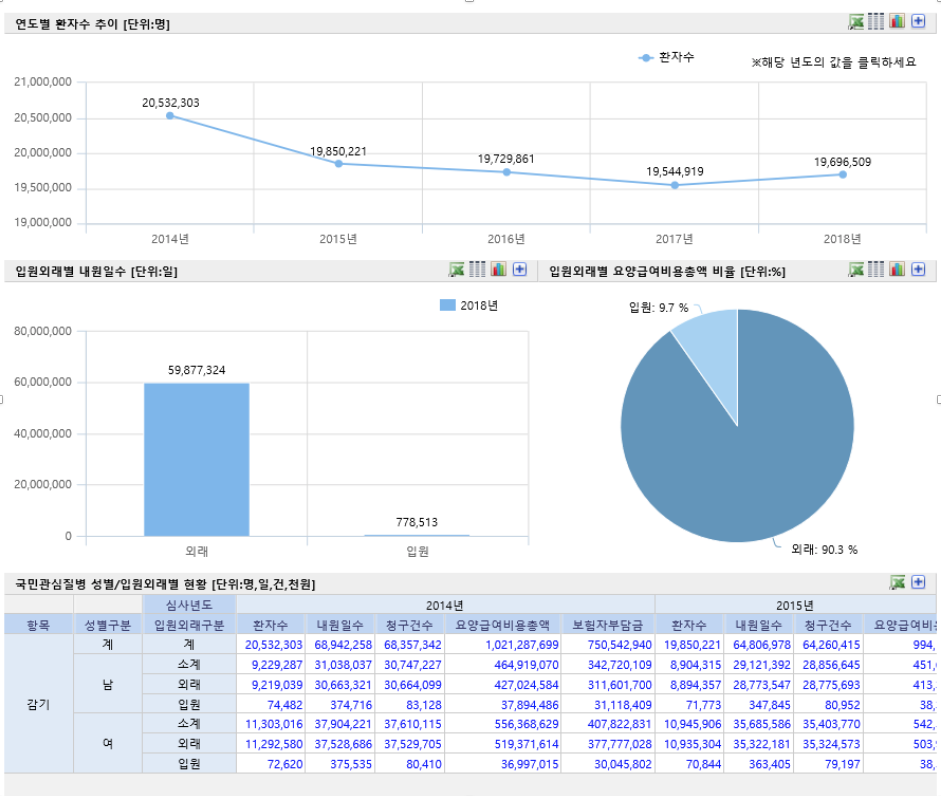 In addition, HIRA supports policy-making and national statistical services with its healthcare big data analysis. HIRA manages a hub where real-time data is processed and shared. Here, you can search for statistics on more than 2,000 diseases from the Korean national health standards. The results include statistics related to a summary of visits with detailed findings for the region, age, and sex, as well as financial data for providers and patients. For example, the image below shows the number of flu patients treated between 2014 and 2018. Among them, 90.3% were outpatients, and 9.7% were inpatients. This information aids the government in creating well-targeted healthcare policies for its citizens.
What Next?
A necessary first step for the region to move in this direction would be to work on collecting quality data, which could be used for creating more sophisticated systems in the future. This would be possible through collaboration with nations that have already gone through this process and can share lessons learned, such as Korea, encouraging opportunities for bilateral learning and growth.
Do you know of other projects and initiatives that allow countries around the world to leverage the power of digital transformation in their health systems? Tell us in the comments section or mention @BIDgente on Twitter.