Israel is one of the smallest countries in the world, but it has delivered some of the biggest results in healthcare.  It has a 90% patient satisfaction rate, top-tier rankings by international health measures, one of the lowest costs-per-patient in the world, a world-class community and primary care system, and Israel has become a leading developer and exporter of life-saving healthcare technology, training, systems, policies, medical equipment, and expertise.
How does Israel do it?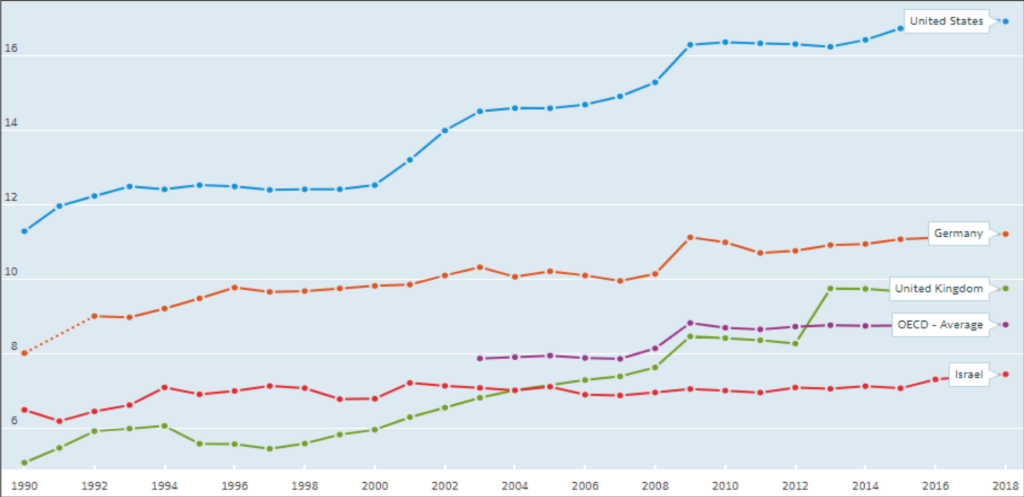 Percent of GDP on healthcare expenditure 1990-2018
Source: Strategic Planning and Economics, Israeli Ministry of Health

1. Universal Coverage
In Israel, healthcare is universal. Each Israeli resident is entitled to health insurance including a comprehensive basket of health services, regardless of gender, religion, age, ethnic background, income, or the current state of their health. Health services are provided by four non-profit HMOs (Health Maintenance Organization) concentrating on quality community services close to the patient's home and restricting unnecessary hospital services and expenses. The OECD rated Israel's health system as excellent noting "Medical teams in community-based health clinics allow patients access to a broad range of health expertise and support in a one-stop-shop, offering care that helps avoid expensive hospitalization. For example, though Israel has the same rate of diabetes – 6.5% of the adult population – as many other OECD countries, it has the second-lowest rate of hospitalization for poorly controlled diabetes." The result is a less hospital-dominated model of care with the share of hospital expenditure out of total health expenditure decreasing over the last 20 years.
2. Big Data and Digital Health Infrastructure
Israel is a world leader in using Digital Health and Big Data to reduce costs and complexity, while increasing patient service, satisfaction, and outcomes. Israel was one of the first countries in the world to digitize its medical records over 25 years ago. In Israel, a national health information exchange system connects all general hospitals, geriatric & psychiatric institutes, and community service providers without risking privacy – enabling every doctor to access relevant patient health data at the point of care. Data exchange improves care, shortens waiting times, saves money and unnecessary treatments – and saves lives. In Israel, non-profit and government-owned hospitals join forces with technology firms and startups in tackling the challenges of 21st-century healthcare, and "the number of hospital-sponsored innovation centers or healthcare accelerators is believed to be higher per capita in Israel than anywhere else" (Israel 21C, March 2019).
3. Primary Care Services
In Israel, care is primary. Israel has "one of the most progressive primary care services in the world" and the results are "low infant mortality, high life expectancy, effective chronic disease management and excellent primary care." (In Search of the Perfect Health System, Mark Britnell). Healthcare in Israel begins with the family doctor and continues with community-based health clinics as part of a holistic healthcare system that puts patients first. This model shortens waiting times and delivers high-quality results. For example, The Primary Care in Israel report (Rosen, 2011) found that "two-thirds of respondents visited the Primary Care Physician (PCP) on the same day that they called to arrange an appointment. In that same survey, 63% of the respondents waited for less than 15 minutes before seeing the PCP."


Spending on community healthcare and hospitals
Percent of the total health expenditure 1995-2012, Source: Israel CBS
4. Measure Quality
Israel measures how well its healthcare system serves patients, and publicly publishes quality measurements, service indicators (such as waiting times), and patient satisfaction rates. As a result, Israeli patients are informed and empowered, leading to a 90% patient satisfaction rate across Israel's four HMOs. Patients and health professionals can access the quality results online to review their hospital's ranking and its results in relation to other organizations – giving patients a voice and a choice in the quality of their healthcare and giving providers the incentive to improve.
The health system developed in Israel is a great case study for many countries that seek to develop more effective, and cost-effective, models of care for the twenty-first century.
Nowadays, like the rest of the world, Israel is dealing with the outbreak of COVID-19 which is posing one of the greatest global health crises of our generation. Israel was able to leverage the qualities of its health system to control the pandemic and today the mortality rate per million is one of the lowest in the OECD countries. For example, Israel's Ministry of Health together with Israeli companies, has developed "The Shield," a digital tool that can cross-reference information about the location of a confirmed COVID-19 patient with the location of the app user, thus minimizing the likelihood of infection. Israel also leverages the use of telemedicine applications to enable the treatment of Coronavirus patients by the highly developed community services in their homes or non-hospital community-based centers during the shutdown of public services. Today, more than ever, Israel is looking forward to joining forces with other nations to battle COVID-19 and to keep making the world a healthier place".
Do you want to learn more about how Israel uses digital health tools to fight the pandemic? Sign up for our webinar where experts from the Ministry of Health of that country will tell us about their experience. Click here to access the register