"In LAC, 70% of excess deaths that could have been avoided by adequate healthcare are due to low quality of care while 30% are due to lack of access to care." This striking statistic is often used to highlight the importance of quality for health outcomes, including in the IDB's Health Sector Framework. But what is the basis for this estimate, and what does it mean? What is the situation for specific countries or health conditions?
Mortality due to poor prevention, limited access and low quality of care
The 70% figure comes from a study that calculated how many more amenable deaths there are in LAC compared to high-performing reference countries in 2016 and then decomposed this "excess mortality" into three categories:
Mortality that could be prevented through public health measures (e.g., vaccine-preventable diseases);
Mortality that is due to a lack of utilization;
Mortality due to poor quality of care.
Together, the last two make up excess mortality that is amenable through the receipt of timely, effective health care. Broadly speaking, deaths due to poor quality are those that occur even though a patient with a treatable condition had some contact with the health system. Once there is a contact, the health system is responsible for the patient's health.
Figure 1 shows this decomposition for the LAC region. Of the excess mortality, 75% is amenable to health care. Within that bucket, 29% are due to a lack of utilization, and 71% are due to poor healthcare quality.
These numbers are indicative rather than precise estimates and are mostly useful for raising awareness and starting discussions. The calculations involve various assumptions and there are important data limitations. Also, these numbers are about excess mortality or those deaths that could have been avoided if mortality rates were as low as those in the reference countries.
Figure 1: Decomposing excess deaths in Latin America and the Caribbean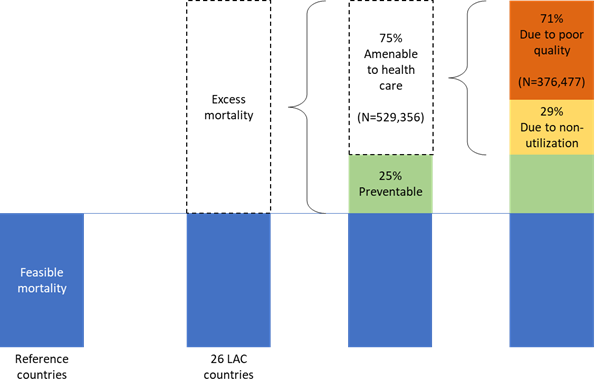 A closer look
The 70% figure is a useful regional benchmark but also masks some important heterogeneities. Figure 2 shows additional breakdowns by country and condition based on data the study authors kindly shared (I am grateful to Anna Gage for providing the regional estimates by condition).
The share of amenable mortality that could be avoided through better healthcare quality ranges from 49% in Peru to 75% in Brazil and the Dominican Republic. This also means that 51% of this mortality in Peru is due to poor access to healthcare, compared to less than 25% in Brazil and the Dominican Republic.
Countries like Peru and Ecuador should focus on improving both access to healthcare and the quality of healthcare, while countries like Argentina and Brazil should prioritize improving healthcare quality.
Figure 2: Share of amenable excess deaths due to poor quality (%)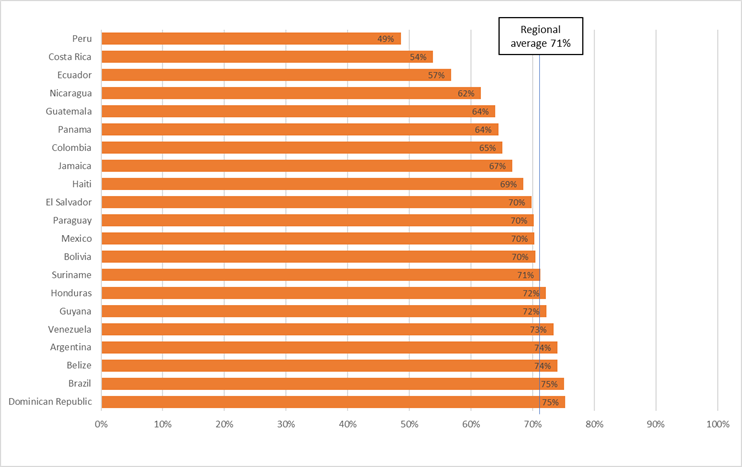 There is also wide variation across health conditions. Cardiovascular diseases, road injuries, and neonatal conditions are the biggest contributors to mortality that are amenable to health care (Figure 3).
For two of these conditions – cardiovascular diseases and neonatal conditions – poor quality healthcare is responsible for over 90% of amenable deaths. In the case of road injuries, about half of amenable deaths are due to low quality of care. However, for mental health, cancer, and diabetes, most amenable deaths are because of low utilization. So, while poor quality healthcare is a big issue for some conditions, low healthcare utilization is more important for others.
Figure 3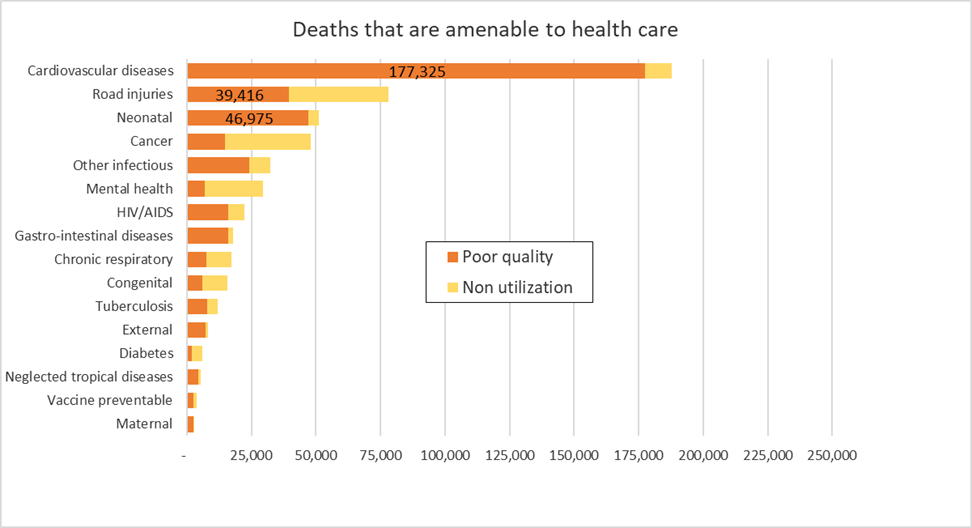 One important caveat for these figures is that the estimates for some countries and conditions are related to relatively few excess deaths and therefore come with statistical uncertainty.
What this all means
Overall, these numbers suggest that low quality of care is a serious issue in all countries, and, at the regional level, low quality is especially important for cardiovascular diseases, neonatal conditions and road injuries. Access remains a problem in many countries and for many conditions.
Taken as rough indications, these patterns suggest specific lines for further research as well as policies to reduce excess mortality in the region. Meanwhile, the broad regional estimate makes clear that too many people are dying because of the poor quality of care they encounter. Paying closer attention to quality is clearly an urgent priority everywhere in the region.