Learn how the Inter-American Development Bank and the Pan American Health Organization work together to support countries to harness digital transformation for the health sector, to fight against the pandemic, and build resilient health systems.
This September, health leaders from 49 countries and territories met at the 59th Directing Council — 73rd Session of the Regional Committee of WHO for the Americas. In that opportunity, the IDB President Mauricio Claver-Carone highlighted the importance of the IDB's and PAHO's collaboration to support the region to recover from the pandemic and improve health services, and the critical role digital transformation of the healthcare sector has in improving epidemiological surveillance, facilitating access and use of services through telemedicine, and in providing data for decision making in real time, among other uses.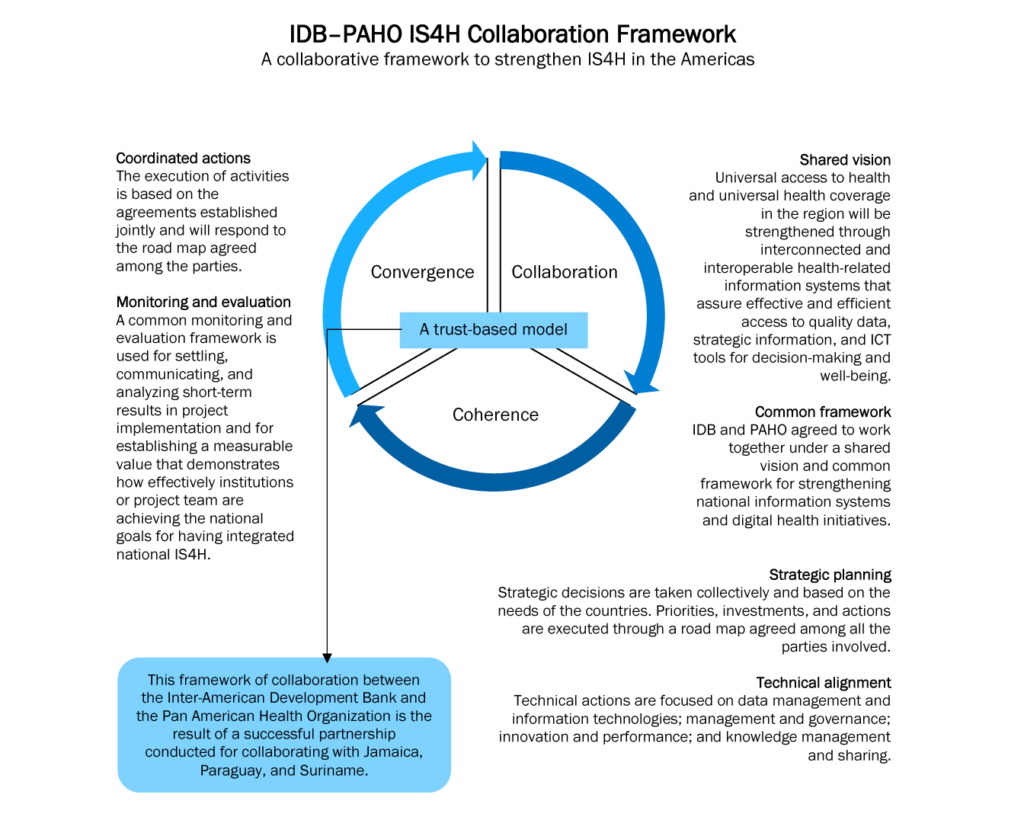 Fortunately, the collaboration between the IDB and PAHO was born long before the pandemic. PAHO and the IDB have been working closely together to advance digital transformation in the region since 2018. Jointly, we have developed a strategic and technical collaboration to accelerate the adoption of digital health interventions and strengthen human capital in Latin America and the Caribbean.
Digital Health: Why We Cannot Afford to Wait Longer
In the Latin American and Caribbean Region, we have experienced challenges due to the lack of routine information systems during the pandemic, but also the opportunities of digital services to improve equitable and efficient healthcare. We've been impressed by the resilience and creativity many of our country counterparts have demonstrated during this difficult time. Digital health isn't nice to have in our current world; information systems for health have been – and continue to be – an essential building block of any health system.
As Dr. Carissa F. Etienne, Director of the Pan American Health Organization said in her opening remarks at the PAHO's Directing Council. "The COVID-19 pandemic has accelerated the need for rapid adoption of digital solutions in public health. Information systems and digital health solutions that were accessible and ready to use proved indispensable for the delivery of care at all levels of the health system. Digital solutions will also be key to post-pandemic recovery and rebuilding and will require systemic changes to drive innovation."
Supporting Countries in their Path to Digital Transformation of the Health Sector
Countries are working to adopt the technologies needed to tap this transformation as a source for development; access to digital infrastructure and universal connectivity is an obstacle. The region is at a crossroads to determine if the digital transformation of the Americas will leave no one behind or increase the digital divide, restricting access to critical health and social services.
How the IDB and PAHO Work Together
As countries move to make essential investments to improve their information systems for health, we have learned about the critical importance of country-led processes and participatory approaches to create national agendas and roadmaps for digital transformation.
To date, the IDB and PAHO joint efforts include:
Support country-lead processes of national strategic plans and budgets in 8 countries for digital health. These roadmaps contain policy changes, clear targets, strategic vision and represent a portfolio of critical investments needed in the region over the next 5-6 years.
Coordination of technical advisory services to ministries of health to ensure alignment of messages, technical tools, approaches, and to avoid duplication of efforts.
Support knowledge sharing for the digital health response to COVID-19 through a series of strategic webinars and jointly published 15 technical documents on crucial topics such as digital contact tracing and telemedicine.
Currently, the IDB and PAHO we are working with six governments in the region to learn about cross-border interoperability in line with WHO's Digital Documentation for COVID19 Certificates.
IDB's approach to digital transformation of the health sector is aligned with PAHO's 8 Principles for Digital Transformation of Public Health and Roadmap for the Digital Transformation of the Health Sector in the Region of the Americas to ensure that the national digital agendas we support are safe, equitable, inclusive, and cost-effective.
To put these principles into action, the IDB ensures its investments in digital health transformation are holistic and systemic across six dimensions:
governance and management
infrastructure
infostructure
digital applications for health
people and culture
informed health policy and practice
The IDB's Vision on Digital Transformation
While the IDB finances projects that improve lives, we also look at knowledge as a critical instrument for development. As such, we increasingly value collaborations that tap into the expertise and best practices cultivated by external partners. They are a form of currency that permits us to test and scale innovative solutions. Our collaboration with PAHO is a clear example of the importance of knowledge currency in our region.
The Future of Digital Agendas
As we move forward, we need to ask ourselves how we will ensure that these digital agendas are inclusive and equitable, stay accountable to the goals, track the progress, and solve the complex problems we're facing. At the IDB, we're committed to listening to our counterparts' needs, creating collaborative spaces between the public and private sector and academia, and asking citizens what they need to access the health services they deserve.