Healthcare in Latin America and the Caribbean (LAC) is overdue for an upgrade. Are there digital health investments that governments can make today to both curb the growth of non-communicable diseases and start them on the path of sustainable digital transformation? If you happen to be reading this blog on your smartphone, you might be aware that your app store is full of options that promise solutions. Has your health provider ever prescribed you one?
In recent publications, we discuss that successful digital transformation of the health sector will take intentional investment in digital foundations, well-thought-out digital strategies, and time to achieve results. Meanwhile, health systems and citizens face a growing burden of non-communicable diseases (NCDs) and systems can't keep up. Some estimates show that in 20 years, the region will have seven times as many people with diabetes as the year 2000!
If digital interventions could just prevent 5% of these cases by 2030, the region could prevent more that US$7 billion in economic losses. In 2019, LAC lost the equivalent of more than 2 million workers due to depression. This could be due to factors such as absenteeism, presenteeism (when an individual is physically present at work but not fully productive – also known as "quiet quitting"), or individuals leaving the workforce altogether. And although mental health has become a priority in many countries since the pandemic, most countries do not have enough providers to meet demand, especially in rural areas.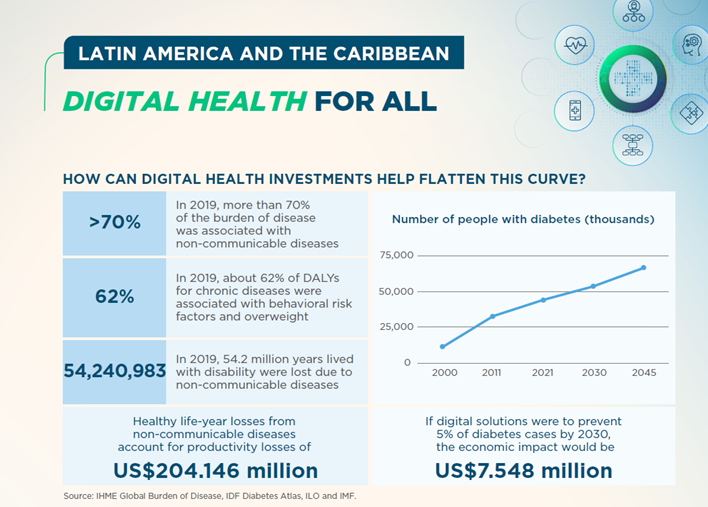 In our recent publication, Upgrading healthcare in Latin America and the Caribbean: Evidence for non-communicable diseases and mental health, we focused on rapidly-deployable digital health applications that have demonstrated effectiveness to reduce some of the region's biggest burdens of disease: depression, diabetes, and cardiovascular diseases. Here are three things we learned:
1. Evidence shows that digital applications can help tackle non-communicable diseases and mental health
It's not always easy to notice if you or someone you know is suffering from depression or anxiety. Digital screening tools can help providers and individuals themselves identify symptoms, allowing for early detection and treatment. This is especially important in primary health care or community settings, where specialized personnel such as psychiatrists or therapists may not be available. Having simple questionnaires can help primary health care providers correctly identify and refer patients to specialists.
Fortunately, there is clear evidence that digital health can support various challenges faced by patients and providers to detect, prevent, and manage non communicable diseases and improve mental health and wellbeing. For example, digital tools can make it easier to get treatment and learn how to take care of yourself. Someone suffering from depression can talk to a therapist on the phone or on a computer, which can be just as helpful as talking to them in person, but at lower cost due to time and transportation savings. Digital tools can also help people learn about their health and exercise more and eat healthier, which can help prevent problems like diabetes and heart disease. Multiple studies have analyzed the effects of digitally enhanced lifestyle interventions for patients at risk of diabetes and cardiovascular diseases and the evidence shows that they can be effective in reducing weight, glucose levels, as well as improving diet and physical activity. Integration of these types of digital interventions into primary healthcare platforms and integrated chronic care models can improve access, quality, and efficiency.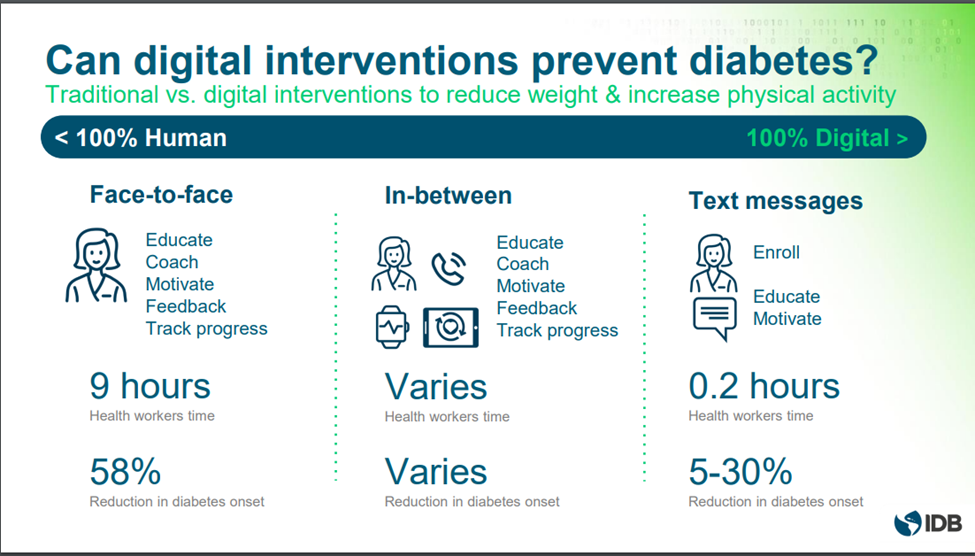 2. Evidence-based interventions are cost-effective in the LAC Context
Once interventions have proven to be effective, it's important to understand if they are cost-effective to bring them to scale. We explored different scenarios in four countries to better understand the costs and benefits to society for depression and diabetes by comparing implementation costs and patient costs to the health benefits and savings for the health system. For example, we compared digitally-delivered therapy by telephone and via internet-based tools (iCBT) to face-to-face care with 70 therapists in Peru. All modalities provide value to society as their benefits far outweigh the costs. Using internet-based tools like iCBT can help more people get the therapy they need. In fact, we estimate that for every dollar spent on this kind of therapy, society gets back $15 in benefits!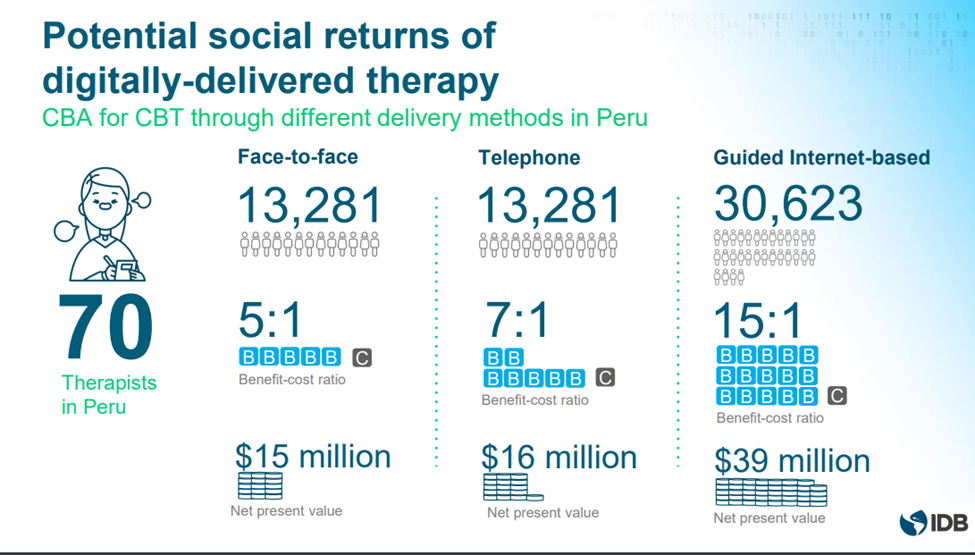 3. LAC countries need to prepare for digital therapeutics and invest in applications with a patient-centered view to reap the most benefits
Although there is a growing body of evidence around digital interventions for NCDs and mental health and well-being, not all apps are created equal. How can governments and patients know which apps are legitimate and have demonstrated clinical improvements?
Some countries require certification of digital health interventions by regulating software-as-a-medical device or through digital therapeutics, which seek to deliver medical interventions directly to patients using evidence-based, clinically evaluated software to treat, manage, and prevent a broad spectrum of diseases and disorders, including NCDs (Digital Therapeutics Alliance, 2019).
The Medical Futurist's Blog discusses how Germany is regulating and introducing digital apps into their health system, noting that as opposed to conventional "lifestyle and well-being apps", digital applications are treated as medical devices for certain risk categories and undergo a rigorous certification process to enter the market. However, regional regulations are lacking for digital therapeutics in LAC, which are important to support the deployment of safe and effective digital health interventions.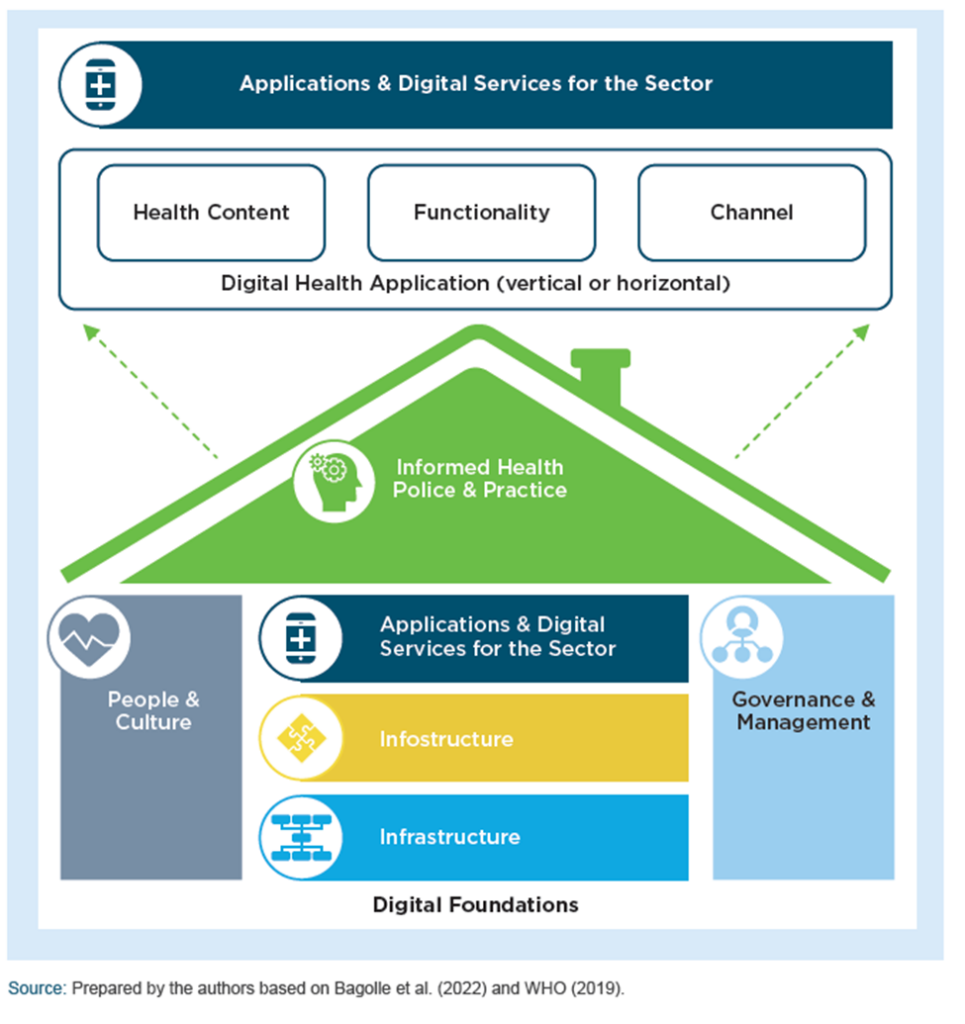 As countries improve their digital health foundations and care models for chronic diseases, they should consider actions they can take today to harness digital tools to expand worker productivity, address risk factors, improve access to services, and empower self-care among patients using evidence-based and cost-effective solutions.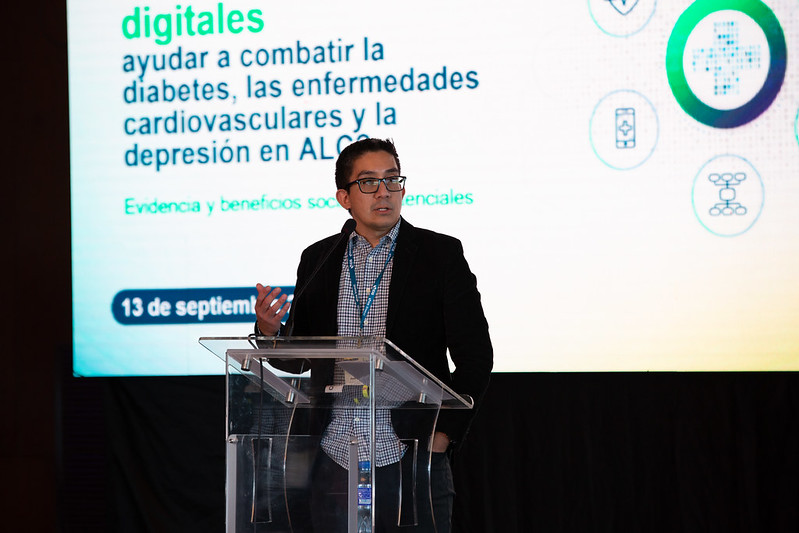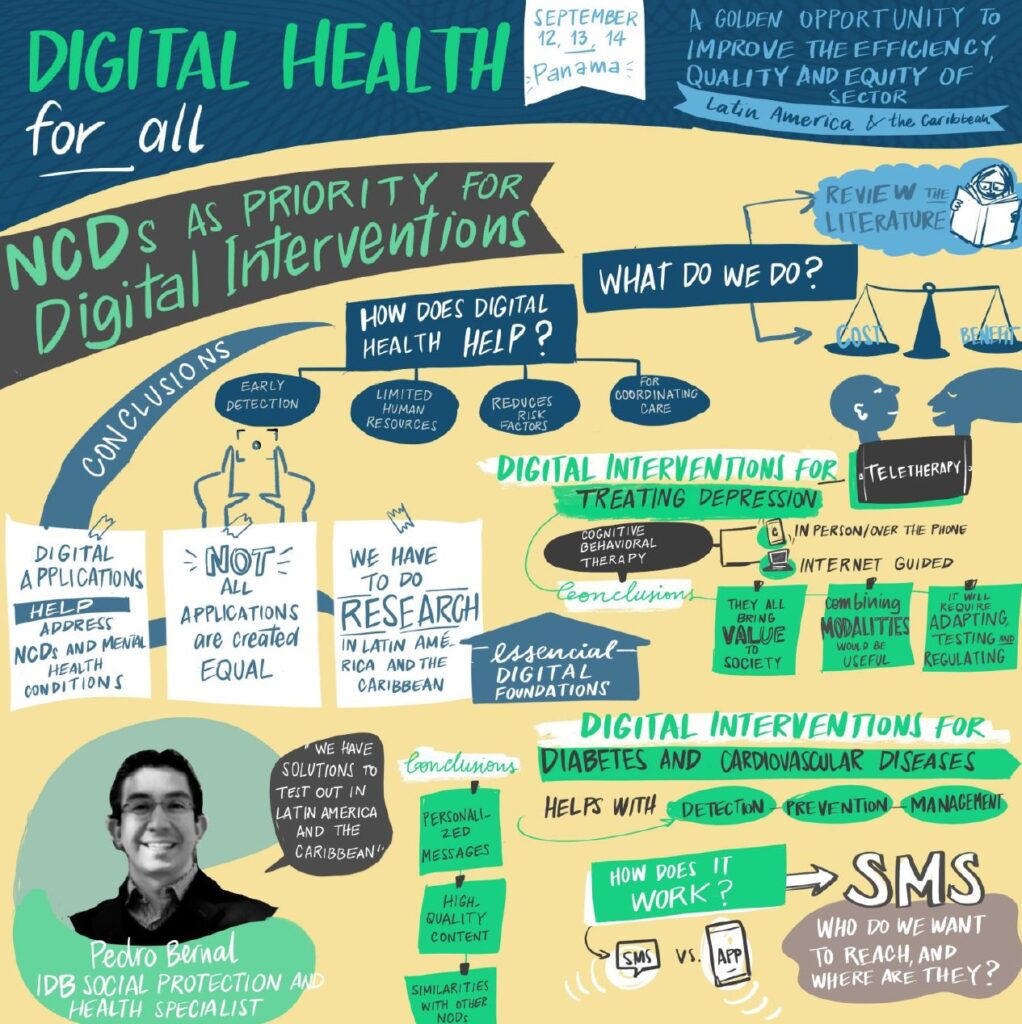 Want to learn more? This chapter is part of IDB's Microeconomic report: Digitalizing public services: Opportunities for Latin America and the Caribbean. You can download the complete report here and the health chapter here.