There is a strong consensus that cross-border e-commerce has been growing at a fast pace. Available data suggests that the pandemic could have even accelerated this trend. For instance, according to its most recent financial report, Amazon's international net sales increased by 28.3% between the first semester of 2020 and the same period of 2019.
However, this evidence is, at most, anecdotal and partial. There are virtually no comprehensive, detailed, and consistent official statistics on international e-commerce for individual economies. This is particularly the case for Latin American and Caribbean (LAC) countries, which, therefore, lack a crucial input to design, guide, and implement effective policies in this increasingly important economic activity.
In this blog, we use a novel customs dataset to characterize the evolution and patterns of international e-commerce for a Latin American country. This dataset consists of all credit and debit cards purchases made abroad from Uruguay between January 2018 and June 2020 in the framework of the country's franchise regime.
This regime, first established in 2012, allows all adult Uruguayans (older than 18 years) to buy non-commercial merchandise abroad up to three times in a year for up US$ 200 (and 20 kilograms) each, without paying customs duties or taxes.
E-Commerce was growing more rapidly than offline trade before the pandemic
Before the pandemic, cross-border e-commerce experienced a strong expansion as more Uruguayans started to make web purchases overseas. Annual online purchases abroad grew around 25% between January 2018 and January 2020 to exceed US$ 60 million. This was primarily driven by a rise in the number of transactions, which topped half a million. This rise, in turn, was associated with the growth of the buyer base. The number of individuals in Uruguay buying online abroad increased approximately 17.8% over the same period to reach 208,000, which amounted to 7.5% of the country's adult population (Figure 1–left panel). The new digital importers were smaller than those already using the regime in terms of their purchase values. This resulted in a 7.5% decline in the average purchase per buyer in these two years (Figure 1–-right panel). More than 90% of these transactions originated in the United States, and more than 40% were accounted for by wearing apparel and electronics.
As a reference, annual import values through the standard import regime fell 2% between January 2018 and January 2020, with the number of transactions rising almost 8% and the number of importers remaining virtually constant.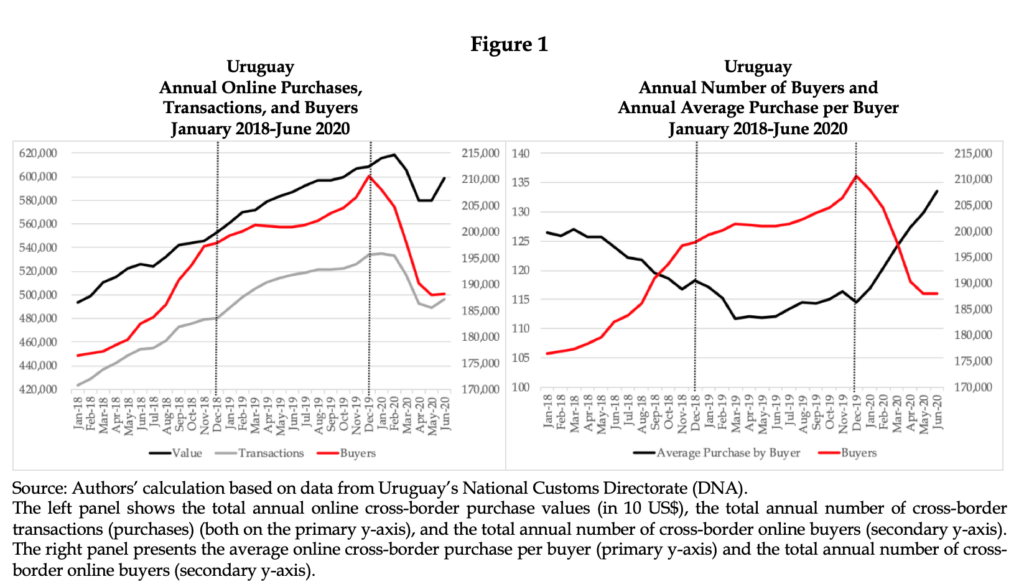 E-Commerce initially contracted because of the pandemic…
However, cross-border e-commerce decreased significantly between January 2020 and May 2020. The aggregate annualized value of these purchases from Uruguay dropped 5.9% over this period. This decrease can be mainly traced back to a reduction in the number of buyers and accordingly in the number of transactions, which fell 9.6% and 8.7%, respectively (Figure 1-–left panel) and particularly to developments in March and especially April 2020, when these plummeted more than 50% interannually —i.e., relative to April 2019—. The cumulative decline in values, number of buyers, and number of transactions were equivalent to undo the growth of the last 13 months, 20 months, and 16 months, in terms of their respective levels.
Interestingly, consumers who remained active bought relatively more. The average purchase per buyer raised more than 11% from January 2020 to May 2020. These larger average purchases showed a more substantial prevalence of the United States as origin country (+4 percentage points) along with a higher share of electronics (+3 percentage points) and a lower share of wearing apparel (-3 percentage points).
For comparison, standard annual imports declined 3.6% from January 2020 to May 2020, while the number of importers and transactions did so 5.1% and 7% over the same period, respectively.
…but already started to show a pronounced recovery
In June 2020, online purchases abroad grew around 37% relative to June 2019. This resulted from increases in both the number of buyers and especially the average purchases per buyer (24.3%). As a result, the first semester of 2020 closed with a reduction of only 3.5% relative to 2019. This is half of the percentage decline of regular import values in the same period.
How to harness the benefits of e-commerce beyond the pandemic
E-commerce is becoming increasingly important and has enormous potential. Online trade platforms can help lower firms' costs to reach and match with more customers and to penetrate new markets. Evidence based on the IDB's online social network for businesses, ConnectAmericas.com, indicates that this is indeed the case: smaller firms without previous digital presence experience a significant increase in their foreign sales using the platform.
To take advantage of e-commerce, countries in the region need to tackle several obstacles and policy challenges. In addition to limited and poor connectivity and more broadly inadequate technology infrastructure, these include underdeveloped financial systems, underperforming postal services, and weak legal and regulatory frameworks that restrict the extent to which people trust and do online transactions.
Importantly, there is a clear need to develop and implement accurate and internationally consistent measurement strategies, address explicit barriers to digital trade (e.g., restrictive data policies, establishment barriers), and create conditions conducive to regional digital markets.
Countries also need to ensure safely and expeditiously processing of the fast-growing number of small value international parcels through standardization of procedures and electronic interconnection between customs and postal and logistic operators to enable advanced cargo information. They also need to introduce new technologies such as artificial intelligence and machine learning to allow for automation of risk management for the shipments in questions.
The Inter-American Development Bank, in particular its Integration and Trade Sector, is actively working with LAC countries to support them in coping with such challenges.