In the 21st century, new technologies have brought exponential progress to many sectors and industries, so much so that we are said to be living through the fourth industrial revolution (Industry 4.0). At the same time, changes in the world of telecommunications mean that we can connect to one another at practically any time, regardless of where we are. These changes are also sweeping the world of transportation. Trade in goods and global travel by sea and air get faster, more efficient, and cheaper by the day.
However, in Latin America, the clock seems to have stopped in the 20th century when it comes to cross-border road travel. Most cross-border routes are plagued by long lines of vehicles, a lot of wasted time, and extra costs for transportation companies and users, who often live in areas near these borders and share family or business connections.
These connectivity challenges have a negative impact on everyone. Truck drivers' profits shrink when their vehicles are delayed, exporters find they have less potential for growth, importers see their sales go down as prices rise, and the public sector is weakened by inefficient management procedures and shortfalls in human and financial resources. This all translates into the countries of Latin America being less able to form part of regional and global value chains, and thus into lower rates of competitiveness and economic development in general.
However, new technologies, coordinated efforts between the public and private sectors, and binational cooperation mean that we can move beyond these challenges by developing smart highways that move goods across borders faster.
The countries of Latin America, in partnership with the Inter-American Development Bank (IDB), are seeking to promote regional integration and greater connectivity through innovative projects for smart roads and highways.
What is a smart highway?
A smart highway is a road corridor that operates using data and technology. These roads allow traffic to flow in a way that meets users' needs safely and cheaply while also allowing vehicles to be appropriately monitored and controlled. If a given smart highway is part of a binational border crossing, it also enables border checks and controls to be carried out efficiently.
To take on the challenges of the 21st century and take full advantage of global opportunities, countries need to make comprehensive investments in cross-border road corridors and set their sights on safe, high-quality road infrastructure, and functional border facilities that use coordinated, optimized processes. On top of these investments, smart highways require the implementation of smart traffic management and control systems for transporting goods and people using the latest technologies. These systems include:
RFID tags to identify vehicles and container security seals.

Automatic number plate recognition (ALPR) systems.

Automatic container code recognition (ACCR) systems for identifying containers.

Magnetic loops and piezoelectric sensors for classifying vehicles.

Video surveillance cameras, vehicle height detectors, and radiation detection gates.

Biometric facial recognition systems.

Truck scales to calculate total load and axle loads.

LED messaging systems.

Vehicle separators with laser barriers and infrared cargo sensors.
All these technological components form part of integrated management stations at strategic locations along the road corridor and at the entry and exit points of border crossing facilities. Management stations capture data automatically or semi-automatically on vehicles that are traveling along the road in question (see figure 1). Smart traffic management and control systems also contain logical components (software) that function in a coordinated fashion and interact with the management and control systems within each of the institutions that are responsible for the road corridor and border area.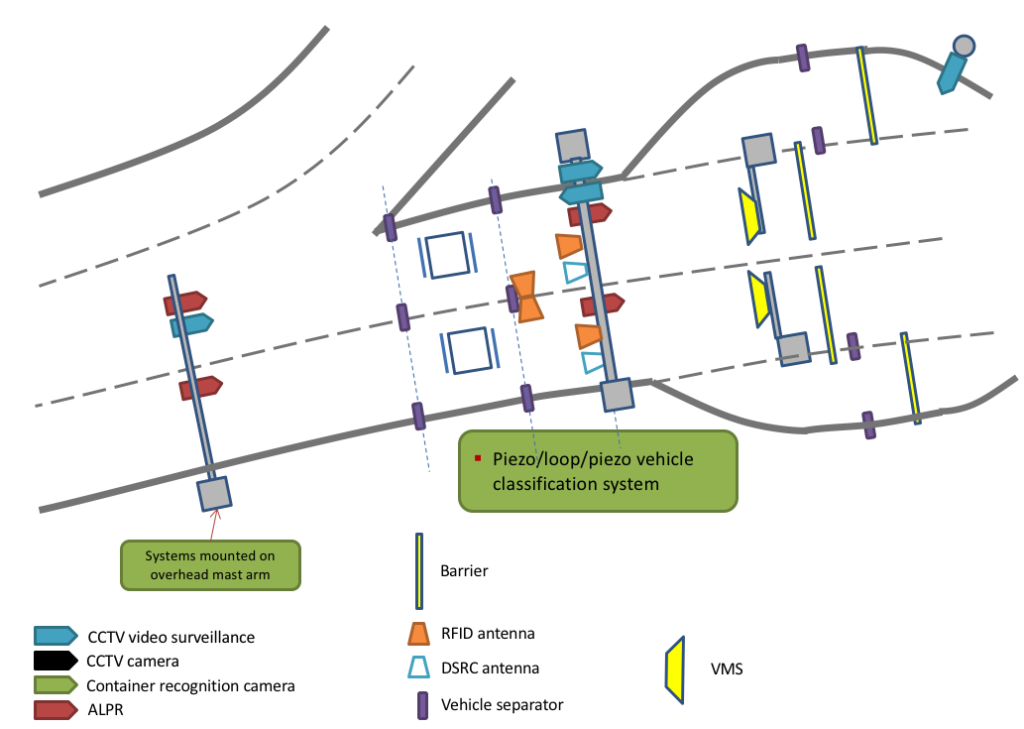 What can a smart traffic management and control system contribute?
These systems provide large amounts of high-quality data for managing regulatory, operational, and safety factors, and also generate statistics that are fundamental for public policy design. This enables authorities to monitor, organize, and streamline traffic along road corridors and border crossings. The technology and features of these systems give government authorities and users access to better tools for planning, managing traffic, and reacting to problems.
Ministries of transportation have precise knowledge on exactly which vehicles are traveling a given road corridor at any moment, including their loads, licenses and registrations, and cargo permits. They can also monitor road tax payments, improve road safety standards, and respond better to incidents.

Customs authorities and phytosanitary control agencies have access to data before vehicles arrive at border crossings and thus can track a given aspect of a customs record (e.g., declared load). Smart traffic management and control systems allow authorities to monitor whether vehicles that are crossing the border have complied with formalities at the necessary checkpoints along the road corridor, which facilitates the monitoring process and mitigates the risk of their evading these.

Law enforcement agencies obtain information that is vital if there is a crime or other infringement. Furthermore, this information can be used to create a risk management system for the entire road corridor in partnership with authorities from neighboring countries. All government authorities have access to real-time data and can draw on key statistics when making decisions.

Smart traffic management and control systems also allow nongovernment users (transportation companies and truck drivers, customs agents, importers, and exporters) to check on the status of their customs operations online in real time.
The IDB is providing technical and financial support for the design and implementation of smart traffic management and control systems along several road corridors and border crossings, including the Cristo Redentor crossing (Argentina–Chile), the crossings at Rumichaca (Ecuador–Colombia), Huaquillas (Ecuador–Perú), and others between Nicaragua and Costa Rica.
Through this initiative, the region is seeking to become part of the new digital generation of governments that rely on data-based administration systems.