March 8th – International Women´s Day.
During the 2016 U.S. presidential elections, the world seemed poised to witness the country's first female president. It did not happen and, for many, Hillary Clinton's defeat underscored the continuing struggle of women to achieve the highest levels of leadership in government and private sector around the world.
At the IDB, gender equality is a core element of sustainable development. But saying that gender equality is important is one thing. Creating a culture where it is practiced daily, is quite another. So, we've baked in gender equality and other core principles of diversity and inclusion into how we work, forming pillars of our mission to improve lives throughout Latin America and the Caribbean.
How can large international organizations that operate across many countries and employ people of many different cultures and backgrounds promote gender equality inside their organization? Here are five umbrella initiatives that we are doing to further gender equality in the workplace:
Promoting women in leadership: Organizations measure what matters to them. In 2015 we established a goal of 43% of senior roles to be held by women by 2019. Today, we're at 38%, up from 29% in 2008. We are focusing on attracting, recruiting and retaining top female talent, and ensuring that they have transparent and meritocratic tools for success. To help us grow leadership from within, we created the Emerging Women's Leaders Program.
Parental leave, lactation policies and child care: To attract and retain top talent, organizations need to take into consideration the whole person, both their personal and professional development. That's why the IDB provides full-time salaried staff with paid maternity leave and adoptive leave, as well as parental leave to fathers and non-primary caregivers. In 2013, we passed a comprehensive policy on lactation policy which provided space and time flexibility for nursing mothers. At our headquarters, we also have an onsite childcare facility.
Working mama and working papa initiatives: Individuals need tools and skills to learn to balance the challenges of work and parenting. In 2012, we launched the Working mama coaching program, providing working mothers with the tools and skills to more effectively manage their work-life integration and career. In 2015, we also started a series of conversations and panels for working papas, who expressed a similar need.
Alternative work schedules: The IDB approved a comprehensive policy on alternative work schedules, with options for telework, compressed schedules, flexible hours and others. Both men and women utilize these options.
Obtaining a gender certification: The IDB has just completed its first EDGE Global Gender Certification, a global assessment on gender equality that examines pay equity, recruitment, talent development, workplace flexibility and company culture. We are the first multilateral bank dedicated exclusively to Latin America and the Caribbean to publicly declare its commitment to fostering gender equality in the workplace. The IDB achieved the level EDGE Assess.
On their own, these five actions will not create and maintain a completely gender equal environment. However, taken together, and added to the continued commitment to have gender equality permeate a corporate culture, change will happen. Linking diversity to the business and using benchmarks, metrics and performance indicators to drive strategy on diversity and monitor progress are key steps in the right direction, the direction in which the IDB is committed to go.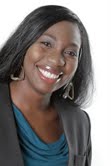 Sanola A. Daley works as a diversity and inclusion advisor at the IDB. A former Young Professional, she also served as a gender specialist, advising IDB group's private sector clients on gender equality and women's leadership in their strategy and operations. She is originally from Jamaica, by way of New York, Puerto Rico and Costa Rica.