One notable characteristic of Covid-19 is that, outside China, it began by affecting the more prosperous segments of the population. In Latin America, the majority of people who were infected initially came from Europe and the United States. Argentina—and especially the Autonomous City of Buenos Aires—was no exception. As of March 12, the city's 15 confirmed cases had come from those destinations. It is thus not surprising that, initially, the virus had a disproportionate impact on wealthier comunas, like Palermo (comuna 14) and Recoleta (comuna 2) (see Table 1).
Table 1: Cases per 100,000 residents as of April 3, 2020, and average family per capita income of homes, by comuna. Buenos Aires.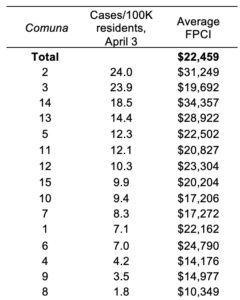 Source: Cases: Weekly epidemiological report of the Autonomous City of Buenos Aires, April 3, 2020; per-capita income: General Office of Statistics and Census (Ministry of Economy and Finance of the Government of the City of Buenos Aires) EAH 2018.
But although the illness may not begin in high-risk neighborhoods, it is only a matter of time before such neighborhoods become outbreak hotspots, and thus the places where authorities will need to focus their testing efforts.
Why? To begin with, residents of marginal neighborhoods tend to work in the informal sector, they have no savings, they live month-to-month, and it is more costly for them to stay at home. They are less likely to work in jobs they can do remotely, and even if they do, they probably do not have the digital infrastructure or physical space to enable them to stay productive during lock-down without leaving their homes. It is therefore more likely that they go out to work, either in essential sectors such as  public transportation, food processing, or supermarkets; in informal food markets (significant transmission hotspots in some countries); or in other activities where they are exposed to the virus.
Once some individuals living in marginalized neighborhoods are infected, it is hard to prevent it from spreading further. We know that the virus spreads most easily in enclosed spaces, including inside homes. In the villas (shantytowns) and other urban settlements, where the population density is much higher than in the rest of the city, people tend to live in overcrowded conditions, sharing homes with other families, and they have a greater difficulty practicing social distancing or isolating symptomatic individuals within homes.
Of course, the situation is not unique to Buenos Aires, to Argentina, or to Latin America. Even in a country like Singapore, which seemed to have brought the illness under control with a significant deployment of testing and contact tracing technologies, new hotspots emerged in marginal areas where the low income immigrant population lives.
What did this process of migration of the illness from Buenos Aires' wealthiest neighborhoods to its poorest look like?
Until mid-April, the highest-income comunas (Palermo and Recoleta, highlighted in blue) led the rankings in cases per capita, along with Comuna 3. By the end of April, Comuna 7—home of Villa 1-11-14, now known as Barrio Padre Ricciardelli—was moving up in the rankings, and by the beginning of May, Comuna 1—home of Villa 31, Barrio Padre Mugica—was in the lead. From there, the growth in the number of cases in the two comunas highlighted in red skyrockets, easily outstripping the number of confirmed cases in any other comuna. A second visualization based on more disaggregated data by barrio (rather than comuna) showing the 20 (of a total of 48) barrios with the most cases per capita begins two weeks later, but confirms the sharp growth in the number of cases in the Retiro and Flores barrios, where the aforementioned villas are located. As of June 11, these two barrios had more than 2,700 and 2,500 cases, accounting for 42% of the city's total, while Palermo and Recoleta only accounted for 5%. Third in the rankings is the barrio of Barracas (Comuna 4) where another one of the largest villas by size—called 21-24–is located.
This reversal in the relationship between the number of cases and per capita income is not a surprise. What is a surprise is the speed at which the transformation occurred. It is partly explained by changes in testing protocols. For example, at the beginning of the pandemic, in order to get tested, one had to have traveled from one of the more high-risk countries, a requirement that was dropped as community spread of the virus increased. This meant that, initially, most testing was concentrated in higher-income comunas, where the residents travel more.
But the pivotal factor is a new active search policy implemented by the government through the Ministry of Health starting on May 5: It is called Plan DETECTAR (Plan DETECT, an acronym that stands for "Strategic Corona Virus Testing Mechanism in Argentina"). The program, which in the City of Buenos Aires was implemented jointly with the City's local government, goes house by house to identify people in poorer neighborhoods who are just starting to show symptoms, test them for Covid-19 using PCR tests, and isolate people infected by the virus in hospitals or quarantine centers for 10 days. In the City of Buenos Aires, the plan was first rolled out in Villa 31, which immediately saw a jump in the number of cases. It was next deployed in Villa 1-11-14. The program is currently active in 5 villas in the city (including 21-24, which has seen an acceleration in the number of cases), and extending it to wealthier neighborhoods is being considered.
The need for a plan like this is made clear by another data point: almost 50% of those tested in vulnerable neighborhoods came back positive, an indication of the extent of the spread of the illness in shantytowns, where people also do not have the same access to health services as higher-income people. Fortunately, so far, the mortality rate in the villas has been much lower than in the rest of the city, partly because the population living there is much younger (by 10 years) than those living in other barrios.
To some degree, the increase in the number of confirmed infections is a reflection of this program's success. As it is rolled out throughout the country, the number of confirmed Covid-19 cases in Argentina will no doubt increase rapidly. These types of active search policies make the problem more visible, but are part of the solution. Without question, implementing active strategies to detect and isolate infected individuals in vulnerable neighborhoods—especially when implemented by working together with community organizations—should be central to any strategy to combat the pandemic, not only in Argentina but throughout the world.