After a robust economic recovery last year from the lows of the pandemic, Latin America and the Caribbean faces strong headwinds from potential new coronavirus variants, inflation-fighting efforts in advanced economies, and the war between Russia and Ukraine that could depress world growth and even push the region into recession by 2023.
Riding a wave of strong growth at the global level, the region rebounded from its worst single-year recession in 2020 to grow nearly 7% in 2021. Analysts expected growth to return to the long-term average of around 2.5% this year. Recent events, however, have complicated that scenario, as we discuss in the recently released 2022 Latin American and Caribbean Macroeconomic Report. Policymakers now face complex challenges in ensuring fiscal and monetary policies are consistent and are calibrated correctly and in improving the architecture of both labor market and fiscal frameworks to boost growth and equity.
War Between Russia and Ukraine
The war between Russia and Ukraine is having significant effects on the global economy and has opposing impacts for Latin America and the Caribbean. Higher commodity prices will be positive for growth and for fiscal revenues in countries of the region that export commodities, but will hit oil importers, especially in Central America and the Caribbean. The war will also depress growth in Europe and in the United States, reducing the prospects for all countries.
In addition, more restrictive monetary policy to bring down inflation in the United States will push up the cost of financing. If this policy normalization does not go smoothly and is more aggressive than expected, with more interest rate hikes and a greater sell off of assets (quantitative tightening), it would depress U.S. and global growth further and impact financial asset values and capital flows. The result would be lower growth in the region, possibly even provoking a recession.
Finally, as the omicron variant made plain, there is the ever-looming threat of new and more transmissible versions of the COVID-19 virus and their potential effect on economic uncertainty.
International Challenges Call for a New Approach
Governments and central banks have worked closely together to confront the economic impacts of the pandemic, providing support for firms and households and boosting liquidity and credit. The continuing pandemic recovery, the new challenges of lower global growth, and the Russia-Ukraine conflict now call for similar coordination but with a new approach to restore macroeconomic fundamentals, fight growing poverty and inequality, and increase exports.
With higher debt levels and inflation, the region should pare back expansionary fiscal policies. It must also reconsider the composition of spending to favor investment that will boost growth in the short and medium term and relieve rather than compound supply bottlenecks. Transfers and subsidies should be finely targeted to truly address poverty, which saw a 20% rise of people earning less than $3.1 per day in 2020.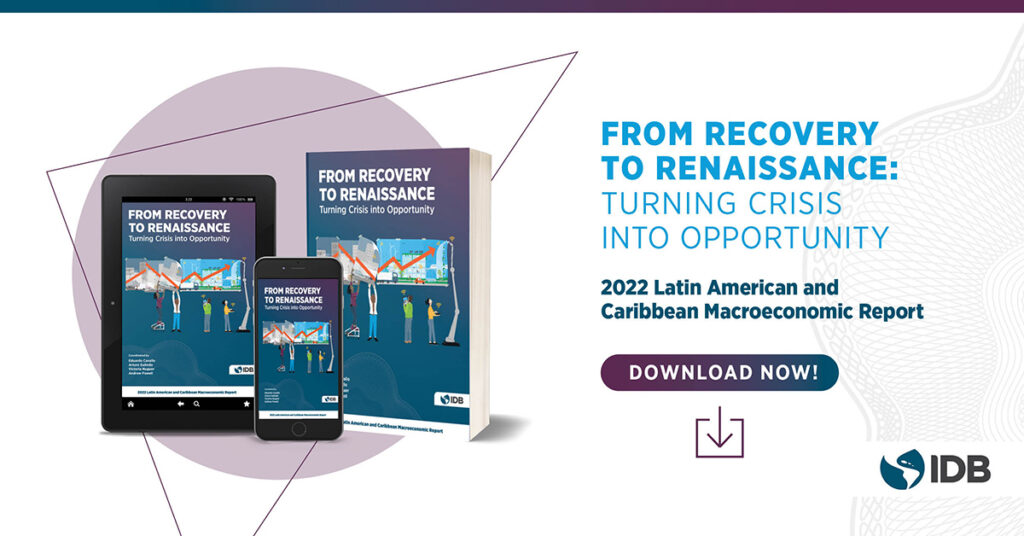 Fiscal and monetary policy must be closely coordinated, and measures taken to eliminate waste and expand the tax base. Countries that receive windfall revenues from the export of commodities should prioritize reducing debts and boost depleted fiscal buffers. Additional spending, particularly on consumption, would have to be met with yet more restrictive monetary policy and would be highly inefficient.
Labor market reforms will also be essential to fight rising informality and the growing gender gap between men and women when it comes to jobs. Reforms to social security systems that make benefits universal and independent of an individual's labor-market status are one way, among many suggested in our report, to promote formal labor. Universal systems to care for children, the elderly and others would help bring more women into the labor market. Such reforms would not only improve fiscal accounts but also boost productivity and growth.
Relieving Global Supply Shortages
Amid an increasingly challenging international environment, there are also opportunities to seize. The pandemic generated global supply chain problems, which appear to be worsening with the Russia-Ukraine conflict, given Russia's important role in the export of oil, gas, and fertilizers, and the role of both countries in the export of grains. Latin America and the Caribbean produces oil and gas, minerals, grains and metals among other products in short supply. Increasing exports in those products and improving export logistics more generally would help the world face the supply shortages and contain inflationary pressures.
These are complex challenges, and there is considerable uncertainty as to how the war and other global factors will pan out. But the region's resilience in the face of the pandemic provides grounds for optimism. With the right policy choices, the region can emerge stronger, more prosperous, more inclusive, and more equal.