Latin America suffered some of the world's longest school closures due to the COVID-19 pandemic, compelling countries to explore diverse alternatives to maintain children's education. At the Inter-American Development Bank (IDB), we investigated various strategies to counteract the learning crisis instigated by these closures and the pre-existing conditions of low educational attainment in the region. We found that one of the most cost-effective strategies was phone tutoring. ConnectEd served as our primary inspiration for this approach.
In this blog, we take a closer look at ConnectEd, an innovative program led by the NGO Youth Impact. This program has profoundly enhanced learning across six countries (Botswana, India, Nepal, Philippines, Kenya, and Uganda) through phone tutoring. Initially piloted in Botswana, this impactful and cost-effective approach has demonstrated its potential in addressing educational challenges, particularly during global crises and in regions with limited access to quality education.
ConnectEd: Narrowing the Education Gap
ConnectEd serves as a powerful example of how phone tutoring can reduce educational disparities across various regions, with a primary focus on strengthening children's foundational numeracy skills. It facilitates personalized learning experiences, fostering enhanced educational outcomes.
ConnectEd was first  tested in Botswana in a randomized control trial (RCT) and was shown to substantially improve learning in basic mathematics. Since then, the program has been further tested  in an additional five trials in countries across Africa and Asia.
On average, these have shown a 65 percent increase in the percentage of students who learned division – effectively mastering all basic numeracy concepts that we deliver in the course of programming.  
The invaluable insights from these trials significantly contributed to the collaboration with the IDB for implementation in Latin America and the Caribbean. Youth Impact shared all the materials and knowledge necessary for a successful adaptation in LAC.
The IDB Experiences: Innovating Phone Tutoring in Latin America and the Caribbean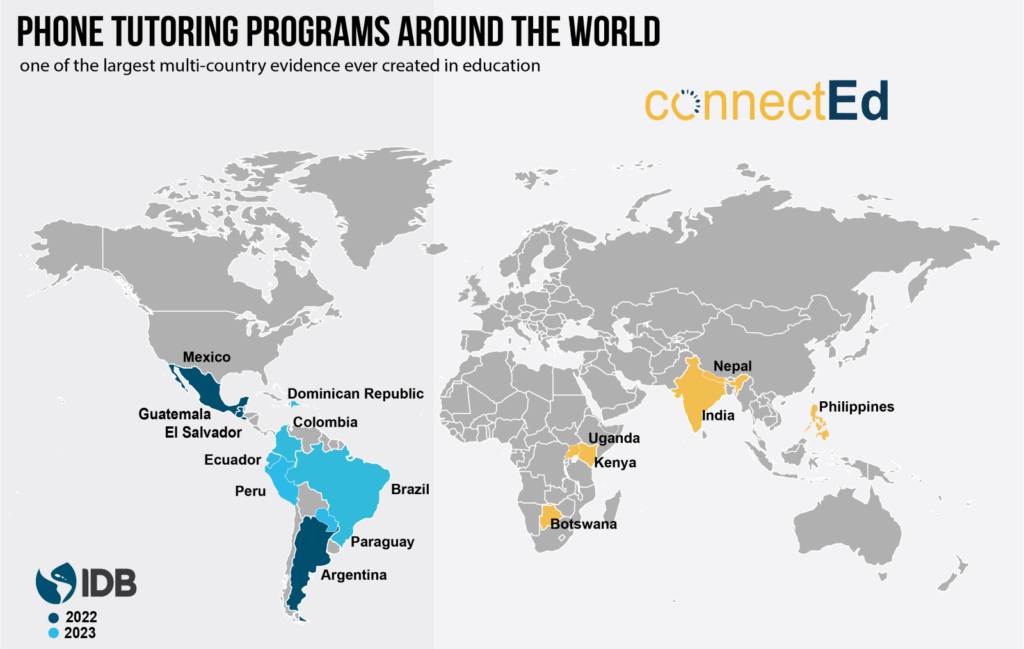 Drawing inspiration from ConnectEd, the Accelerate Learning program in Latin America was developed to broaden the scope of phone tutoring to more students.
Developed in partnership between local education ministries of LAC countries and IDB, the program showcased its versatility and replicability across diverse curriculums. While maintaining the core principles of ConnectEd—focusing on fundamental numeracy skills, implementing the Teaching at the Right Level (TARL) approach, and ensuring straightforward execution in 8 short tutoring sessions—each implementation was specifically tailored to align with the distinct curriculum of each country.
The innovative customization of phone tutoring by the IDB in the LAC region guaranteed that the tutoring services reached the students who needed them most, thanks to the close work with the Ministries of Education.
In 2022, The IDB and the Ministries of four countries worked in 7 pilots via phone tutoring, which resulted in positive impacts on students, families, and tutors.
In 2023, the LAC tutoring initiative is expanding its reach to six more countries (Colombia, Brazil, Ecuador, Paraguay, Peru, and the Dominican Republic). This initiative is driving further innovation by utilizing phone tutoring as a means to nurture socioemotional skills through mentoring. It is also actively engaged in adapting new math and literacy curriculums.
There's an emerging momentum within the region to scale up these phone tutoring programs nationwide. The IDB remains committed to enabling these expansions, leveraging the insights and experiences gained from the initial pilots. This includes a focus on sensitizing, engaging, and ensuring completion of the program, which are paramount for achieving the intended learning outcomes. 
It might interest you: Africa and Asia Successful Global Tutoring Experiences: ConnectEd. Download the publication here.
Ensuring Assistance Where It's Needed Most
Phone tutoring, as a method, has shown its robust delivery potential, efficiently managed by a combination of both NGOs and government entities across a range of diverse curriculums. The interventions have shown that early engagement with communities and a strong, one-to-one collaboration with local authorities and schools significantly enhance the overall effectiveness of tutoring.
The joint experience underscores the effectiveness of tutoring when it reaches those who need it most. A hyper-targeted approach is key to ensuring optimal use of resources and extending outreach.
Phone Tutoring – Not Just for Emergencies, a Lasting Solution in Education
Tutoring has long been recognized for its effectiveness, but cost-effectiveness remained a challenge until recently. Now, with the demonstrated ability to provide tutors tailored to the specific needs of each student at a remarkably low cost per student ($12 – $30 USD per child), phone tutoring has emerged with immense potential to remain in the global education landscape. It has the power to address educational inequalities, from disparities in learning levels as reflected in national cognitive tests like PISA, to accessibility for students in hard-to-reach areas and the shortage of teachers fluent in students' native languages. Evidence shows that regions hardest hit by school closures have benefited significantly from these tutoring programs.
Together, Youth Impact, the Inter-American Development Bank (IDB), and partners from around the world have collectively built one of the largest multi-country evidence ever created in education, examining the phone tutoring approach across over ten different contexts. This robust evidence base suggests that the approach is not only replicable but also effective across a variety of settings. Given this compelling evidence of its cost-effectiveness and overall efficacy, we advocate for future efforts to focus on scaling up this approach and conducting further related research.
Don't miss our upcoming series of blog posts and publications on learning through various types of remote tutoring in the region and worldwide.