Dr. Maria Garrido is the Principal Research Scientist and Adjunct Faculty at the Information School at University of Washington. Dr. Garrido has a background in conducting multi-country studies that catalyze social change, specifically in communities facing social, political, and economic challenges. Elena Heredero and Mariel Sabra are both Lead Specialists at the IDB Lab, the innovation laboratory of the IDB Group, where they work to make a difference in the lives of young people and vulnerable populations in Latin America and the Caribbean, developing public-private-civil society partnerships, innovative programs and research activities. Dr. Garrido together with Elena and Mariel are special guests to our blog series on the development of #skills21 in Latin America and the Caribbean.
---
Employment and Educational Outlook for Youth in the context of Covid-19
It's been eight months since the Covid-19 pandemic engulfed the world, and we are only beginning to grasp the impacts it is having, and will continue to have, on the social, economic, and cultural aspects of our lives. The economic impacts of the pandemic have been hardest felt among low-income communities, further exacerbating inequalities. Indeed, the region lost almost 24 million jobs during the first five months of the pandemic, representing 12.5% of total employment, affecting primarily low-income youth (25 years and younger) .
The dynamics emerging from the pandemic have placed digital inclusion at the core as families and communities need to rely on technology to secure basic needs. Access to critical health and safety information, working remotely, shopping for food and other basic goods, as well as online school, relies on access to a stable internet and adequate digital skills. With only 65% of people in Latin America using the internet – and overall low digital skills threatens to leave many young people living in low-income households further excluded from the opportunities of the digital economy.
As a response to these complex challenges during pre-and post-pandemic trends, IDB Lab has built a robust portfolio of projects to equip disadvantaged young people with the digital, employability and entrepreneurship skills to improve their job opportunities in the knowledge economy. Right before the pandemic began, IDB Lab carried out a study to characterize the portfolio of 25 projects that were in execution between 2015 to 2019.
Training and employability strategies of IDB Lab projects before the pandemic
While the overarching objective of each of the projects was to strengthen the educational and employability opportunities of vulnerable youth, individual projects tackled this objective with different strategies. In terms of training models, the projects were broadly grouped into three categories (See Figure 1):
Blended learning: face-to-face instruction combined with online learning tools. Within this group, three subcategories of training models emerged: 1) bootcamps; 2) part-time training; and 3) training integrated into educational institutions' curricula or activities.
Self-directed learning: Online platform as core strategy for training and career guidance where learning was not mediated through an instructor.
Innovation hubs: Centered around entrepreneurship, with a similar training approach to blended learning but placing a strong emphasis on developing entrepreneurial and digital skills.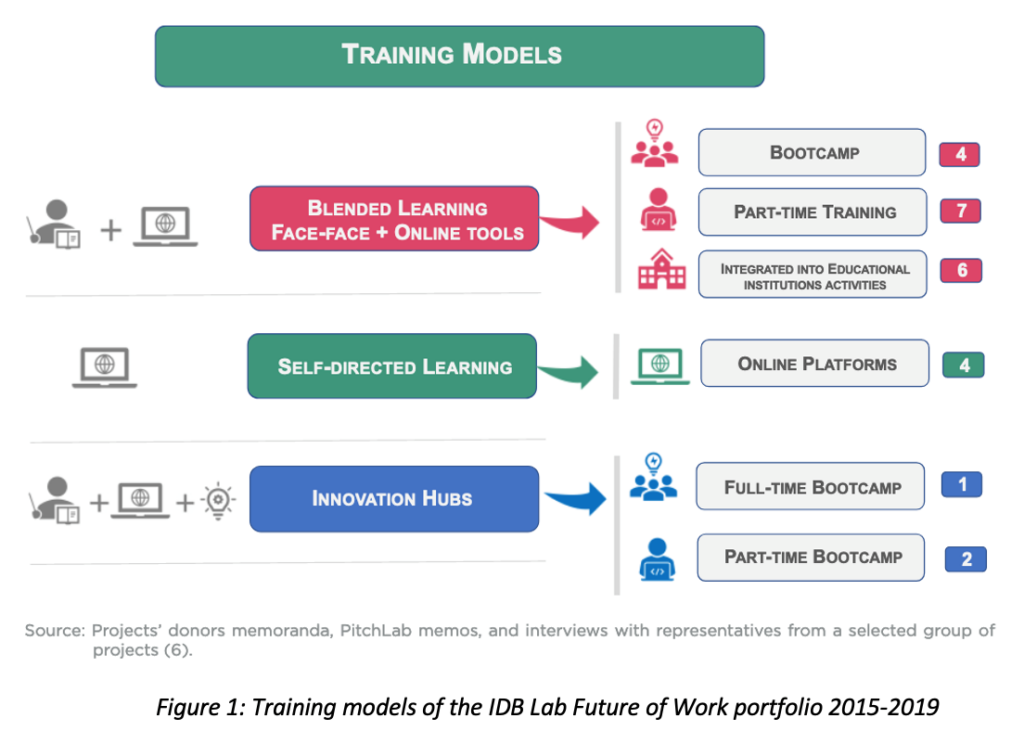 Pandemic impact on projects
When the pandemic hit another survey was conducted in May 2020 to understand emerging challenges, and innovative adaptation strategies to reach youth and support them in education and employment. The results of the survey show that projects that were integrated into the public education systems, facilities, or face-to-face learning projects were the ones most affected by the pandemic, as social distancing measures interrupted in-person training. The ones least affected were those that relied on educational platforms, and projects moderately affected were mainly coding bootcamps.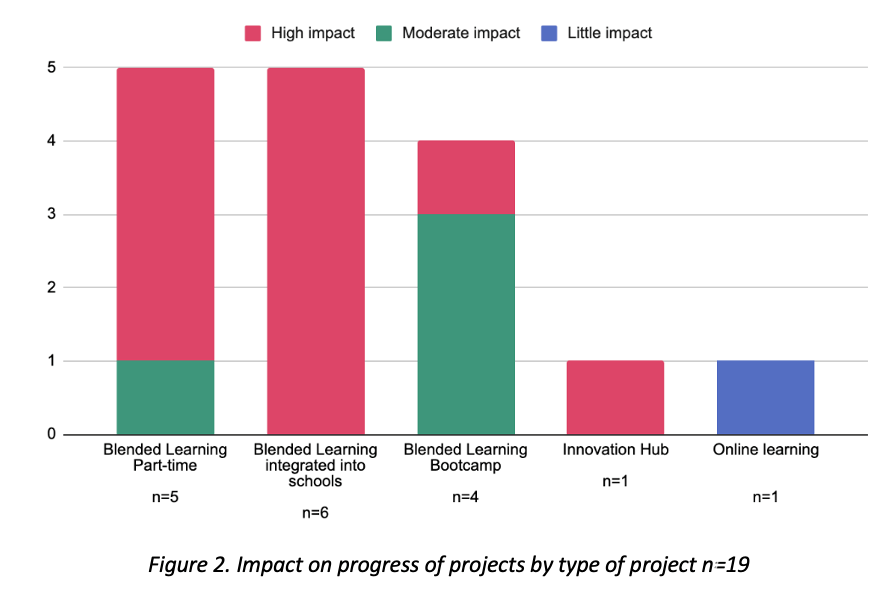 Most of the projects were optimistic in terms of their ability to adapt to their new circumstances in the short run. Projects that work with public centers and schools were moderately confident (37%), while the rest of the projects were very confident (37%) or confident (26%) in their adaptation capacity in the next 3-6 months
In terms of challenges, the most pressing one was related to the redesign of the whole training process for the online world, from student admission and selection, to teaching methodologies and learning assessments. This redesign required investment in new tools and components, as well as in training the trainers and staff on how to operate and train in a virtual environment. It involved the use of a variety of free and paid tools, that allowed youth to take courses online and offline. Staff and trainers demonstrated high levels of commitment to quickly implement solutions in a relatively short time.
For students, the adaptation was more gradual. First, some of them didn´t have internet access, devices, or space at home to continue the training online. Second, as many households lost jobs and income, youth had to look for work, while others were dealing with anxiety and domestic tensions derived from family members being sick, from the lockdown, and job and income loss in the household. Third, many young women had to do more household chores and take care of older and younger members of the family. All projects tried to help their students get back on track, providing the tools, basic needs, counseling and support network needed to overcome these challenges, as not all the students were able to quickly switch to remote learning. Despite these issues, in some projects there was a significant increase in training demand that showed not only the effectiveness of the new online selection methods, but also reflected youth awareness and willingness to acquire new job skills. Still, lowering the dropout rate remains a challenge that many projects are solving with better selection processes and fluid communication.
Finally, another key effect of the pandemic was on employability. Companies stopped hiring new recruits specially during the first months were mobility was very limited, and projects started to look at job opportunities that could be done online, or even preparing graduates to become freelancers (especially coding bootcamps). Other projects that were partnering with public schools and training centers were put on hold. However, with technology at the center of business continuity there were also positive impacts related to the increased demand for IT skills and qualified talent that projects which provided more advanced digital skills took advantage of by placing youth in IT sector jobs and by developing lines of work for corporate upskilling and reskilling of the workforce.
Trends beyond the pandemic
The pandemic made the need for digitalization and innovation for inclusion unavoidable. All IDB Lab projects are reinventing themselves and have raised to this challenge and align with three positive emerging trends:
Remote learning is evolving at a fast pace, as there are some efficiencies in conducting the training online and it can potentially expand the reach of the projects to a higher number of young people living in vulnerable situations if they have access to the internet.
While there are some concerns, at this stage, over the learning outcomes for youth working on a solely online training environment, the projects are strategically combining the use of social media networks such as Instagram, WhatsApp, Facebook, YouTube, etc., both as training delivery channels, for mentorship, recruitment, and peer-to-peer learning, and spaces for youth to voice and share their experiences and aspirations.
There are new matching solutions in the labor market that have the potential to make the transition from school to first virtual job an easier process for youth and companies.
Stay tuned and follow our blog series on education and #skills21 in times of coronavirus. Read the first entry of these series here. Download the Future is now and don't forget to keep an eye out for our news!
Do you know any projects in your country that address the opportunity for youth into the labor market in times of COVID? Leave us your comments in the section below or in Twitter mentioning @BIDeducacion #EnfoqueEducacion.