Is it goodbye to teachers? Is it goodbye to schooling as we know it? Will it lead to reinventing education, schools, and educators? ChatGPT, an innovative tool that answers questions about almost anything, was released toward the end of 2022. Put this way, it would seem like the exact old wine in a new bottle. After all, Google and Wikipedia have been doing this for decades. The novelty now is that ChatGPT can produce coherent, cohesive, relevant, and fluent answers, giving the impression that there is someone there typing what you see on the screen.
As soon as it was launched, ChatGPT became a sensation and one of the most frequent searches on the internet. It is addictive, at least at first. Anyone who has tried it knows what we are talking about. The quality of its answers and its interaction speed is surprising: ChatGPT can produce texts that are several paragraphs long and are accurate, complete, and highly precise, as well as adapted to the user's request. Not only that: It does it in several languages and in just a few seconds.
ChatGPT's irruption shook the world's educational systems once again. The query that remains is what consequences this new technology will have for teachers' working practices and students' knowledge acquisition.
What Exactly Is ChatGPT?
It is a computer program based on what we know as artificial intelligence (AI). An AI is a system of algorithms capable of performing tasks that usually involve human intelligence, mainly because these tasks require language processing, pattern recognition, learning, and decision-making.
ChatGPT generates texts as a chatbot, a computer robot that chats. When you access the site, all you have to do is ask a question—whatever comes to mind—and it will immediately provide an answer. It can be about data, thoughts, or current events, and the sky is the limit. It is a pre-trained model that can be adapted to specific tasks. That is why we, the authors, seized the opportunity to ask it for guidance on explaining to a child what the tool is about. Now even we understand it:

It has multiple uses, and its answers' degree of plasticity and specificity is astonishing: from something as simple as the distance between two cities to complex programming code.
ChatGPT is not a question-answering engine, but a complex a
lgorithm composed of more than 175 million parameters (that is, values that compose AI algorithms) that generates answers adapted to:
1. the context of the question
2. the user's request
3. the training of its algorithms
Therefore, if two users ask the same question, they could get similar, yet not identical, answers (this is what happened to us when we each separately asked the question that heads this article).
Schools (Futilely) Challenged Given the Irruption of Artificial Intelligence
As is the case whenever technologies related to knowledge and know-how appear, concerns about their use in schools quickly arose: from those who celebrated their potential to those who feared for survival, as well as those who observed these innovations almost indifferently.
On the one hand, optimists praise the tool because it will support teaching. On the other hand, skeptics see a clear difficulty regarding the possibility for students to easily complete their assignments by relaying their teachers' questions. Lastly, people who are indifferent wonder if search engines (such as AltaVista, Yahoo, and Google, among others) have changed school work.
But there is more, much more. These are the questions that arise every time new technologies appear in education. First it was the radio, then television, then the internet, and now it is artificial intelligence. Will school assignments still make sense? Will teachers have to become authenticity inspectors, trying to detect whether human or artificial intelligence carried out a task? Should they come up with a different way of defining instructions? These are legitimate queries that add to the long list of questions that technological innovations pose about schools at any given time. But, as usual, these concerns should be considered within a more general framework of reflection on the (past, present, and future) relationship between technologies and schools.
However, suppose school is a technology that, like many of its kind, is in turn nurtured by other technologies, far from ChatGPT being a rupture. In that case, it could be a new turning point in a long continuum of changes (although there are still those who believe that because there are buildings and classrooms, the school remains the same as it has been for centuries).
The Opportunities ChatGPT Offers Education
Its potential, especially for teachers, is evident. Not only in terms of content, which is the first aspect that comes to mind, but also because it could serve as an aid, a tool to support them in developing their teaching approaches.
For example, we asked ChatGPT for ideas on how to teach photosynthesis to sixth-grade students in middle school. After it answered, in order to test it—and play a little—we expanded our request and also asked it to tell us how to teach photosynthesis from an ecology and gender perspective. We are still gaping and smiling.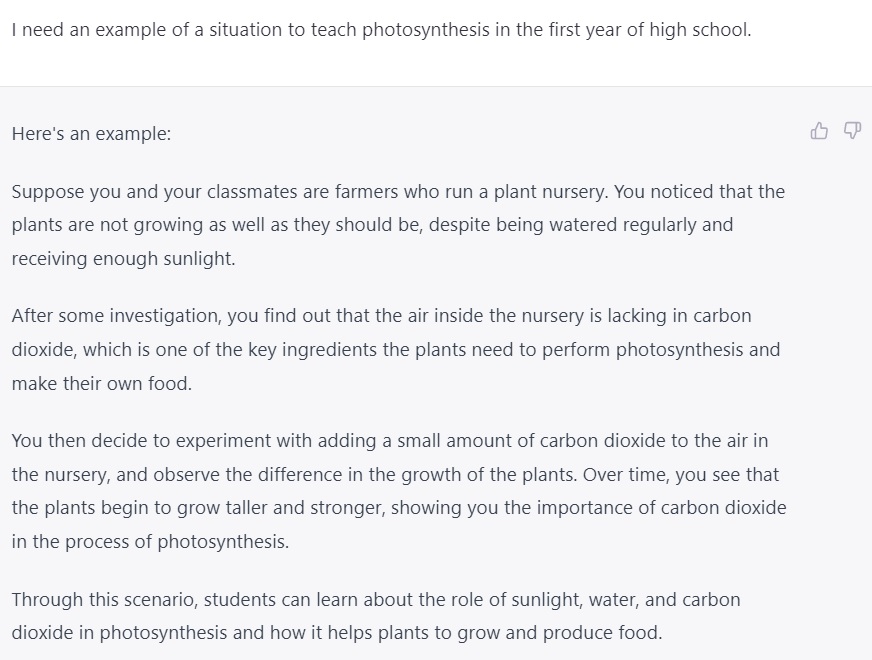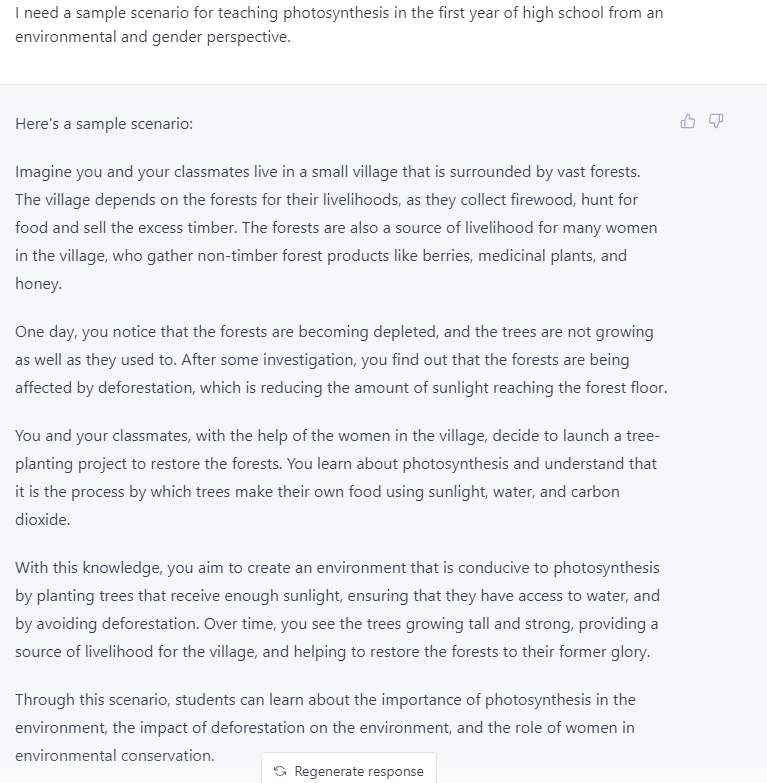 It would seem that ChatGPT is the missing link that connects the repositories of didactic resources that have been generated on the internet for the past few decades with the specific needs derived from the daily and urgent nature of teaching (which cannot always be met by search engines or educational portals).
For instance, a philosophy teacher who wants to address questions related to gender could ask ChatGPT for a document containing all primary international standards on the subject or legislative developments in their country, or, why not, a selection—based on specific criteria—of news articles or statistics related to the violation of equal rights regarding gender. And all this without having to master the structure and intricacies of conventional search engines. It would be enough with a simple question, similar to asking a colleague.
This type of action does not replace the role of teachers, whose function is to select not only the subject matter, but also the resources to address it in a relevant and localized way. Instead, ChatGPT could free up time from routine or cumbersome tasks so they can focus on supporting students.
The Challenges Posed by This New Artificial Intelligence Tool
Its ability to answer questions, the visible face of ChatGPT, raises some red flags about teaching and/or school assignments and their validity. One of the most widespread fears these days is that students will use ChatGPT to complete school assignments and then copy and paste the answers without teachers being able to control this.
However, this is based on certain assumptions, such as that teaching is limited to teachers repeating content and students learning to replicate it. If this were the case, ChatGPT would be the best of teachers and, at the same time, the best of students. Far from it, teachers and students may well enhance their capabilities and possibilities with the support of technologies such as AI, just as they once did with calculators for math. Their existence did not neutralize or threaten teaching; considering these risks, alternatives and strategies were sought to incorporate technology and the development of critical thinking and creativity into the teaching and learning processes.
On the other hand, like any resource, neither ChatGPT in particular nor artificial intelligence in general will magically solve the sector's problems on their own. Just as they are not a threat, neither are they a solution. They are tools with the potential to be used in education. And, like any others, with their own scope and limitations.
What About Learning Conditions?
The above cannot overlook a critical issue: In Latin America, less than 30% of vulnerable households have access to computers to do schoolwork, and only a third of schools have sufficient bandwidth to work with (IDB, 2020). Moreover, as has been highlighted since the pandemic outbreak, the possibility of incorporating new pedagogical resources and technologies is limited to a select few.
In this scenario, the gap in school opportunities and knowledge distribution will widen with a new technological breakthrough of potential use in education. As a result, our educational systems will have to address these deficits.
As often happens in these cases, all eyes focus on teachers and students. But we must recognize the need for policies to ensure that these tools are within everyone's reach. Without access to the minimum resources—devices and connectivity—the use of artificial intelligence will continue to be a matter of dispute rather than implementation.
Would you like to learn more about these topics? We invite you to read "Using Big Data in Educational Planning: From Counting Students to Anticipating Solutions" blog (in Spanish). How do you think ChatGPT will impact education? Do you see it as an opportunity, a challenge, or a threat? Leave a comment!