Have you ever smiled back at a giggling baby or played peek-a-boo with a toddler? Did you know you were helping build connections in that child's developing brain? At the Center on the Developing Child, we call these responsive interactions "serve and return" because they go back and forth—like players with a ball in a game of tennis or volleyball.
Interactions Matter
Serve and return helps build the neural connections that comprise sturdy brain architecture. Found across multiple regions of the brain, these connections form the foundation for learning, social-emotional development, and executive function and self-regulation (the skills that help children and adults focus, plan, prioritize, remember important details, ignore distractions, and control impulses). Because serve and return is responsive to children's needs, supportive of what's important to them, and playful, it also buffers them from the effects of serious stress, which is crucial for building resilience.
Who can Engage in Serve and Return?
Any adult who cares for a child—parents, grandparents, and other relatives; child care providers; teachers and classroom assistants; social workers, etc. And, policymakers can ensure that parents, teachers, and other caregivers have the knowledge, mandate, and opportunities to engage in this kind of brain-building interaction with the children in their care. (See more Policy Considerations below.) Remember, you don't need toys or technology or even lots of time to do this! You can do serve and return with a child during everyday moments—while you're shopping at the market, riding the bus, getting ready in the morning, or in a child care setting, pediatrician's office, or other program.
Five Simple Steps to Serve and Return from our Friends at the FIND Program
Notice the serve and share the child's focus of attention. Is the child looking or pointing at something? Making a sound or facial expression? That's a serve! The key is to pay attention to what the child is focused on.
Return the serve by supporting and encouraging. Offer children comfort with a hug or gentle words, play with them, or just smile and nod to let them know you're noticing the same thing.
Give it a name! When you name what a child is seeing, doing, or feeling, you make important language connections in their brain, even before they can talk or understand your words.
Take turns … and wait. Keep the interaction going back and forth. Every time you return a serve, give the child a chance to respond. Taking turns can be quick (from the child to you and back again) or go on for many turns.
Practice endings and beginnings. Children signal when they're done or ready to move on to a new activity. They might let go of a toy, pick up a new one, or turn to look at something else. Find moments here and there for them to take the lead.
To learn more about serve and return, see this parent/caregiver guide and how-to video:
https://youtu.be/KNrnZag17Ek (in English)
https://youtu.be/NggUbMZWnIc (in Spanish)
By taking small moments during the day to do serve and return, you support a child's lifelong learning, behavior, and health—and their skills for facing life's challenges. When children experience the ongoing stresses of poverty, violence, discrimination, or other adversity, this is especially important, as this kind of supportive, responsive interaction lays the foundations of resilience. And, building strong brain architecture and resilience in children leads to healthier, more productive communities for all of us. So, how can you make sure more children have serve and return in their lives?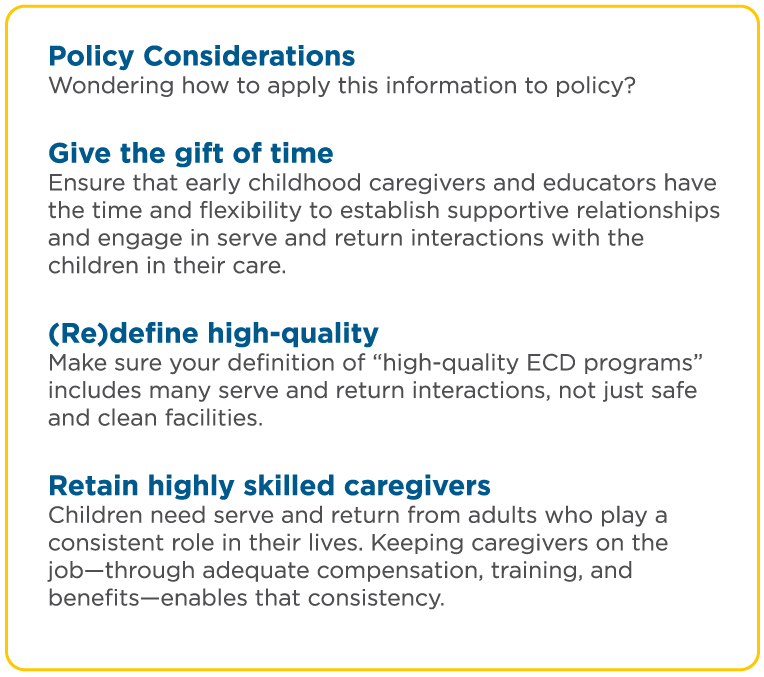 We'd love to see how you #ServeAndReturn! Share your photos and videos with @BIDgente and the Center on the Developing Child on Facebook, Instagram, and Twitter.