Copyright © 2017. Interamerican Development Bank. If you wish to republish this article, please request authorization at sph-communication@iadb.org. 
By Jill McFarren Aviles. 
(Para leer este artículo en español, haz click aquí.)
Picture a caregiver engaging an infant with a smile, describing the movement of their hands or lulling the infant to sleep with a soft voice. What is happening in the infant's brain with this interaction?
A sense of security and trust is built, and language and communication skills are developed. The seemingly mundane interactions are fundamental to a child's growth and brain development, particularly throughout the first three years of their life. The seeds for problem solving, communication, lifelong skills and overall well-being are planted day-to-day in this sensitive stage, where fostering trusting relationships and responsive learning environments are critical.
Infants and young children need responsive care and interaction to thrive. However, early childhood professionals working in child care settings do not always realize that these, apparently simple acts, are so significant in a child's life. They have engaged in these interactions so often that they don't know how intentional they can be. Thus, it is essential that adults who have the responsibility for the care, development, and overall well-being of children become aware, understand, have the knowledge and self-assuredness that their interactions have a tremendous impact on children's lives, particularly that of infants and toddlers.
Coaching Strategies as a Pathway to Quality Childcare
Coaching strategies can spearhead lasting quality approaches for early child care settings. Specifically, the Strength Based Coaching Framework (SCBF), embedded in a trusting relationship, builds on caregivers' strengths and leads to making knowledgeable decisions on how adults should interact with young children.
Building on their strengths, and on what they are already doing right, the SCBF scaffolds their learning to the next level, enabling them to better support children's learning in turn. Caregivers themselves may not know what scaffolding looks like and may underestimate its importance, so, experiencing it themselves, provides the stepping stones to develop their skills and knowledge.
The Strength Based Coaching Framework was developed over a two-year period working directly with caregivers from diverse backgrounds, educational levels and experience. It is a component, or pathway, of a Theory of Change (TOC) that leads to Empowered and Responsive Early Childhood Professionals, particularly in family child care settings.
Figure 1: THEORY OF CHANGE FOR EMPOWERED AND RESPONSIVE EARLY CHILDHOOD PROFESSIONALS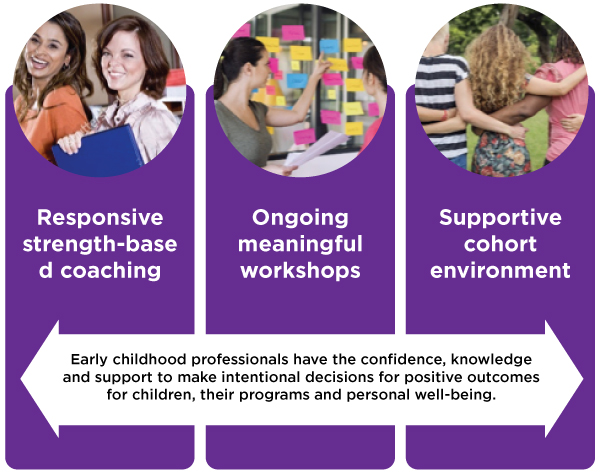 How Strength-Based Coaching Works
Sustainable change in early childhood programs is gradual and cannot happen overnight. To achieve meaningful and sustainable change, applying adult learning theory and metacognition during coaching sessions with childcare professionals is particularly helpful.
Creating ownership with the coachee, starting with where they are, as opposed to what they haven't accomplished yet, is essential to building confidence, self-esteem, knowledge and competency. By building their self-esteem, and through a variety of intentional reflective questioning and interactions, the learning becomes more evident and successful. A key aspect of learning is becoming aware of what one knows or doesn't know. As one caregiver put it, "I didn't know what I didn't know, but now I know it!"
The relationship and strength-based strategies, are the foundation to craft the long and short-term goals between the coach and coachee. Individual coaching sessions are reinforced with group monthly sessions that also build upon strengths and content associated with quality, such as engaging children in meaningful interactions, ensuring health and safety practices are met, and engaging families. Resources and assessment processes are selected and used during the coaching and monthly workshops using a strength-based and quality lens.
Figura 2: Iterative Cycle of the Strength Based Coaching Framework – SBCF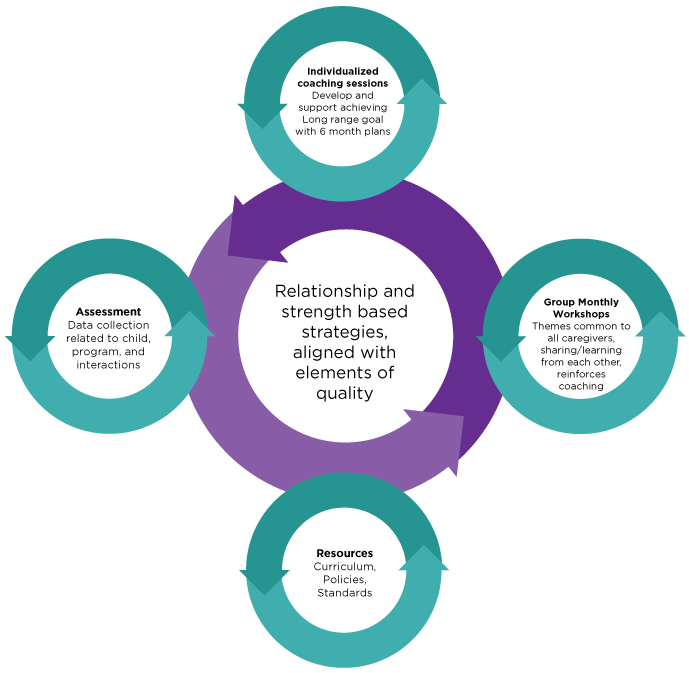 Building a cadre of competent, responsive, and knowledgeable early childhood professionals in the workforce requires a comprehensive approach. If we are to achieve sustainable knowledge and competencies for caregivers, it needs to take place in the context of trusting relationships that mirror their interaction with children, and strength-based coaching can produce this outcome.
What are some successes and challenges you have experienced in building a competent and responsive early childhood setting? Do you think the SBCF could prove a sustainable option in your country or context? Tell us in the comments section or mention @BIDgente on Twitter.
Jill McFarren Aviles is Founder and Director at McFarren Aviles and Associates.