Este artículo está también disponible en / This post is also available in: Spanish
Climate change is not gender neutral. The impacts of climate change are strongly linked to socioeconomic inequality, and the level of poverty of households in informal neighborhoods. In the cities of Latin America and the Caribbean (LAC), poverty has a female face: 1 in 4 households (the highest rate in the world) is headed by a woman.
Therefore, it is essential that our cities develop mechanisms, public policies and inclusive actions that support the empowerment of women as valuable agents of action and understand the gender dynamics of climate impacts. Only in this way will we achieve inclusive, green, and sustainable urban development in our region.
International climate agenda with a gender perspective
At the international level, the Paris Agreement and the UN 2030 Agenda, in the Sustainable Development Goals 5 (gender equality), 11 (sustainable cities) and 13 (climate action), establish the clear need to promote gender equality. gender and women's empowerment in all efforts, including global climate talks.
Likewise, recent forums such as the United Nations Conference on Climate Change (COP26) and the UN International Women's Day 2022 have made this problem visible. Currently, the Sixty-sixth session of the Commission on the Status of Women (CSW66) (March 14-25) has as its main theme: "Achieving gender equality and the empowerment of all women and girls in the context of climate change and environmental and disaster risk reduction programs and policies".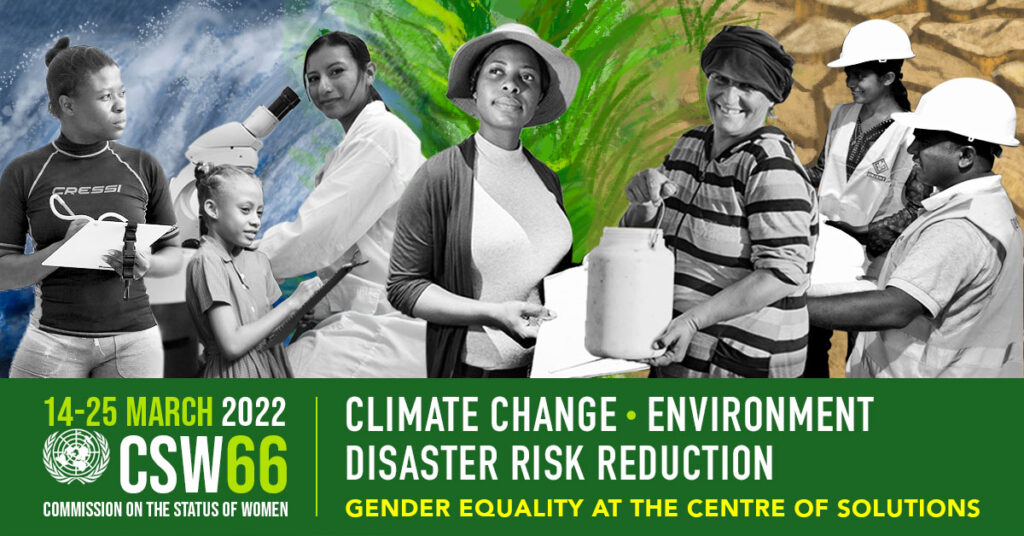 How does climate change affect women?
Women and girls experience disproportionate impacts from climate change. The United Nations estimates that, globally, women and girls are 14 times more likely than men to die during a climate disaster and represent 80% of displaced people.
Other factors such as the likelihood of violence, the increased care burden, and the lack of adequate housing and basic services disproportionately affect women's ability to anticipate, cope with, and recover from the impact of disasters. For example, in LAC, women's land tenure security is much lower than that of men, representing only 25% of landowners in the region.
Also, from an intersectional perspective, women and people with disabilities face higher risks and mortality during climate disasters. Studies indicate that Hurricane Katrina disproportionately impacted 155,000 people with visual, physical, and learning disabilities. In addition, it is estimated that globally women represent 73.4% percent of all female and domestic workers who are international migrants. Finally, indigenous women, who in their role as environmental defenders suffer from gender-based violence, also depend heavily on natural resources for their survival.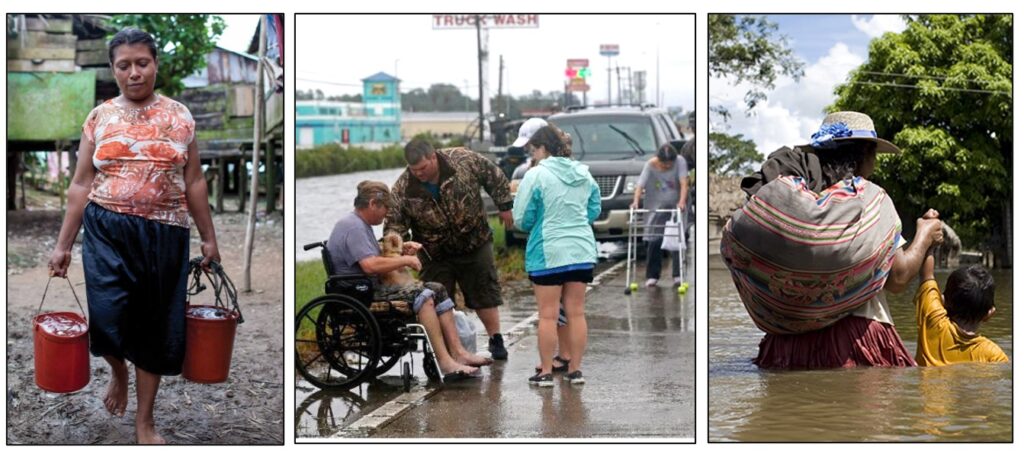 The active role of women against climate change in cities
Women are powerful agents for urban climate action. In urban contexts, women continue to pave the way for inclusion, helping communities to become safer, more resilient and prepared to face disasters. In Port-au-Prince, Haiti, after Hurricane Matthew, local women-led groups created aid networks to address the immediate needs of women and children.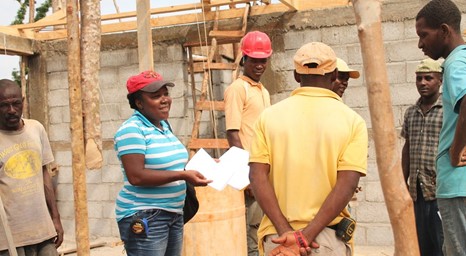 The Inter-American Development Bank (IDB), as part of its Vision 2025 "Reinvest in the Americas", is committed to increasing the adaptation and mitigation of climate change in our cities in projects where the knowledge and contributions of women are recognized. An example of this is the Comprehensive Tourism and Urban Development Program of the Colonial City of Santo Domingo. In this program, training for women in the management and maintenance of electric vehicles (eco-driving), green employment with professional potential, in an area dominated by men, will be prioritized.
How to achieve cities with a gender perspective in the face of climate change?
More than 80% of the population of LAC lives in urban areas, and in them the main risks and solutions of the impacts of climate change are concentrated. For this reason, it is essential to recognize the role of women and ensure their equitable participation in the different climate decision-making spaces in our cities. Some ways to achieve this are as follows:
Greater visibility in databases. Strengthen the disaggregated registry at the national and local levels, accounting for variables associated with intersectionality and interculturality in contexts of climate change such as gender, ethnicity, race, socioeconomic level, disability, etc.
Equal representation in decision-making: Cities must ensure the equitable and intersectional participation of women in the management of national ecosystems.
Greater climate financing with a gender perspective. Include a gender perspective when developing resource mobilization policies or strategies, apply climate finance instruments, and ensure equal participation in the use of financial resources, particularly at the local level.
Strengthening and development of capacities: Equitably incorporate women in the labor "just transition" of our cities, training them with the necessary skills to meet the current and future demand for green jobs.
Intercultural approach in which the ancestral knowledge of indigenous and Afro-descendant women is valued in dialogues to advance climate policy and actions, recognizing their knowledge, priorities, needs, contributions and expectations for the management of nature.
CSW 66: Way forward
There is still a long way to go to improve gender equality in climate action, not only in international forums, but also in regional and local conversations.
LAC cities must generate inclusive climate actions that incorporate women, ensuring their participation and leadership in community, national and local decision-making processes. This applies to both climate action and disaster risk reduction. Only then will we have cities that will be ready to face the effects of climate change.
What climate actions with a gender perspective are being carried out in your city? Share your opinion in the comments section. We are very interested in knowing your opinion.
Cover image: United Nations (Haiti 2016, after Hurricane Matthew)
If you enjoyed this blog, sign up here to receive our monthly newsletter with all the blogs, news, and events from the IDB's Housing and Urban Development Division.