Este artículo está también disponible en / This post is also available in: Spanish
Walking through the park with leafy trees is one of the most pleasant sensations someone can enjoy when wandering around a city. Behind this feeling of well-being, there is not just perception but also science. It is proven that green spaces generate multiple benefits that improve our overall wellbeing.
On the celebration of World Tree Day (established in 1969 by the World Forestry Congress), we dedicate this blog post to sharing 6 benefits that urban parks provide to the environment, the economy, the public health, and the social interactions. Urban planners and municipal leaders of our region need to know these benefits to be more effective promoters of the parks in the cities of Latin America and the Caribbean (LAC).

What benefits do parks bring to our cities?
1. IMPROVE MENTAL WELL-BEING
Being close to a park or a green space provides opportunities for improving mental well-being, a benefit that was particularly important to help residents to cope with the isolation measures adopted during the COVID-19 pandemic.
2. SUPPORT FOR PHYSICAL HEALTH
Likewise, there is plenty of evidence that when residents live closer to parks, they exercise more, and their cardiovascular health improves. However, these benefits are realized only if residents perceive those parks to be safe. This is an important concern for LAC which have concentrated pockets of insecurity.
3. REDUCE THE HEAT ISLAND EFFECT AND LOCAL POLLUTION LEVELS
Public green spaces are also essential for their environmental benefits. Urban trees provide carbon sequestration and help reduce the urban heat island effect as well as the levels of noise and air pollution.
4. IMPROVE WATER MANAGEMENT
Green spaces also contribute to stormwater management functions that reduce runoff and ease the burden on the water and sanitation urban infrastructure. Moreover, implementing, green planning standards can improve stormwater detention, and protect the vitality of trees and crucial ecosystems.
5. INCENTIVES SOCIALIZATION
Open green spaces allow for strengthening community ties and for new forms of cultural expression. Parks have been demonstrated to increase sociability, which, in addition to having mental health benefits, also bolsters social cohesion. There is also anecdotal evidence that shared public spaces, including parks and other green spaces, can facilitate conviviality — the ability to live together— especially in contexts where diverse populations share the same public spaces.
6. FOSTER ECONOMIC ACTIVITY
Evidence has shown that public parks increase adjacent real estate values. Parks and other green spaces also promote economic activity for retail establishments in their proximity.

How to ensure the development of parks in our cities? public-private partnerships
Given all these important benefits for the well-being of the people and the planet, it is essential that planners prioritize the promotion of public green spaces in cities. However, one serious obstacle in achieving this goal is that city budgets are low, and they rarely prioritize parks. This has generated one of the main challenges urban parks face today. How can cities maintain and increase the number of parks in the face of limited budget allocations?
Public and private partnerships offer one way to tackle this funding challenge. The most successful approaches tie park delivery and capital improvements to other urban strategies such as urban redevelopment efforts, densification, affordable housing, socioeconomic equity, or coastal resilience.
Nevertheless, these types of partnerships may elicit a very common concern among city planners is that it may lead to undermining the open access and public good purpose of green spaces: how can the social value of parks be preserved? Designing successful public spaces requires real input from local communities and future users to assure that they respond to their needs, including accessibility for people with disabilities and social and cultural diversity. In addition, early and constant public participation is essential for assuring effective stewardship by local communities, which is the pillar of the long-term maintenance of urban projects.
Hunter's Point South Park: from an industrial area to a park in the heart of New York
Hunter's Point South Pak, in the borough of Queens (New York, USA) is a clear example of the creation of a park thanks to public-private collaboration. Prior to the development of this park, the area was characterized by its mix of residential and industrial uses, including some abandoned warehouses.
New York City planned, rezoned, and upgraded the area, before putting some individual parcels for disposition to private developers. Developers, who were required to work in partnership with local non-profit organizations, competed for developing the parcels by presenting their proposals for a mix of market and affordable housing units.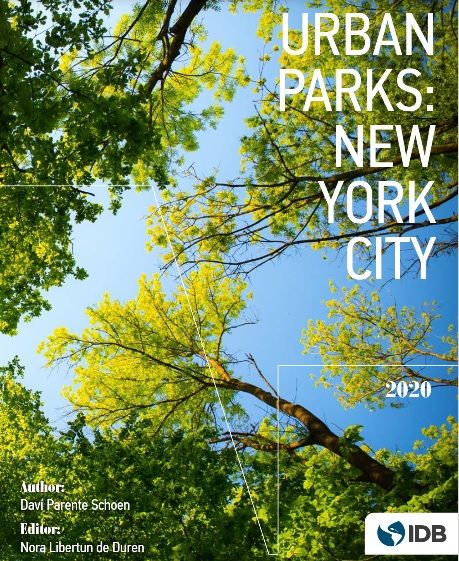 The remaining area was dedicated to the park, which included stormwater requirements and streetscapes that were both aesthetically pleasant and useful. The park includes a series of ecologically sensitive habitats in the wetlands and marshes along the waterfront, which help provide neighborhood-wide bioswales and separate stormwater and sewer systems. If you want to know more about this case, download the publication here.
Promoting green spaces in the cities of Latin America and the Caribbean
At the Inter-American Development Bank (IDB) we are committed to sustainable urban development. The improvement, expansion, and creation of green areas is one of the ways to achieve this goal. As a result, they are part of many of the neighborhood improvement programs of the Housing and Urban Development Division. If you want to learn more about how the IDB supports green urbanism, we encourage you to sign up here to receive our monthly newsletter and don't miss out on the blogs, courses, and publications of the Housing and Urban Development Division.