Este artículo está también disponible en / This post is also available in: Spanish
The rapid urbanization process observed in Latin America and the Caribbean (LAC), during the last decades has posed multiple challenges to the region and caused great contrasts in the quality of life within cities. Today, more than 80% of LAC's population lives in cities, and approximately 27% of the urban population still lives in informal settlements without proper access to basic urban services.
Another rapid and pervasive process in the region, also imperfect and unevenly distributed, is digitization. In less than 30 years, the proportion of people using the internet in the region jumped from 0% to 56%, as opposed to 45% globally[1]. Technology increasingly plays a key role in the lives of citizens and in the life of cities. The biggest impact of digitization and their consequences can be seen in the rise of the Internet of Things (IoT) which immensely increases the amount of data available in the urban space.
The possibilities new technologies present to urban development are concrete, and likely to grow substantially. A recent McKinsey report shows that application of existing Smart City solutions could be used to improve quality of life indicators by 10-30 percent. Furthermore, cutting-edge technologies such as cloud services, advanced analytics, 5G and others are fast emerging, potentially boosting the impact of technology on the quality and sustainability of cities.
In LAC, Smart Cities operate at the intersection of these two phenomena and can be seen as an opportunity to deliver benefits to citizens by implementing holistic solutions based on technologies. For the Inter-American Development Bank (IDB), a Smart City is one that places people at the center of development, incorporates Information and Communication Technologies (ICT's) into urban management, and uses these elements as tools to stimulate the design of an effective government that includes collaborative planning and citizen participation. By promoting integrated and sustainable development, Smart Cities become more innovative, competitive, attractive, and resilient, thus improving lives.
For several years, the IDB has been working on generating knowledge around the concept of Smart Cities and its relevance for the region. An example of such knowledge is a recent publication titled The Road Toward Smart Cities, which share best practices on how cities can successfully migrate from traditional management to smart management.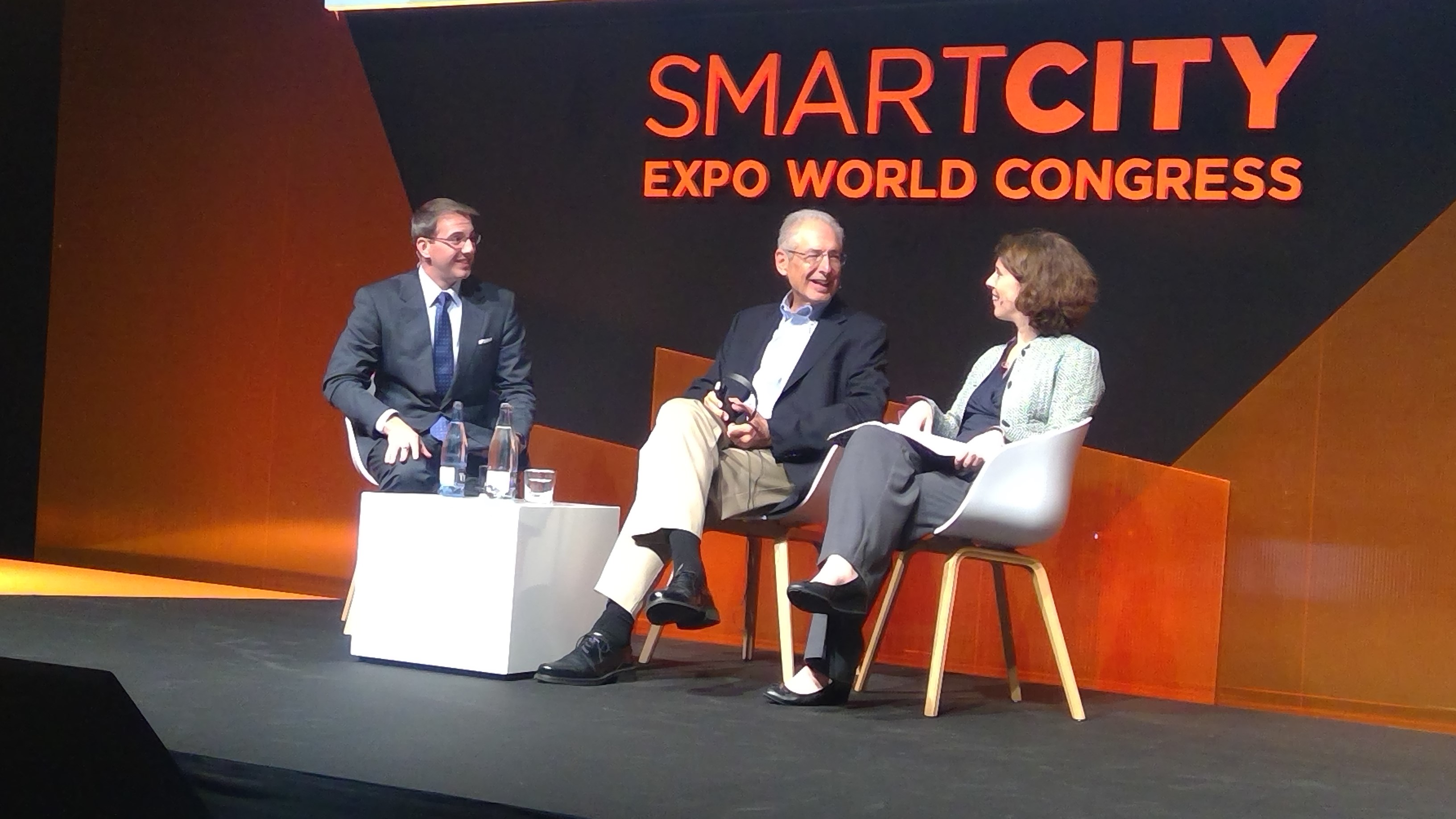 This November, the IDB hosted a side event in the Smart City Expo World Congress in Barcelona (SCEWC 2018) with the objective of sharing knowledge and best practices on the Smart Cities transformation in the region. The event presented perspectives from regional leaders who have been able to migrate their cities from a traditional management model to a Smart City. They discussed best practices and examples of usage of different technologies, strategies and innovative solutions to overcome concrete challenges to make their cities more resilient, competitive and sustainable.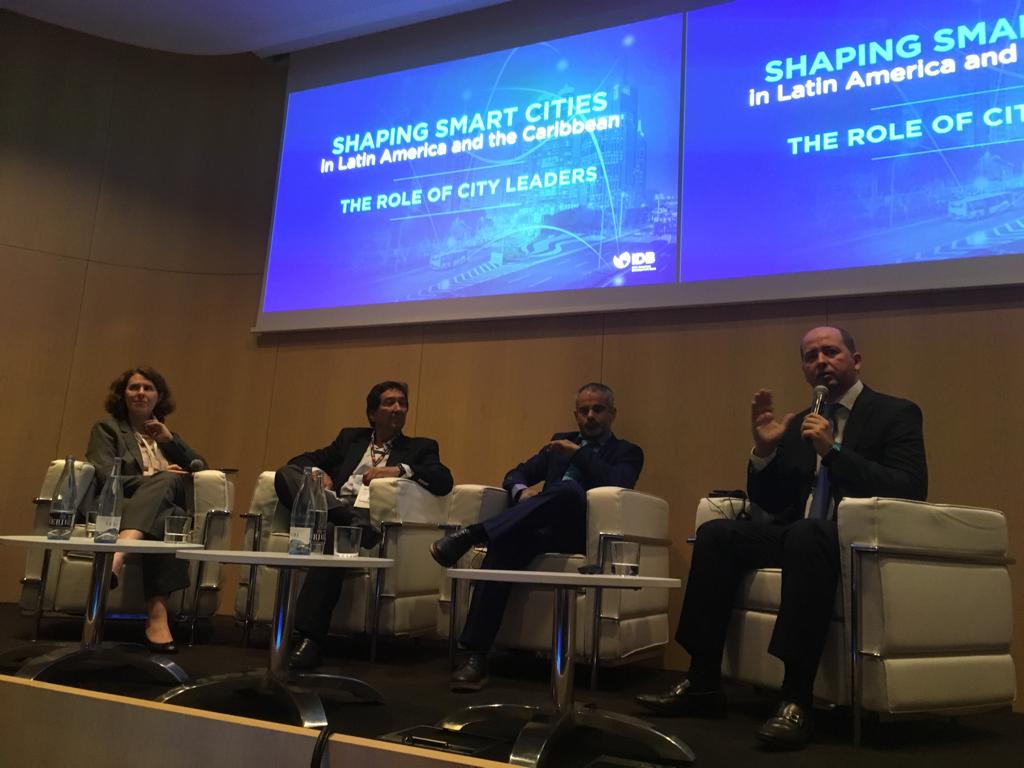 Examples included the cities of:
Guadalajara, Mexico, which has implemented the Digital Creative City (DCC) project, a catalyst of change in the center of Guadalajara that combines revitalization of the city's downtown area, preservation of historic and cultural heritage, and the use of technology to increase local resilience and economic development. Its the first city in Mexico with a Smart City vocation, in which natural resources will be sustainably managed, and citizens will be more engaged and involve in the planning.
Monteria, Colombia, which developed a strategic plan (2016-2019) with the goal to become "The Smart City of the Colombian Caribbean". The city also leads in innovation, through their innovation lab, that is focused in the development and training of innovative digital technologies. Moreover, the city's E-health and Smart Education Strategies was chosen by the Ministry of Education of Colombia as the best and most innovative practices in the Caribbean region.
Montevideo, Uruguay, that established the Department of Smart Cities to provide innovative solutions and tools to promote digital transformation, citizen participation, social inclusion and transparency. Its flagship project is the Digital Citizen Engagement platform (DCEP), based on information gathered from connected devices (IoT), which unifies all initiatives and services enabling to monitor, manage and improve city services in real time using citizen centric collaboration tools like social media analytics and unique response system.
Vitória,Brazil, a city that has been a solid promoter of Smart Cities and innovative solutions in Brazil, especially in the context of strict regulations and procurement procedures countries often face.It implemented a smart security fence system to improve traffic surveillance and increase security which reduced vehicle thefts by 15%. It also implemented a Panic Button solution to reduce domestic violence that improve response time and coordination with police. Vitoria has innovated in Health and Education solutions in Brazil and is currently developing another innovative project, a City Cooperation Center (CICC) for increased collaboration between agencies and citizens.
These are some examples that show that LAC cities are already migrating to become Smart Cities. Citizens are already connected, and cities are becoming more innovative and starting to offer smarter services. IDB's goal is to help leverage innovative technologies to address urban challenges,  as well as create and share knowledge about how smart technologies can help cities. IDB's participation showed that the transformation  is already happening, and that LAC has a unique opportunity to become not only a region of cities, but a region of Smart Cities.
For more information about IDB's work in Smart Cities, please access www.iadb.org/SmartCities
[1]http://databank.worldbank.org/data/reports.aspx?source=2&series=IT.NET.USER.ZS#
---
Editor: Andreina Seijas