Este artículo está también disponible en / This post is also available in: Spanish
As described in the previous blog posts of this series about Cities and Health, inequality in Latin America and the Caribbean (LAC) goes beyond income disparity, affecting the health of its population.
A recent IDB monograph documents another dimension of inequality in the region: inequality in exposure to ambient air and noise pollution. Air and noise pollution are two of the top environmental risks to health, so unequal exposure could lead to health inequalities. Further, because air and noise pollution harm human capital and economic outcomes, unequal exposure to environmental pollution could also exacerbate existing income and wealth inequalities.
How does urban pollution impact health?
Ambient air pollution has substantial negative health impacts. For example, elevated levels of particulate matter air pollution lead to increases in hospital admissions and emergency room visits. They also produce respiratory symptoms, exacerbation of chronic respiratory and cardiovascular diseases, worsening lung function, and premature mortality. Although air quality has improved significantly in most areas of Latin America and the Caribbean over the past decades, over 100 million LAC residents are exposed to levels of air pollution above the World Health Organization's Air Quality Guidelines.
Although air pollution is widely recognized as a significant public health problem, noise pollution is typically considered a nuisance. However, the health effects of noise pollution are medically and socially significant. Noise pollution, particularly road traffic and aircraft noise pollution, is related to high blood pressure and ischemic heart diseases as cardiovascular endpoints in developed countries. Noise pollution has increased due to population growth, urbanization, and more extensive transportation networks. Although there isn't comprehensive data for the LAC region, the World Health Organization ranks noise pollution from traffic as the second most important environmental risk to health in Europe.
Is there inequality in pollution exposure between rich and poor neighborhoods?
There is worldwide evidence of greater exposure to air and noise pollution for lower socioeconomic groups . LAC is no exception. A study published in 2015 documents that areas of Santiago, Chile, with lower socioeconomic status have 21%more days with unhealthy air quality than other areas of the city.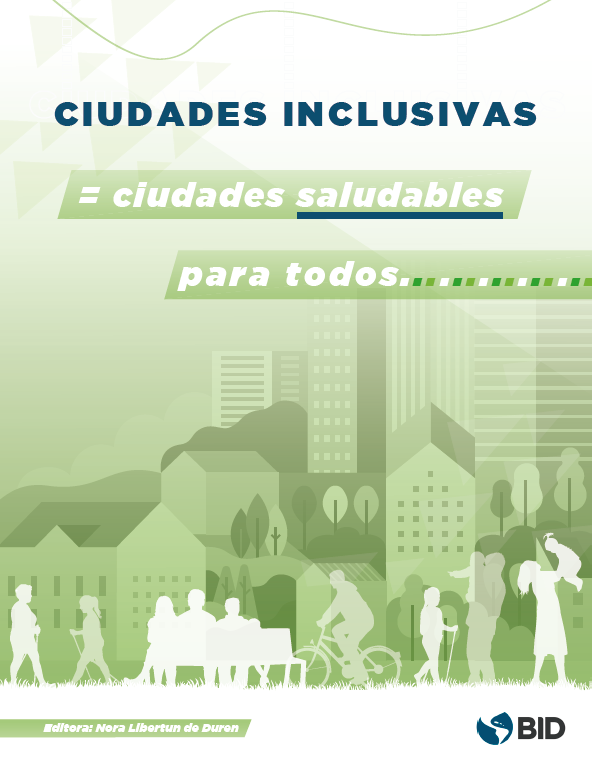 The IDB, in its mission to improve the lives of the people from the region, recently published a monograph titled Inclusive Cities: Healthy Cities for All. Chapter 8.5 discusses the results of a case study of Santiago, Chile. In this monograph, we analyze exposure to air and noise pollution in the comunas of the metropolitan area of Santiago, Chile, documenting graphical correlations between exposure to high levels of ambient air and noise pollution and proxies of socioeconomic characteristics
.
Consistent with the study published in 2015, the graphical correlations illustrate that there is unequal exposure to pollution by socioeconomic status at the comuna level.
Figure 1, Panel A.2, shows that the richest comunas, measured by per-capita household income, are less exposed to high air pollution levels. However, we do not find evidence of the same pattern for noise pollution (Panel A.1 of Figure 1). Likewise, comunas with a higher percentage of the population contributing to social security (a proxy for working in formal employment), another proxy for higher socioeconomic status, are less exposed to air and noise pollution (see Panels B.1 and B.2, Figure 1).
Figure 1: Noise and air pollution vs socioeconomic status
A. Per-Capita household income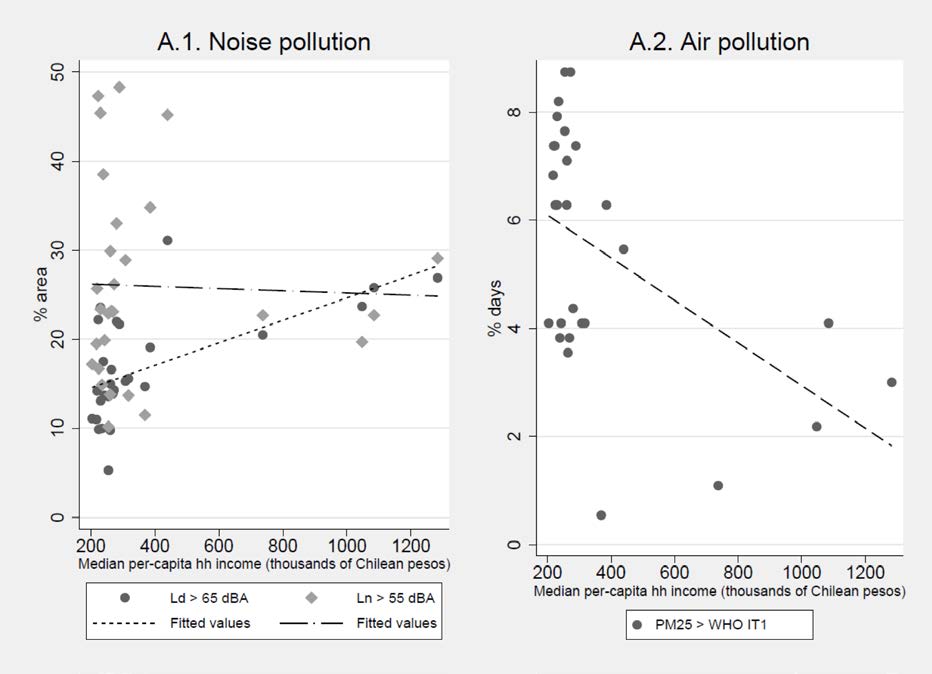 B. Share of population contributing to social security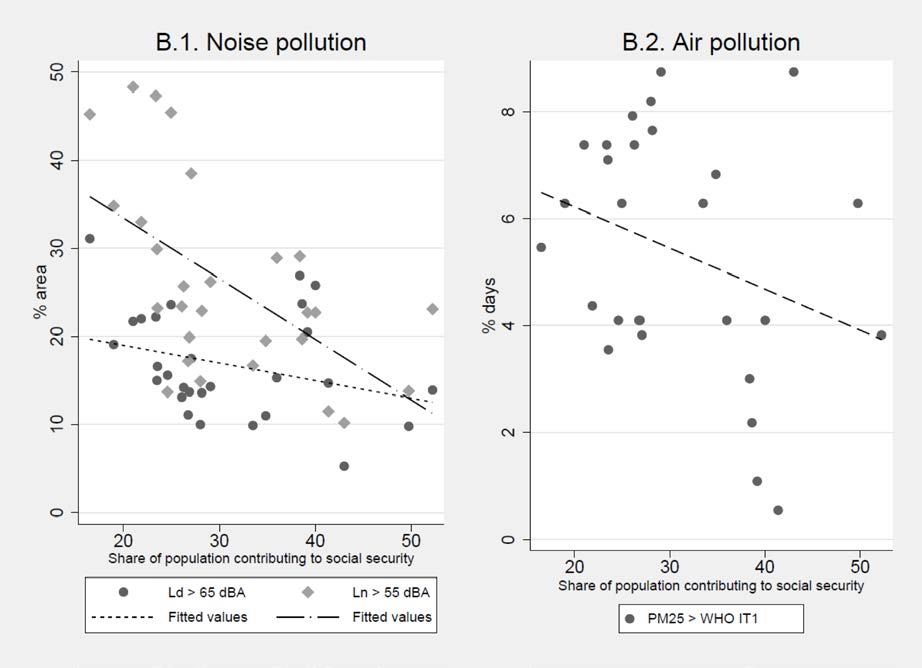 How can we reduce the inequalities caused by ambient air and noise pollution in our cities?
The first step in reducing inequalities caused by exposure to ambient air and noise pollution is to understand the scale, and scope of the problem and the second step is to apply this understanding to designing public policies.
Measuring the levels of noise and ambient pollution:
The path to a better future starts with more and better measurement and monitoring of ambient air and noise pollution. As of 2016, only around ½ of LAC countries had ground monitoring networks for air pollution, and these were typically only located in a few of the largest cities. Likewise, very few cities worldwide collect systematic noise pollution data. Extending the ground monitoring network of air and noise pollution can be done through regulatory monitors and low-cost sensors for air pollution and acoustic measurement.
Designing public policies:
City governments need to prioritize air and noise pollution in policy design and urban planning. Municipal decision-makers should include inequality considerations; plans and policies to reduce air and noise pollution need to be developed with a joint focus on reducing exposure and promoting equity.
Fortunately, policies to improve air and noise pollution deliver additional benefits beyond improvements in environmental pollution and its impacts on health. For example, urban forests can reduce air and noise pollution while providing numerous other benefits such as shade, recreation areas, lower localized temperature, reduced energy use at nearby buildings, and carbon sequestration.
To learn more about cities and health in our region, download the monograph Inclusive Cities: Healthy Cities for All.