Este artículo está también disponible en / This post is also available in: Spanish
We often talk about the importance of ensuring that urban development is participatory or that it responds to the needs of the community, but it is easy to forget about the diversity of people living in that community. In particular, the absence of women working as urban planners, architects, and engineers has led to the development of cities that are built by men and for men. Without meaning to, these people have designed cities for the people they know best – other men. Consider street lighting for cars, but not pedestrians, or bus schedules organized to bring people from their suburban homes to city centres to work and back again at peak hours, while women usually rely more on public transportation and have more complex mobility patterns than men.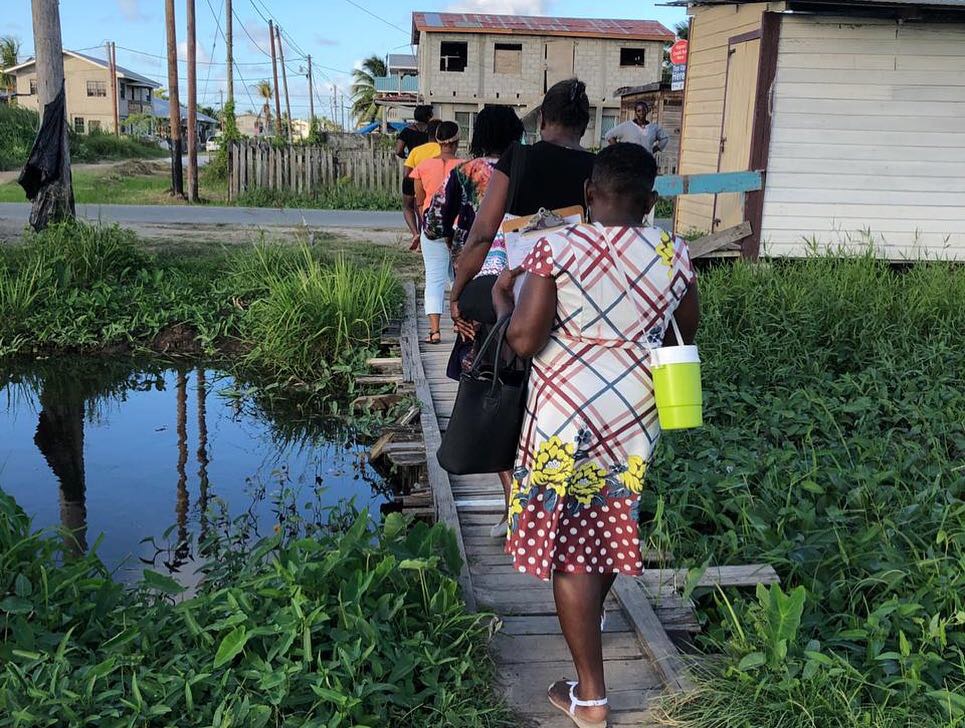 These are precisely some of the challenges faced by communities in Georgetown, the capital of Guyana. To help improve urban conditions, in late 2017 the IDB approved the loan "Adequate Housing and Urban Accessibility Program." Executed by Guyana's Central Housing and Planning Authority (CHPA), the Program follows an 'incremental housing' approach that enables self-construction while carrying out infrastructure upgrades and the provision of formal land and titles to low income families. CHPA is now preparing for the construction of basic infrastructure in Sophia, a community of over 4,000 families in central Georgetown. This community is also one of the areas included in the IDB loan "Citizen Security Strengthening Program," executed by  the Ministry of Home Affairs (MOHA). This overlap offered a unique opportunity to coordinate efforts and bring in a truly participatory perspective into the designs of community facilities and public spaces. Specifically: how can women participate in urban development without necessarily having formal training as planners, architects and engineers? What expertise do they bring?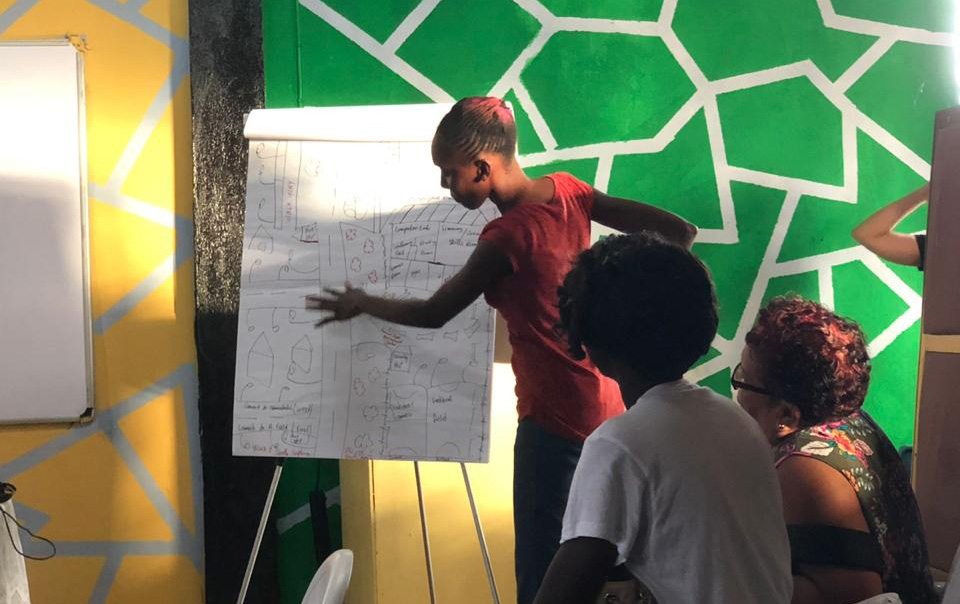 To respond to these questions, the IDB and its Guyanese partners reached out to Women in Cities International (WICI) an award-winning not-for-profit organization d based in Montréal, Canada, to organize four training sessions with the government, community leaders, and local women living in Sophia. The trainings focused on one particular methodology:the women's safety audits. This tool can help understand how women experience cities in ways that are gendered by recognizing women as experts of their own sense of safety in the spaces they know. This brings women into conversations about transforming their communities, contributes to preventing violence against women and girls (VAWG), and, critically, enables agencies like CHPA and MOHA to incorporate gender-responsive participatory methodologies into their daily work.
Concretely, the z are ahands-on tool that can be adapted to different spaces and used by different groups of women who, with the help of a checklist, assess and document the quality of different factors of the built and social environment, including lighting, walking paths; and the ability to access help. Essentially, the tool is used to document which elements strengthen or hinder women's sense of safety and asks participants to recommend their own solutions for making improvements to their communities. The tool can be used by women and girls anywhere in the world using paper, pens and printed maps of the areas that will be audited.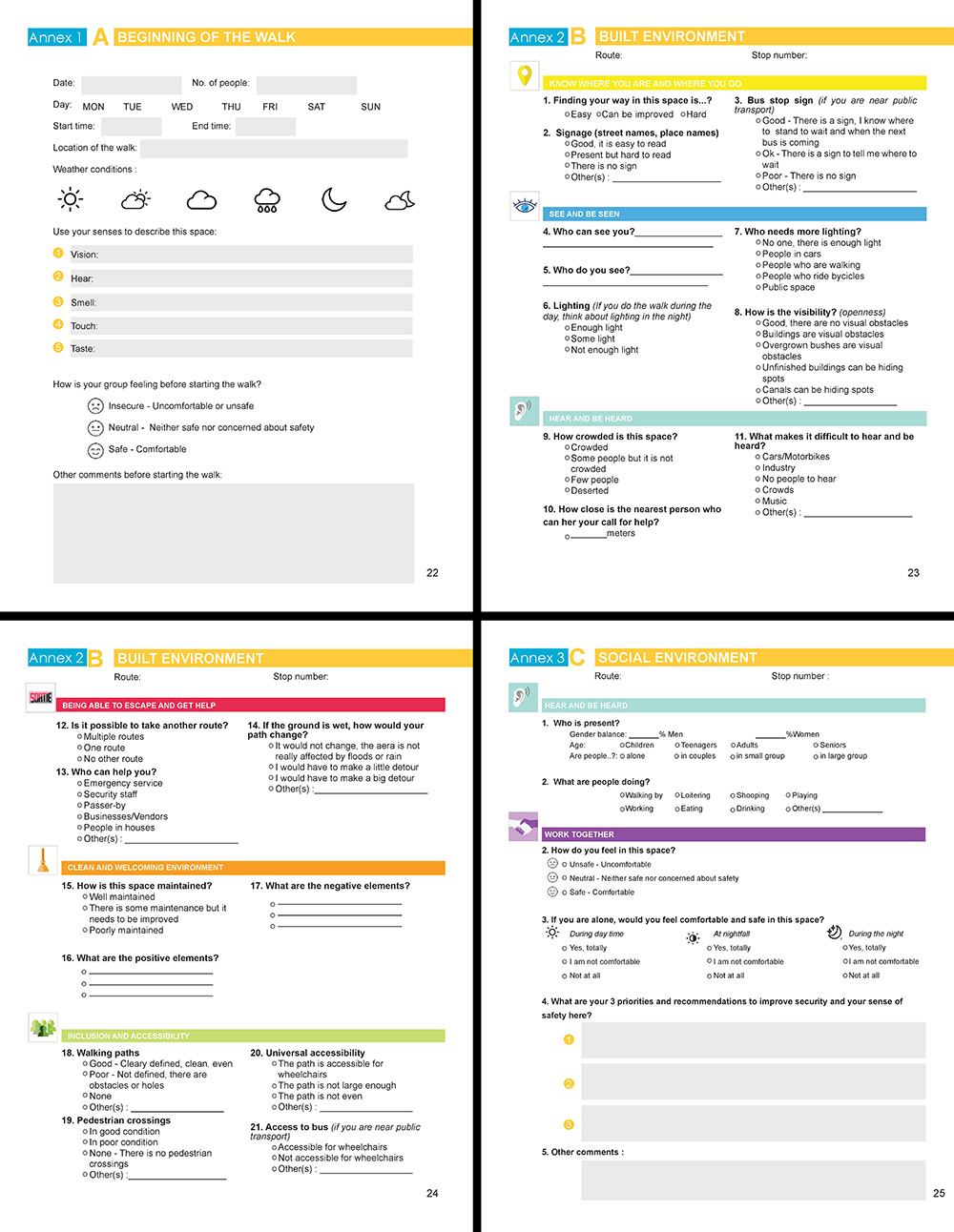 In line with the IDB's ongoing work on Civic Data—the democratic and participatory use of digital technologies in support of urban development—WICI and the IDB decided to pilot the use of a mobile data collection tool, the Kobo Toolbox. The women's safety audit checklist was digitized via the tool, and information uploaded and geo-coded. The tool also allowed the participants to upload photographs to support their observations.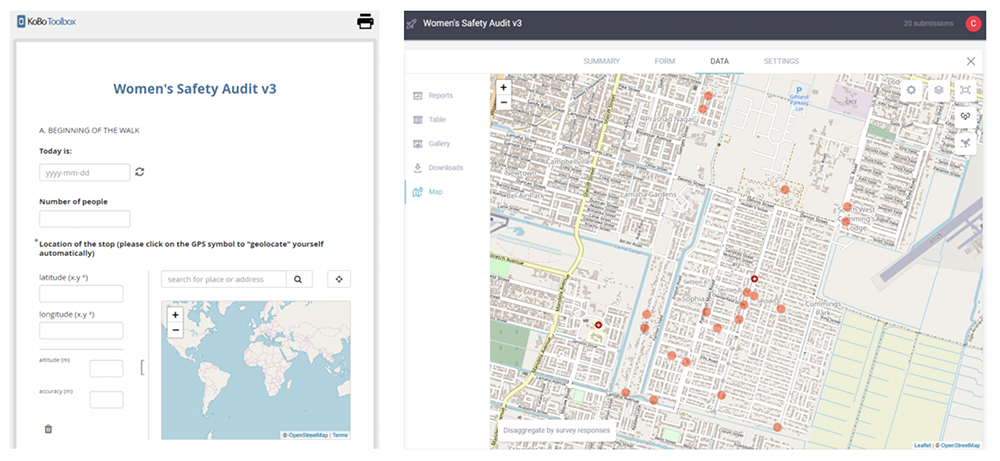 Women's participation in urban development must not only rely on their testimonies and listen to their needs, but also amplify their voice to create and imagine their community as it could be. Therefore, in addition to the audits, women used aparticipatory group mapping exercise to illustrate their recommendations, by drawing the community they wanted, from street naming to building community centresandspaces for urban agriculture.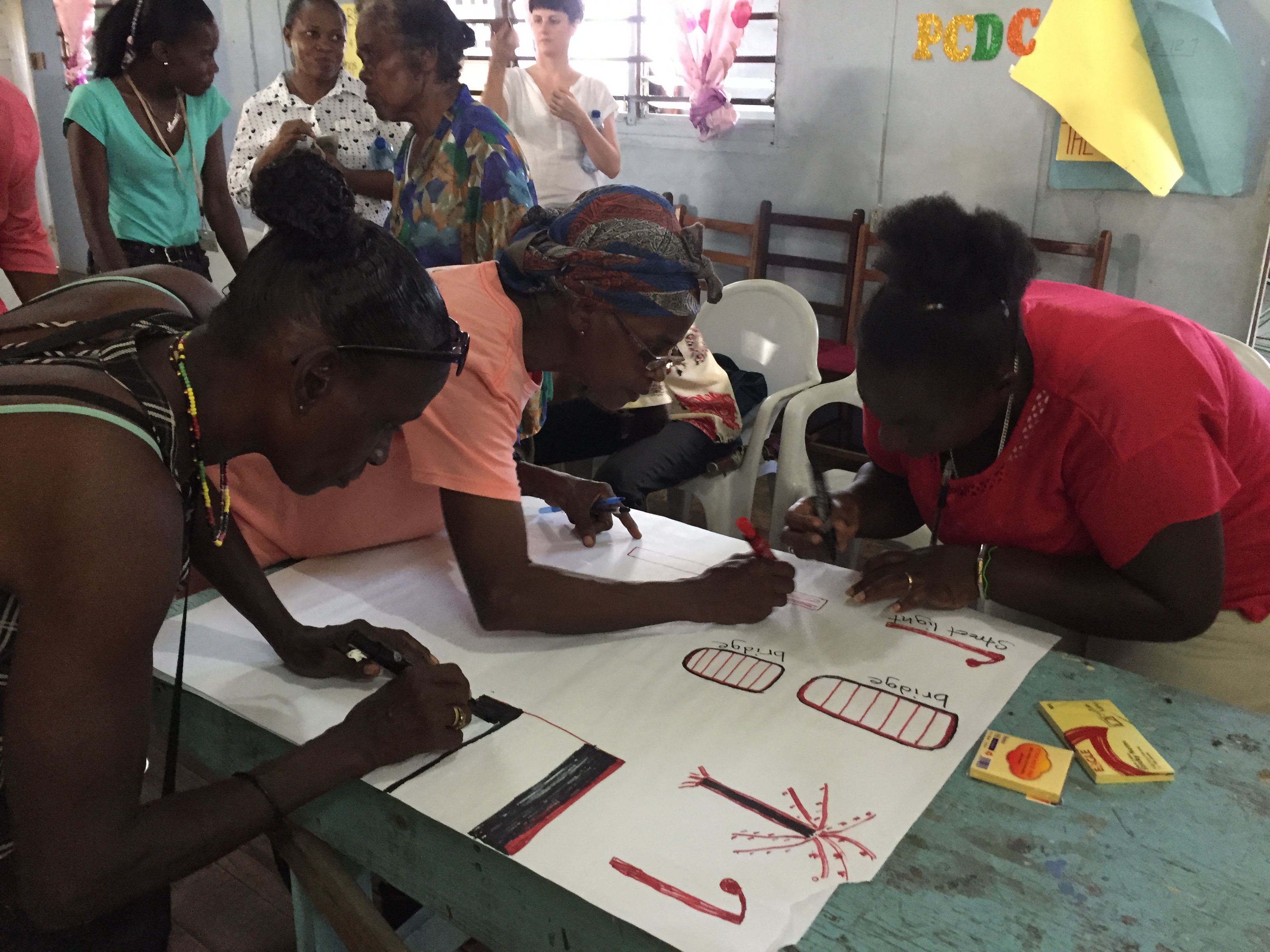 The results from the exercisewill now be used to inform the design of IDB-funded works in Sophia- taking into consideration the recommendations made bythe participants -and CHPA and MOHA expect to deploy the audits methodology in other communities where they work. Engaging women to use women's safety audits prior to infrastructure developmentcan potentially transform cities like Georgetown by overcoming gender gaps to be inclusive and responsive to the needs of the women who will be impacted by the change. This simple, participatory methodology combined with the innovative use of technology, can be a powerful tool that recognizes women not as beneficiaries of development, but as agents of change in building the cities they need and want.
For more information on the methodology please visit the following Link.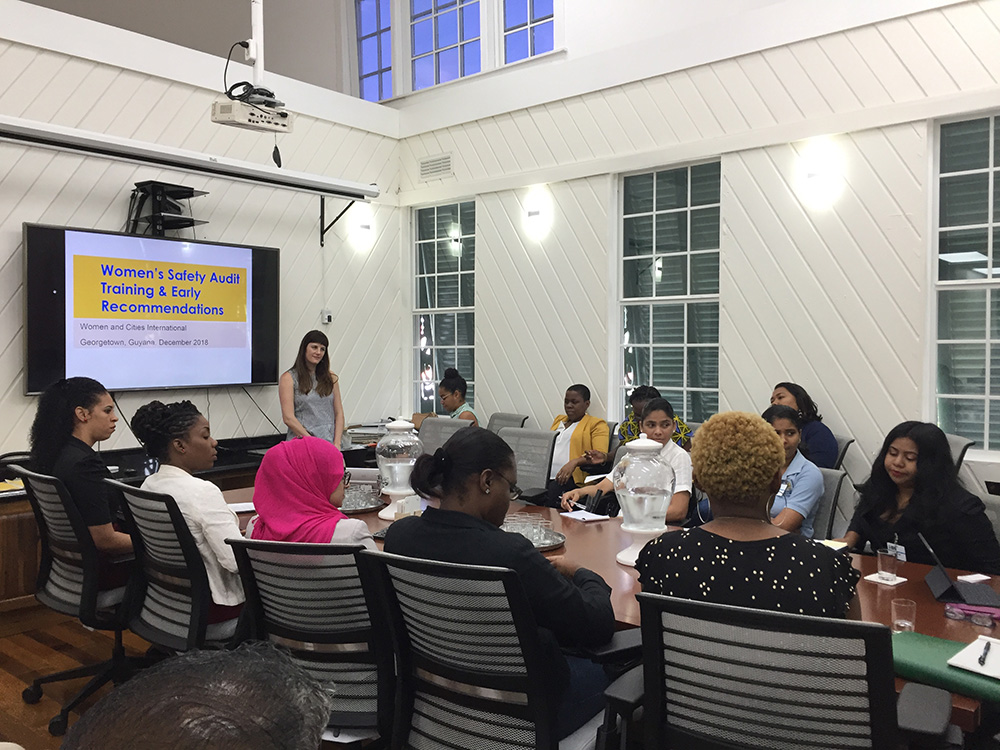 ---
Guest Author: Kathryn Travers is the Executive Director of Women in Cities International (WICI) and works as a global consultant on issues of gender, safety and urban development and governance. She has a successful history of developing and managing programmes in Canada and internationally and has effectively worked to broaden the understanding of women's safety by bringing an intersectional approach to her work and by collaborating with different groups of women and girls to explore new related issues (accessibility, essential services, adolescence, etc.). Kathryn has led the development of new and innovative tools for capturing data about women's and girls' safety experiences in urban environments and has led training workshops in several countries. She has extensive experience in working with diverse populations in the global North and South including adolescent girls, women with disabilities, indigenous women, elderly women, women living in informal settlements, etc.
---
Editor: Patricio Zambrano-Barragán is Housing and Urban Development Specialist at the Inter-American Development Bank. He currently leads urban development projects throughout Latin America and the Caribbean, including housing policy and finance projects; resilient urban infrastructure; and geospatial and civic data analytics. Prior to joining the IDB, he led research on territorial management and climate-ready infrastructure at the Massachusetts Institute of Technology and the Natural Resources Defense Council (NRDC). Patricio has worked with the Office of the Deputy Mayor in Quito, Ecuador; with the New York City Department of Housing Preservation and Development (HPD) on distressed asset financing; and as a management consultant with New York-based Katzenbach Partners. Patricio is a doctoral candidate in City and Regional Planning at the University of Pennsylvania, and holds a Master's in City and Regional Planning from the Massachusetts Institute of Technology and a B.A. in Political Science from Yale University.