Este artículo está también disponible en / This post is also available in: Spanish
Growing urban populations in Latin American and Caribbean (LAC) cities put an enormous pressure on transport systems, especially in sprawling cities with increasingly far-flung residents. In this context it is essential to facilitate the design of public infrastructure in an efficient and participatory way.
Community mapping of urban infrastructure can play a central role. In 2019, to inform and encourage urban transit mapping, a consortium of partners – the IDB, WRI Mexico, MIT, Columbia University, and Mastercard – created DATUM, a platform that acts as a guide for collecting, processing, and publicizing urban mobility data. DATUM, or Datos Abiertos de Transporte Urbano y Movilidad (Open Urban Transport and Mobility Data), brings together lessons learned and open-source tools to facilitate projects in cities throughout the region, especially in places where those residents that depend on public transport don't have clear information about routes and schedules.
The Santiago de los Caballeros experience
To inaugurate the platform, DATUM supported a pilot mapping in Santiago de los Caballeros, Dominican Republic. Historically, Santiagueros didn't have standardized information about public transportation routes. Neither Google Maps, nor Moovit, nor any other application or platform, be it global or local, could offer information on what bus or what route to take to get to work or leisure. This left residents reliant on informal methods like 'word of mouth' to get around.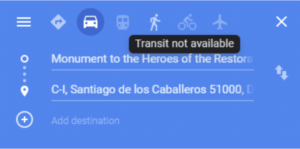 And so, DATUM launched Mapeando Santiago in June 2019. The project includes trainings, public transit route mapping, GTFS data processing, and a complementary mapping of accessibility and security conditions for elderly and disabled residents that included participation from a number of local actors every step of the way.
Participation as a basic principle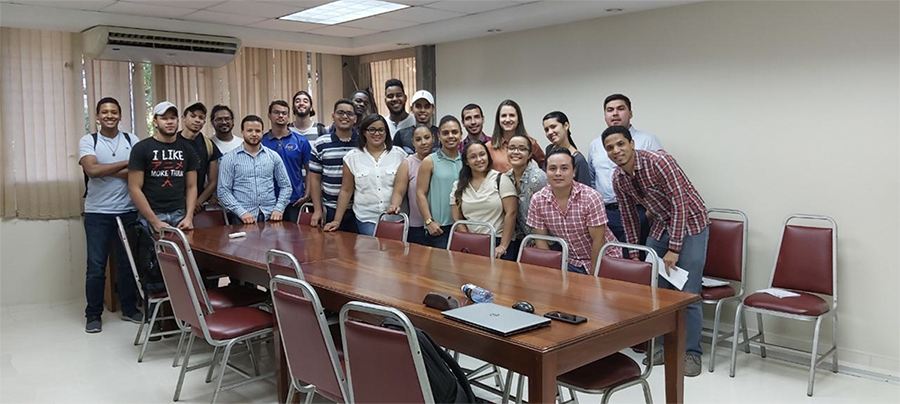 The Mapeando Santiago project placed special attention on the participation of city residents and on understanding the needs of regular transport users. In collaboration with Santiago municipal authorities, CDES, the Catholic Pontific University Madre y Maestra (PUCMM),transport operators and users, and organizations representing disabled groups, the mapping was guaranteed to be a truly inclusive community project. The participation of local groups encourages the continuation of the project in the long term, builds local capacity, and allows services and policies to be designed at the local level.
Mapping the routes
Thirty students from local universities were trained on the MapMap mobile app and best practices for the mapping exercise. The students – who came to the project from PUCMM, the Autonomous University of Santo Domingo, the Technological Univeristy of Santiago y la National Evangelical University – traveled along 29 urban routes and 25 off-shoots, and 6 interurban routes, recording georeferenced data on the routes and stops with the app.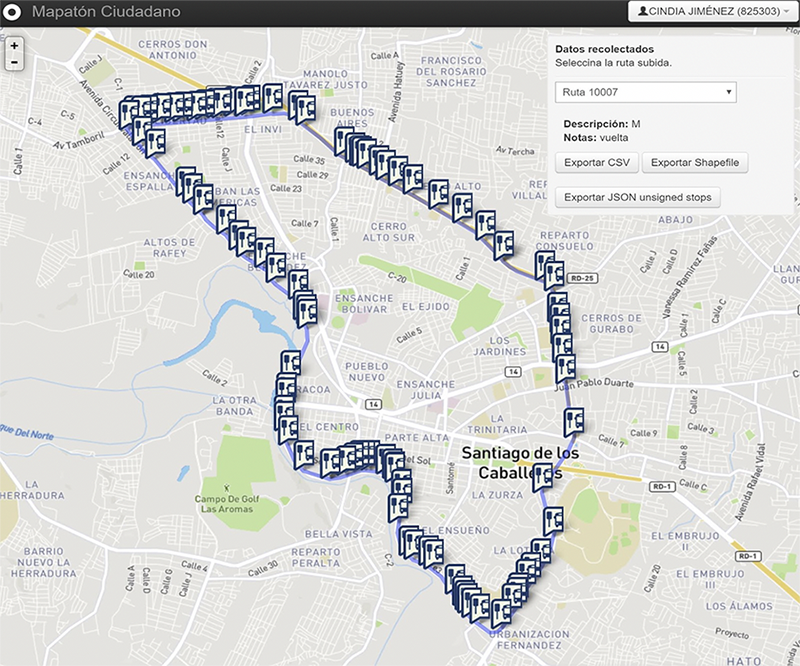 Another open-source app, Mapillary, was used to collect images of the public space along transport routes. In total, 120 trips were recorded and processed.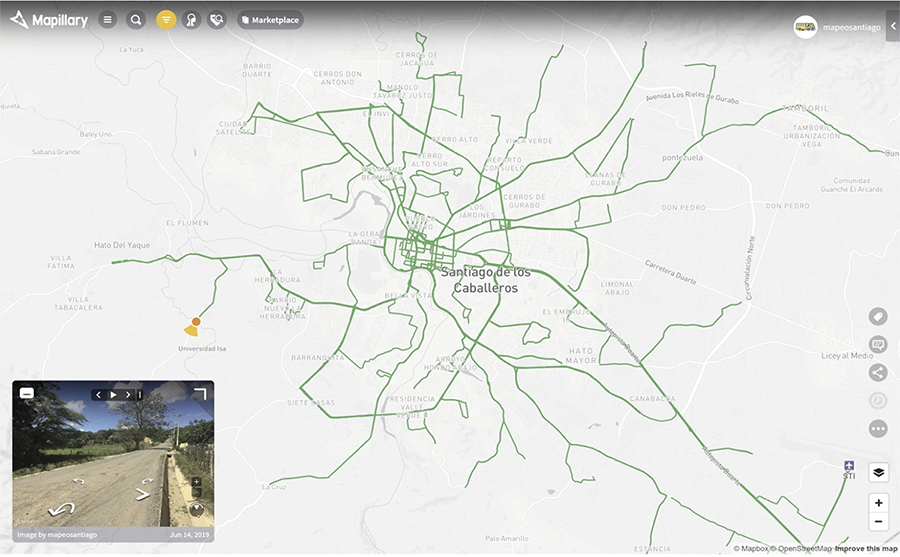 The standard GTFS format allowed the data to be shared with Google Maps, which can now inform trips on public transport for the first time in the Caribbean.
Accessibility and security in public transport
The need to collect information on public transport conditions and the importance of involving the community came together in the qualitative complementary mapping, which was realized along selected routes and the surrounding environment. Three techniques were used to assess the security and accessibility of public transport routes and user perceptions of the service:
A group of 7 students audited 3205 photos of the public space (streets and sidewalks) around 8 routes. 24 indicators were analyzed in each of the images collected to produce maps and data that show what public spaces required intervention.

Volunteers analyze 5 aspects of public space in each image: accessibility, perception of security, walkability, frequency of use and comfort. Source: IDB 2019

Five civil society organizations accompanied DATUM organizers as walking focus groups to evaluate the accessibility and security conditions on the way to and from public transport. The following areas of the city were analyzed:

Cienfuegos, the area of the city where public transport is most used according to the Integral Plan for Sustainable Urban Mobility (PIMUS), also deals with problems like inadequate infrastructure and informal housing.

In Cienfuegos, 12 members of community organizations evaluated security and accessibility. Source: IDB 2019

In Los Pepines, a neighborhood where a school for the blind is located, accessibility was evaluated by 4 members of the Cibao Association of the Blind and 11 volunteers with visual disabilities.

Volunteers with visual disabilities identified obstacles and Shared mobility practices. Source: IDB 2019

Additionally, 9 women, 1 man, and 1 child reviewed route security in the city center, the most common destination in the city, with a focus on gender issues.

Participants from the Fundación Mujer e Iglesia, the coordinator of the group Mujeres del Cibao and the Núcleo de Apoyo a la Mujer joined the initiative to review security in the city center

A survey was circulated to better understand who uses public transportation, what they use it for, and how services can be improved from their perspective. The survey revealed the demography, mobility habits, and perceptions of public transportation of the respondents.

500 survey responses were collected in the 3 weeks that the Survey was active
The information collected in the complementary mapping will be shared on September 27 with all participants and authorities of Santiago for their use in decision making. The most eloquent result of the pilot was the launch the first map of urban routes in the city.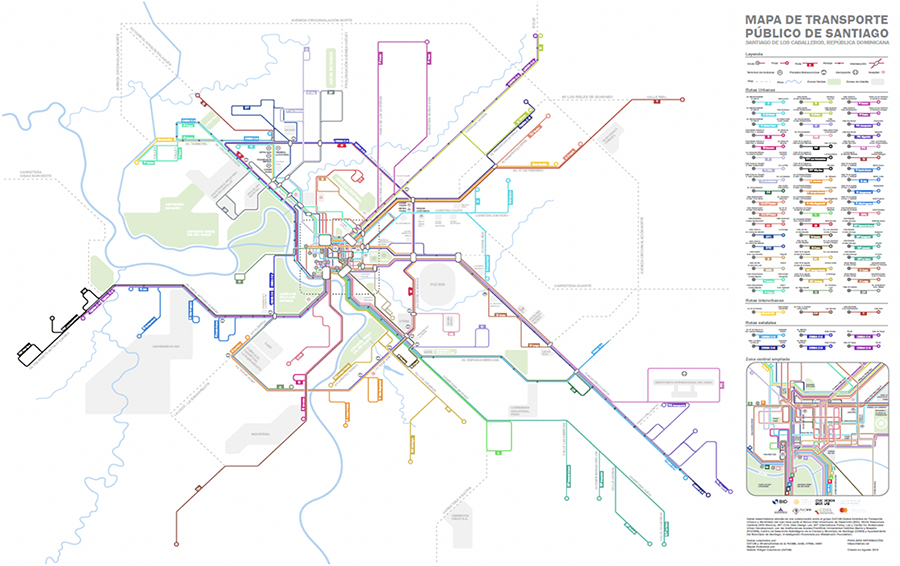 New experiences
Mapeando Santiago demonstrated a successful community mapping initiative using methodologies and tools suggested by DATUM. The results will tangibly improve the user experience on public transportation in Santiago, and the consistent involvement of community groups has left the city with well-trained and committed residents that will take up the monitoring, updating, and improvement of the mapping after its initial implementation.

The experiences and results coming out of Mapeando Santiago will be presented at the closing event on Friday, September 27th. The data will be made available in the DATUM online portal, and for use in the IDB-sponsored hackathon that will be hosted in the Dominican Republic in the coming months, to reinforce local capacity using GTFS data and geospatial analysis.
From this experience, we at DATUM hope to involve more cities so that they can benefit from active citizen participation in the design of urban infrastructure. Learn more about partners' experiences, suggested methodology, and open-source code for mapping and processing data at datum.la, our resource center for participatory urban transit mapping.
View this post on Instagram
---
Autores Invitados: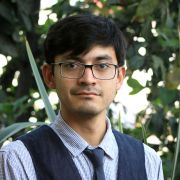 David Escalante: Transportation Planning and Operations Manager at WRI México. David has worked as consultant in urban mobility planning in Mexico, Brazil, Argentina, Colombia, Peru and Panamá, focused on public transport projects. He was Planning Deputy Manager and Technical Coordinator of the General Direction Office for the Mexico City's Bus Rapid Transit (Metrobus). David is an expert in tansportation modeling, public transport planing, implementation of BRT corridors and evaluation of operational and financial performance of transport systems. David is a Transportation Engineer and has been a profesor at the National Polytechnic Institute in México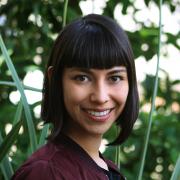 Tania Pérez: New Mobility Consultant, performs research, analysis and documentation of new mobility models to accompany cities in their understanding and possible regulation. She has experience as a public transport consultant at the Institute of Transportation and Development Policies. She has a degree in Industrial Design.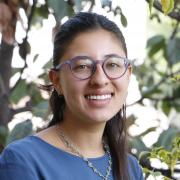 Ana María Martínez: Consultant for WRI in the area of ​​Science and research.