Despite tremendous strides towards economic stabilization, fiscal responsibility, and debt reduction, financial sector depth and development in Jamaica lags behind many of its peers. Recent improvements in institutional capacity, policy discipline, and structural factors suggest that there is considerable scope to accelerate financial sector development and to broaden access and inclusion. A recent IDB publication entitled: "Jamaica: Financial Development, Access & Inclusion—Constraints and Options" (Nov. 2018) reviews related issues, highlights key country-specific challenges, and discusses areas for reform.
In our first of two posts—"What's holding back financial deepening and development in Jamaica?"—the history of financial depth and development in Jamaica were discussed, including several key challenges to faster progress. In this second of two posts, we explore challenges facing Jamaica with respect to the related topics of financial access and inclusion, with a focus on common factors identified by cross-country surveys, and potential areas for reform.
Listen also to this related discussion between IDB Lead Economist Henry Mooney and Golda Lee Bruce as part of a new feature from IDB's Caribbean Country Department: Improving Caribbean Lives podcasts for in-depth discussions of emerging Caribbean development ideas and trends.
What is financial inclusion, and why is it important? Emerging research suggests positive linkages between financial sector depth, access to finance, and development outcomes. For example, recent evidence finds that financial inclusion—typically defined as the proportion of individuals and firms that use financial services[1]—is crucial for development and poverty reduction, and that the poor stand to benefit considerably from the use of basic payments, savings, and insurance services. Similarly, for firms—particularly small and newly-established enterprises—, access to financial services is associated with stronger innovation, job creation, and growth performance. Other research also finds a strong positive relationship between financial inclusion and income equality.
Link to the UN Sustainable Development Goals (SDGs). Access to financial services is considered to be among the most important building blocks for achieving the 2030 SDGs, and related issues are featured as targets for 8 of the 17 goals (see goals highlighted in blue bold text in Box 1).[2]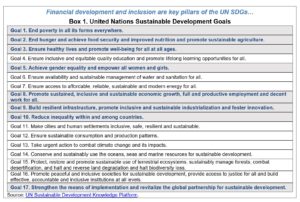 Country-specific Barriers to Financial Inclusion: The World Bank's 2014 Financial Development Report provided an extensive analysis of financial access and inclusion issues, that identified seven major reasons why people from both developed and developing countries do not own or use formal bank accounts, based on a cross-country survey of 70,000 unbanked individuals across regions (Figure 1). Many of these are directly relevant to Jamaica.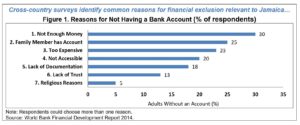 No. 1—Not Enough Money: Jamaica is toward the bottom of the middle-income spectrum, so the most commonly cited factor—lack of resources (no. 1)—is an important driver of financial inequality. Jamaica also displays a highly stratified income distribution, particularly when compared to others in the region. In 2013, Jamaica displayed a Gini index coefficient of 46—an index of zero implies perfect income equality, and a coefficient of 100 implies perfect inequality[3]—and a share of national income held by the richest 20% of the population of 53% (average from 2000 to 2015) (Figure 2). This places Jamaica near the bottom in terms of the global distribution of outcomes for these measures.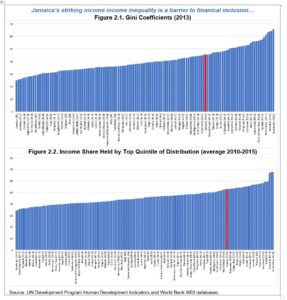 No. 2—Too Expensive: High costs of financial services (no. 2) and the lack of competition for at least some categories private of lending within the sector appear to be significant barriers to inclusion. As noted above, this was highlighted as a key concern of firms responding to the PROTEqIN survey. One related indicator is the spread between deposit and lending rates—i.e., wide spreads make borrowing less attractive and/or feasible. In 2016, banks in Jamaica were among the most profitable in the world, with an average interest rate spread of 13% (84th percentile of countries assessed)—considerably higher than the average for middle- or low-income countries (6% and 8%, respectively), and LAC countries (8%) (Figure 3.1). Another related indicator is return on equity (ROE)[4] for commercial banks. By this measure, Jamaica hosted a highly-profitable banking sector, with an average ROE of 14% in 2011[5], ranking it in the 72nd percentile out of 166 countries for which data were available across all income groups and regions (Figure 3.2).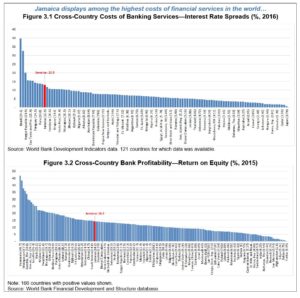 No. 4—Not Accessible: Physical access to financial services (no. 4) is another challenge relevant to Jamaica. In this context, only about 55% of the Jamaican population resides in urban areas, where access points (particularly bank branches) for services tend to be most concentrated (Figure 4).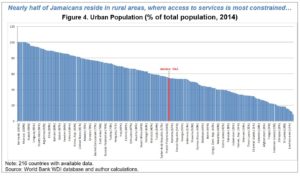 No. 5—Lack of Trust: One factor closely associated with trust in banks and the financial services industry is the level of financial literacy—i.e., knowledge regarding the nature, functions, and benefits of the banking system. Some countries have undertaken surveys to assess levels of financial literacy[6], but to date, no in-depth survey-based analysis of this topic has been undertaken for Jamaica. Another indicator that has been closely linked to financial literacy and that can serve as a proxy for this concept is the level of higher education. In this context, Jamaica displayed among the lowest levels of tertiary education among middle-income countries in 2010 (Figure 5). At that time, Jamaican adults—on average—had undertaken only 0.46 years of tertiary education. This and related evidence suggest that financial illiteracy is an important barrier to inclusion in Jamaica.
[1] Financial services can include any form of transaction, payment, savings, credit, and insurance.
[2] See the following for additional information: http://www.uncdf.org/financial-inclusion-and-the-sdgs
[3] The Gini index measures the extent to which the distribution of income deviates from a perfectly equal distribution. A Lorenz curve plots the cumulative percentages of total income received against the cumulative number of recipients, starting with the poorest individual or household. The Gini index measures the area between the Lorenz curve and a hypothetical line of absolute equality, expressed as a percentage of the maximum area under the line.
[4] Defined as the average return on assets (net income/total equity).
[5] Note that 2011 was used to ensure cross-country data comparability. The Bank of Jamaica reported that ROE for deposit-taking institutions was 16.1% at end-September 2017 in the 2017 Financial Stability Report.
[6] For a discussion of financial literacy surveys and related methodologies, see: http://www.oecd.org/finance/financial-education/2015finlitmeasurementexercise.htm
To listen more of our podcasts click here.