If you could hop on any bus, train, tram, metro, bicycle, taxi, ferry, car-share, rental car, etc., for a single monthly fee, how much would you be willing to pay?  And more importantly, would you be willing to give up car ownership?  That's the experiment happening right now in Helsinki, Finland, and the early results are very promising, including a 25% increase in the use of public transport. This is Mobility as a Service.
In addition to electric vehicles, self-driving cars, and Hyperloop, one of the most powerful "disruptors" in the future of urban mobility goes by the acronym MaaS, or Mobility as a Service.  The idea of MaaS is that all transport options in a city are connected to a single service – on your mobile device – for a single monthly fee.  Instead of fumbling around with half a dozen different apps, payment methods, conflicting schedules and routes, as well as gaps in service, one single app could offer payment and trip routing suggestions based on your specific, prioritized criteria (lowest cost, shortest travel time, space for large items, wheelchair accessibility, lowest carbon footprint, etc.).  All that users need to do is pick the option that best suits their needs for any particular trip.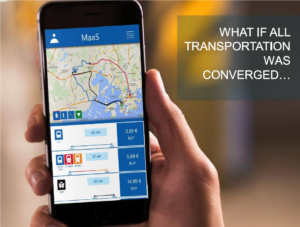 Source: Sampo Hietanen, 2015. (Maas.fi)
The MaaS experiment in various forms is underway in several places around the world, but it has undoubtedly had a head start in Finland.  If you consider the mobility apps out there, most focus on a single or just a few modes of travel, are not structured to readily "welcome" transport services without significant integration effort, and, more importantly, do not handle payment across multiple services.
Over four years ago, the Finnish Transport Agency (FTA) was early to recognize the importance of MaaS, and updated its strategy with specific acknowledgement of MaaS and a restructuring that better supported the idea of opening up mobility to the marketplace rather than remaining stuck in the traditional, publicly-subsidized and -provided model.
Recently, FTA, along with Finnish innovation enterprises invested in the early growth stages of its first fledgling start-ups, including the two most notable services Whim (in Helsinki) and Tuup (in Turku, Finland's third-largest city). Both apps integrate the service offerings of multiple Transport Service Providers (TSP) in their respective metropolitan areas, and provide a convenient, single location to both plan and pay for these trips.  When choices are this easy, users intuitively become more open to different modal options and make smarter choices.  Indeed, since October 2016, with about 2000 participants in Whim's pilot program, first results have already demonstrated increased public transport ridership as well as use of taxis. The Whim service currently offers different packages (Light, Medium or Premium) including unlimited city trips on the city's public transport network, as well as timed trips by taxi and rental cars.
An exciting aspect of aggregating services in this way is how the maze of jurisdictions and agencies involved in metropolitan transportation systems seemingly melts away when MaaS becomes the public interface.  At first blush, many agencies express angst about losing hard-earned brand recognition when lumped together with all of their "competitors".  That story should sound familiar to those who can remember the airline industry's initial reactions to the now-ubiquitous online travel fare aggregator websites.  Nowadays, it's hard to imagine booking a flight any other way.  MaaS is the modern, metropolitan-level equivalent.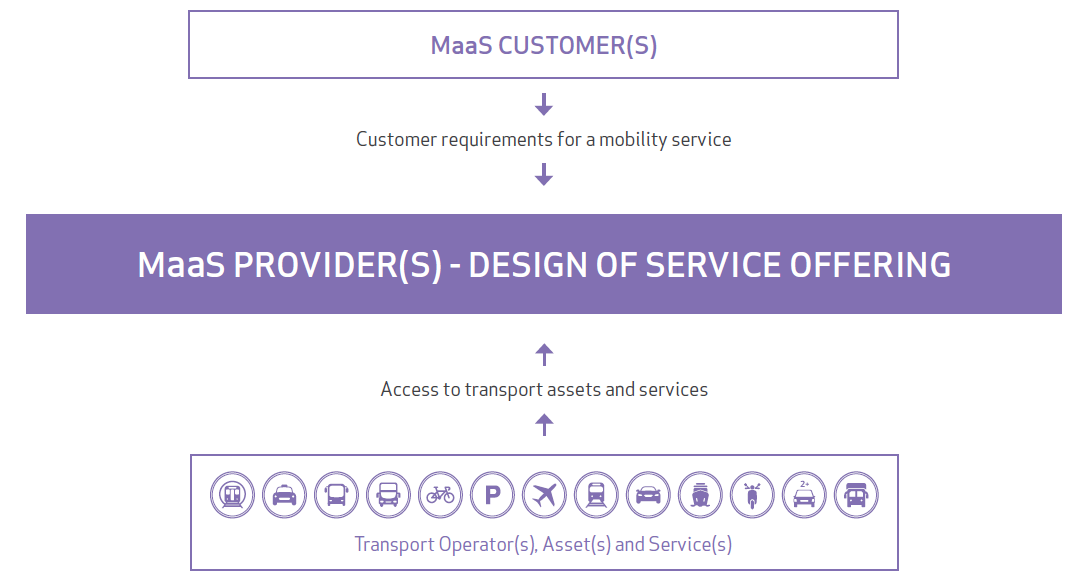 Developing the MaaS offering. Exploring the Opportunity for MaaS in the UK. Catapult (2016)
So, how can your city "plug in" to MaaS?  The short answer is, right now…if it is ready; many cities have enough of the minimum transport service providers (public transport, taxi/similar service, care share/rental) to make MaaS feasible.  The long answer is, a "champion" is needed to 1) organize key stakeholders, 2) establish a basic operational model, and 3) recruit the critical mass of fundamental transport services needed to get things off the ground.  A champion can be any player in the metropolitan transport environment: agencies, municipalities, advocacy groups, planning organizations, private entities and of course, public transport providers.
As is the case with all good planning, if an open and inclusive process (including policy makers and service operators) is used from early on, it is entirely possible to work with these stakeholders to find productive processes that support mutual interests. Dialogue and discussion led to eager participation and recognition that MaaS promises access to a much broader customer base, rather than posing a threat to commercial business concerns.
Furthermore, there is strong evidence to show why it is essential to introduce these new concepts into traditional mobility models.  In 2016, the so-called Lisbon Study by the International Transport Forum (ITF) demonstrated that shared mobility services, if left to develop without good management, may result in increased kilometers travelled; however, a carefully managed system in that city would not only reduce the total number of vehicles in service by over 90% (over a 24 hour period), it would result in reductions of kilometers travelled and CO2 emissions of 22% and 27%, respectively.  Those results are comparable to – if not better than – those of congestion charging.  A follow-up study by ITF released in October 2017, this time for Helsinki, found similar positive benefits even in a city with significantly better public transport services.
Are Latin American cities so far from these new mobility models? A greater need for infrastructure and provision of transport services are evident, but, can we take advantage and better optimize existing infrastructure capacity with the help of new technological tools and data from existing transport service providers? Can we integrate them? Can we leverage existing infrastructure to "leap-frog" transportation services?  The case study from Finland's experience says, "YES!" Innovation is the option to best face these challenges.
*Co-authors: Antti Mustaniemi and Ian Sacs
*Antti Mustaniemi
Antti is team leader for the intelligent urban transportation unit of Ramboll's Helsinki office. His competences include traffic modelling, traffic light and network planning and tunnel safety, as well as logistics, transportation technology and ITS subjects.  Antti is a critical driver of Ramboll's digitalization process, covering operations such as drone surveying and Mobility as a Service (MaaS).  He holds a Bachelor of Science degree in Knowledge Management, Hypermedia (2012), and a Master of Science degree in Logistics, Industrial Economics (2013), both from Tampere University of Technology in Finland.
*Ian Sacs, P.E.
Ian Sacs practices city planning at Ramboll's Helsinki office with a focus on transportation systems. He is experienced with large-scale master planning works in heavily developed areas, as well as strategizing and implementing transport policies and programs that improve urban mobility.  Prior to joining Ramboll, Ian worked for over a decade on redevelopment and policy projects in the New York City market, and served as the Director of Transportation and Parking for the City of Hoboken, New Jersey for three years.  He is registered as a Professional Engineer (P.E.) in the State of New York, holds a Bachelor of Science degree in Civil and Environmental Engineering from Florida International University (2000) and a Master of Science degree in Civil Engineering from The University of Tennessee (2001).
Follow us in Twitter: @BIDtransporte