In the process of recovering from the devastating impacts of the COVID-19 crisis, accelerating climate action can help unlock robust opportunities for a sustainable, inclusive, and resilient economy. As demonstrated by a mounted of evidence, investing in a low-carbon and climate-resilient development can generate socio-economic and environmental benefits by increasing economic resilience, improving health, and creating jobs.
Climate funds are key to both amplifying and deploying the investments needed for a low-carbon recovery, ensuring that climate finance is accessible at scale.
These resources will be also crucial to unlocking economic and social benefits in the Latin America and the Caribbean (LAC) region, including a 15 million net jobs potential that can be created by 2030 according a study by the IDB and the ILO, while addressing the short-term health and economic urgencies.
The IDB plays a role in low-carbon and climate-resilient investments
The IDB plays an important role as a partner to external funds that invest in low carbon and climate-resilient initiatives, such as the Green Climate Fund (GCF), the Climate Investment Funds (CIFs), the Global Environmental Facility's (GEF), and the Forest Carbon Partnership Facility (FCPF), among others. These collaborations are key to help mobilize additional resources, and due to their concessional nature, they allow the IDB to take more risk than usual and innovate in methods and mechanisms to tackle climate change.
Several of these collaborations date back to 2009, providing a decade's worth of experiences in the joint deployment of climate finance. Since replenishment processes for several of these funds are underway[1], now it's the right time to reflect upon projects at the IDB that have used External Climate Finance (ECF): what has worked well, what could improve, and the way forward in maximizing their impact on the Bank's broader action on climate change.
Recognizing the importance of accelerating climate action in COVID-19 times and the role of external climate funds in supporting it, our newest publication "Analysis of External Climate Finance" collects a series of insights and lessons learned from 70 projects and programs funded with the CIFs, GEF, GCF and FCPF that can favor the design of short and medium-term actions that support the necessary rapid decarbonization and mobilize investments.
The report covers aspects of design, delivery and stakeholder management, and showcases some of the most successful cases of climate finance – projects that were useful to create replicable, scalable and/or transformational models of climate action, with effects beyond their initial scope.
Here are three of the most important takeaways from the analysis:
Financial innovation, such as the creation of asset types (e.g., green bonds) and the establishment of regional facilities and energy savings insurances, provides one of the most catalytic way to use climate finance. A clear way forward for the IDB and its ECF partners is to continue broadening the range of financial products used to channel climate finance, so it can more strategically address risk and attract funds from non-traditional actors, such as institutional investors.
More than half of the IDB projects receiving ECF are synergistic with preexisting investments in a given country or market. These positive reinforcing dynamics are often crucial conditions to achieve transformational change. They are best achieved when ECF can be accessed with timeliness and framed within a larger context of programmatic and cross-sector work. A key challenge going forward will be to work with ECF partners to fast-track operations that already: i) are well aligned to an existing agenda; ii) possess catalytic alliances with other investors; iii) and have strong institutional champions.
Elements of at least 4 out of every 10 IDB projects with ECF have been later replicated within the IDB portfolio, and about one-third of cases reviewed received additional resources for scale-up. These results indicate that, despite the additional time and human resources that joint climate finance tends to demand, there is much value added through the knowledge creation and political traction achieved through the use of these funds.
The analysis was based on interviews with project teams at the IDB, which helped identify aspects to improve the effectiveness of climate finance: budgeting, selection of Executing Agencies, monitoring and evaluation, among others. They also shone a light on valuable practices that should guide efforts by the IDB and its ECF partners in future rounds of climate investment: continued in-country presence and engagement, profound understanding of international climate mechanisms; and the capacity to leverage a diverse network of local partners.
The use of ECF from these four sources has delivered an important return on investment. For every dollar invested by the IDB during the 2009-2019 period on these projects, an additional $2.6 dollars of climate finance were mobilized, amounting to a total of $6.7 billion. The following graph demonstrates that joint investment by the IDB and ECF partners has had the highest financial mobilization rates in the fields of renewable energy and energy efficiency.
It's critical to align finance with the Paris Agreement.
Helping deliver the Paris Agreement will show how transformation can look like. Investment strategies will help unlock new opportunities to develop zero-carbon and climate-resilient projects in LAC. Public and private financial flows aligned with the Paris Agreement's objectives will help scale up the much-needed financial flows to better respond to the worst challenge of this century, climate change. Article 2.1c of the Paris Agreement highlights the importance of this and provides a clear understanding of how it also needs a bold partnership between different stakeholders to leverage development finance.
The COVID-19 pandemic is an opportunity to mobilize more climate finance in LAC. The transition to a zero-carbon and climate-resilient future needs substantial investments in renewables and sustainable infrastructure to aid LAC countries in implementing an early green, inclusive and resilient recovery in the region.
IDB Programs and projects with External Climate Finance: Resource Mobilization 2009-2019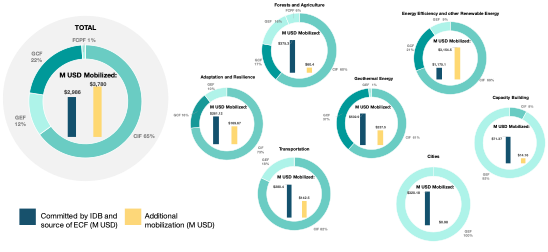 Further reading:
Analysis of External Climate Finance Access and Implementation
Why the climate v development finance fight must stop
Síguenos en Twitter:@BIDCambioClima
Photo: Adobe Stock