The school yard rang with laughter and shouts as blue and white uniform-clad school children rushed out of their classrooms to attend morning assembly. As the entire school of almost 300 children at Caye Caulker Roman Catholic School gathered, there was considerable excitement. That day, Headmistress Mrs. Beatrice Chan announced, the school was welcoming some very special guests with a big announcement.
Caye Caulker is barefoot paradise. The island sits one mile west of the Belize Barrier Reef and 23 miles from Belize City on the mainland. Sparkling clear water laps sandy beaches that fringe the island which is home to a community of 2,000 people. With a history of ship building and fishing, the roots of tourism for the island were not sown in the 1970's when travelers on shoe-string budgets traveled south from Mexico to discover a mellow haven of brightly painted wooden cottages and winding streets, and a jumping-off location to access some of the world's best scuba diving at Belize Barrier Reef.
While the island's charm remains and the carless street's signs remind visitors to "go slow" the number of visitors has increased steadily over the years, and as Belize's second most visited destination with 176,623 overnight arrivals in 2018, Caye Caulker is now home to 133 hotels, a total of 950 rooms. Many generational families operate stores, restaurants, dive shops and guest houses, and are fiercely proud of their tourism livelihoods.
As a sandbar island with an elevation little over eight feet at its highest point, the threat of climate change is very real for Caye Caulker. In recent years, storm surges have covered in the island, in the cases of Hurricane Hattie and Hurricane Keith. Flooding and storm damage hampers daily life, but it also impacts the economic lifeline of tourism, which can devastate a remote community.
In August 2016, Hurricane Earl, a category 1 storm, made landfall near Belize City causing severe damage to Ambergris Caye, Caye Caulker and Belize's central corridor extending from Belize City to the Border at Benque Viejo Del Carmen.
The Belize Ministry of Tourism and Civil Aviation (MTCA) found that Hurricane Earl directly impacted approximately 70% of the country's total hotel room stock and caused cancellation and temporary closure to the entire Cruise sector. Assessments of the Northern Islands including Caye Caulker revealed that the major impacts were caused by wind and storm surge as many properties on these two popular tourist destinations lost docks and beach front, with only a few reporting major structural damages or loss to room stock, equipment and furniture. The estimated losses for Caye Caulker were BZ$750,467 (USD 372,238).
Climate Smart Caye Caulker
 To help build resilience against climate change, the Inter-American Development Bank (IDB) launched the Caribbean Climate Smart Islands Program (CCSIP). The program aims to demonstrate ways of transitioning to a low carbon and climate resilient pathway in the islands of Tobago (Trinidad and Tobago), Caye Caulker (Belize) and Harbour Island (The Bahamas). CCSIP has been working over the past two years to identify and implement climate resilient mitigation and adaptation measures in priority sectors including transport, infrastructure, energy, water, waste treatment and tourism.
The identified measures are being analyzed from a cost-benefit and commercial potential perspective and pilot projects are being carried out on the three islands. As a community facing water scarcity issues—especially following natural disaster—Caye Caulker was primed for this pilot project which would see a water system installed at the Caye Caulker Roman Catholic School, to be utilized by the school children throughout the year, and then by patrons seeking shelter at the school which also serves as the community's hurricane shelter.
In October, 2019, the system was installed at the school. The IDB partnered with the Belize Ministry of Tourism and Civil Aviation and the Caye Caulker Village Council to facilitate the project at a regional and community level.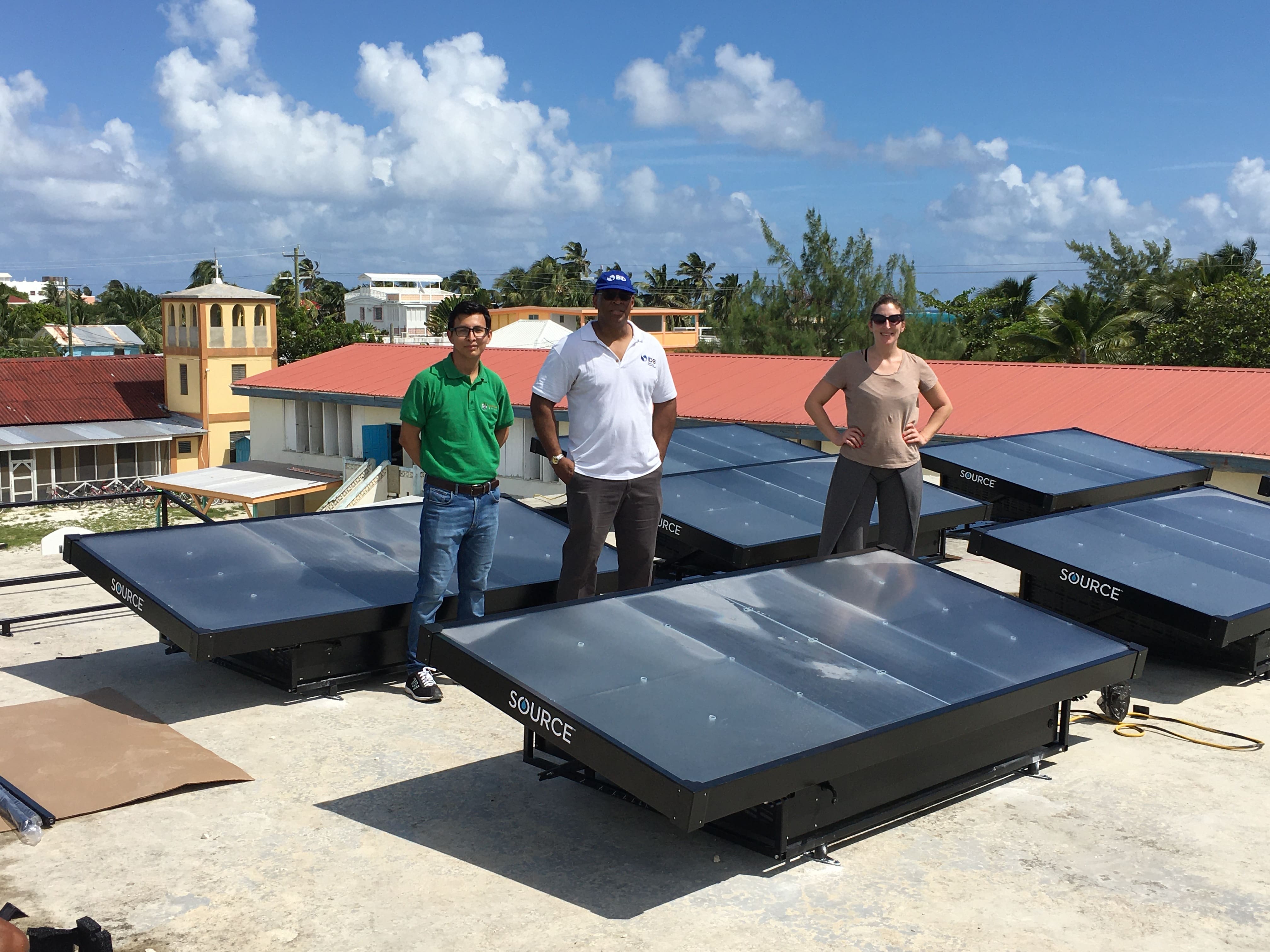 IDB and MTCA team at Caye Caulker Roman Catholic School (Photo: ERM)
"Air into Drinking Water"
 The independent and off-the-grid water-producing system by Zero Mass Water of Arizona, is an eight-foot hydropanel that creates drinking water simply from sunlight and air – made possible by the combination of thermodynamics, materials science and controls technology. Water is then mineralized with calcium and magnesium and then dispensed from a tap system installed at indoor and outdoor locations at the school.
Each panel averages 4-10 liters each day or 8-20 16.9oz standard water bottles, depending on sunshine and humidity. Each hydropanel holds 30 liters in a reservoir where it is mineralized and kept clean for optimal taste and health. Standard arrays have 60 liters of water storage capacity. The hydropanels utilize solar power and a small battery to enable water production when the sun shines and water delivery on cloudy days or at night, and can be monitored via an App. The IDB's partners for this Climate Smart Caye Caulker project included ERM to provide environmental assessment and project management, and local partners Caye Solar for installation.
A total of 21 panels have been installed on the school's rooftop, with a second smaller set-up of two panels scheduled for installation at the Caye Caulker Community Center by the end of the year. Approximately 170 liters of water a day will be collected and supplied to the school children for free, creating a significant benefit for families who typically pay BZ$5 (USD 2.48) a month per child for bottled water at the school.
As Belize sets out to eliminate single-use plastic and wrestle with the climate emergency, bottled water will eventually become harder to obtain, making an independent water supply an even more valuable community asset for Caye Caulker.