When a baby is born, families and homes go through significant changes. The roles of mothers, fathers, and caregivers shift. Gender plays a crucial role in deciding who does which tasks, when, and for how long. This has a significant impact on work, income, and even leisure.
The Gender and Diversity Sector Framework Document sheds light on the inequalities experienced within and outside households in the region.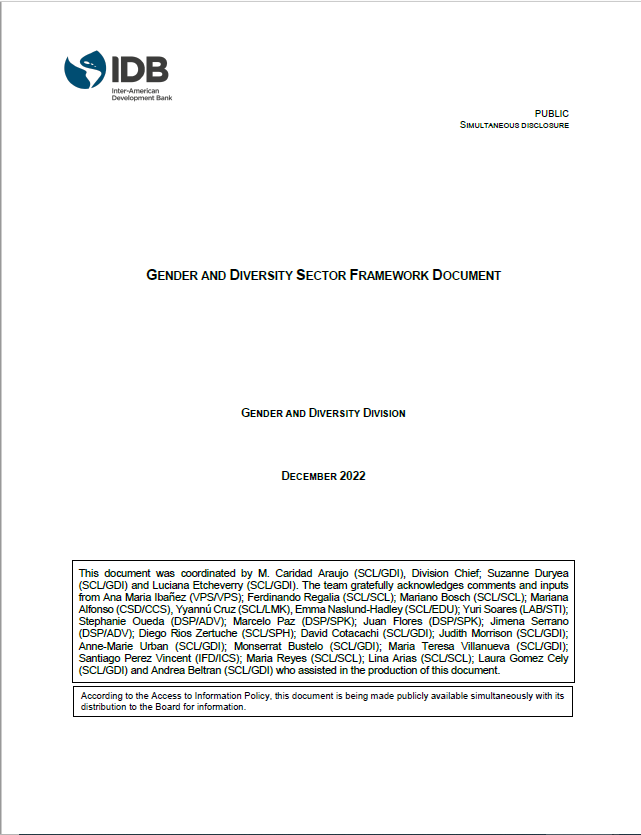 Download the document here
The outlook for families in Latin America and the Caribbean
In 2019, women in Latin America and the Caribbean earned 23% less than men with similar education and experience. This wage gap starts or gets worse when a child is born. Studies in the region show that motherhood plays a significant role in perpetuating the disparities in employment and earnings. For instance, in Argentina, Brazil, Chile, Mexico, and Peru, mothers receive lower wages than women without children, even if their education level is the same.
These "maternity penalties" vary from 12% in Brazil to 21% in Chile. Women face a significant and lasting decrease in income after having their first child. On the other hand, men's earnings are not affected by this factor.
This is because mothers often prefer jobs with more flexibility or shorter working hours to take care of their children and manage household tasks. Typically, these jobs pay less.
To address these inequalities, we need to change cultural attitudes towards gender stereotypes regarding motherhood, fatherhood, and shared responsibility. Additionally, we need public policies and programs that enable families to balance their work and home duties. This way, both mothers and fathers can actively participate in their children's care and development, while also having the opportunity to advance professionally if they desire. Family policies can play a crucial role in achieving these goals!
What are family policies and why should we bet on them?
Family policies are a set of measures, laws and programs implemented in the public and private spheres to promote the well-being of families. The following are some examples.
1. Paid maternity and paternity leave
This refers to a period of paid time for fathers and mothers to be absent from work. This applies to biological and adopted children.
A study in Chile finds that mothers are more likely to have a paid job one year after the birth of their child given an increase in maternity leave from 12 to 24 weeks. On the other hand, a study in Ecuador shows that short-term paid paternity leave is effective in increasing the time fathers devote to parenting. As a result of the policy, on average fathers took 3 more weeks of paternity leave. In addition, the number of hours they reported spending on household chores increased by 25%, equivalent to 40 minutes per day.
2. Accessible, high-quality child care
These are affordable or free services that take care of young children. Companies and/or the government can provide these services.
Research indicates that having access to childcare has a positive impact on women's participation in the workforce, although the impact on women's earnings varies. Furthermore, if affordable childcare is available, the likelihood of a mother being employed increases by 2 to 22%. Access to childcare also affects women who are entrepreneurs and the survival of their businesses. During the Covid-19 pandemic, when schools were closed, data from 50 countries showed that businesses run by women were more likely to shut down compared to those run by men.
3. Work flexibility
This includes part-time work, working from home and flexible schedules.
A study in Canada shows that flexible work schedules tend to reduce the disadvantage of mothers, especially for college-educated individuals. In addition, working from home also reduces the wage gap in most educational groups. Part-time work, on the other hand, favors women's participation in the labor market. However, since part-time work generally offers lower hourly wages, it is associated with broader gender wage gaps.
A team effort
The promotion of these policies is essential to ensure the well-being of families, gender equity inside and outside the home, and to achieve a work-life balance for both mothers and fathers. Likewise, having a balance in the distribution of tasks within the home is beneficial for the development of boys and girls.
As we can see, achieving parenting in equity requires teamwork from mothers, fathers, families, but also from companies and public policies.
And in your country, how are family policies like?