Since the outbreak of the COVID-19 pandemic, various studies have examined how large domestic and multinational firms respond to economic shocks, including health-related ones. But there has been less focus on how family-operated micro, small, and medium-sized enterprises (MSMEs) modify their business decisions when faced with such disruptions. Similarly, relatively little attention has been directed at how MSME's business decisions affect other businesses in the supply chain and workers in the local labor market.
Such an understanding is essential for policymaking in low- and middle-income countries. In Latin America and the Caribbean, for example, MSMEs provide over 60% of employment and represent about 25% of the region's GDP. They are also vulnerable to multiple shocks.
A recent IDB study, based on data on MSMEs in rural and peri-urban Thailand, sheds light on this issue. It shows that in response to the illness of a household member, microentrepreneurs with a household business reduce overall business spending and demand for hired workers by 23% and 79%, respectively (see Figure 1).
Figure 1: Households Cut Back on Business Spending as a Response to Severe Health Shocks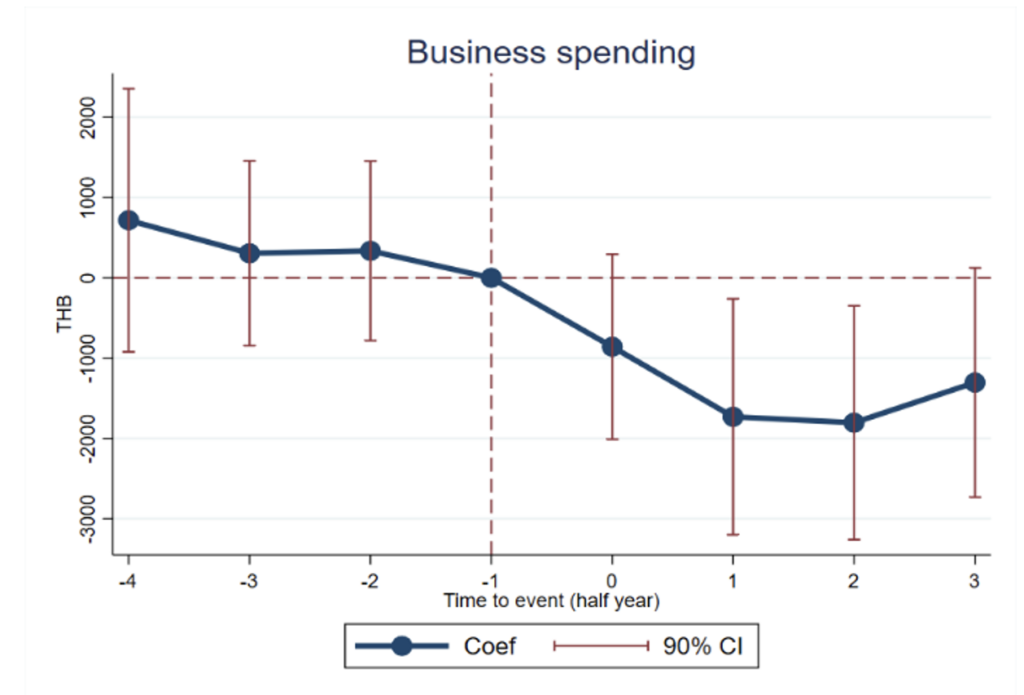 Health Shocks Can Have Larger Indirect than Direct Effects
These health shocks may directly affect one household at a time. But they negatively affect multiple households in the microenterprise's economic networks through indirect pathways. Households that directly transact with shocked households (one link away in the network) experience a decline in their transactions and income, which in turn decreases their consumption. That, in turn, affects other firms and workers linked to them (two or more links away from shocked households), causing them to similarly experience declines in their earnings (see Figure 2). These indirect effects persist for two years, suggesting that health shocks can easily break economic links and that finding new workers or business partners to replace those links can be difficult.
While the indirect effects are smaller than the direct effects on a per-household basis, the indirect effects impact many more households. Shocks to individual households lead to significant multiplier effects, with the total indirect effects roughly 1.7 times as large as the direct ones.
Figure 2: Indirect Effects of Health Shocks by Distance to Directly Shocked Households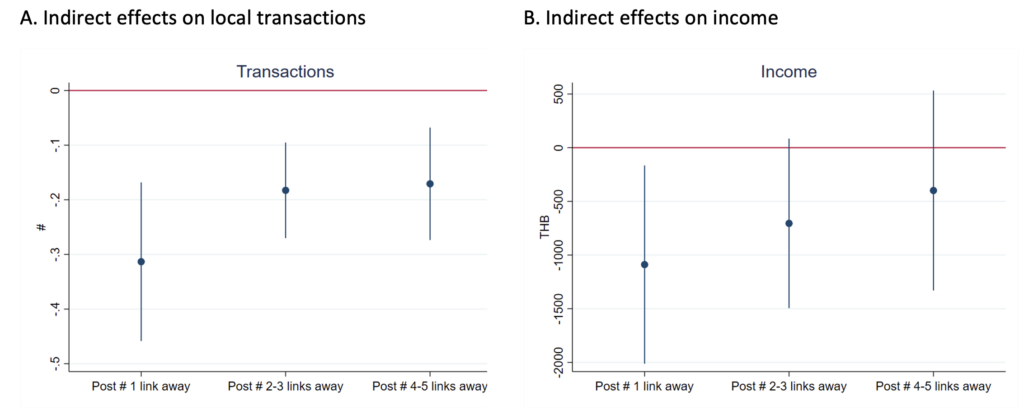 Business transactions decline equally when health shocks spread through supply chains and the local labor market. The indirect effects on income and consumption, however, are more severe among those exposed to the shock through labor-market networks. While material inputs and goods can also be traded in other localities, the local nature of labor markets limits the ability to sell labor in other localities.
Well-functioning Labor and Insurance Markets Can Prevent the Spread of Shocks
Small firms—particularly those in low and middle-income countries—vary to the extent to which they can rely on markets for insurance, goods, and labor to mitigate shocks. Even if on average firms can buffer shocks, that is not always the case. Some firms cannot use external labor to replace the work normally supplied by household members. As a result, policies that make it easier to substitute family workers with external workers, such as improved contract enforcement or employment platforms, can also mitigate the spread of negative shocks.
Access to informal insurance can have a similar effect. Health shocks not only affect the availability of family workers; they also squeeze a household's budget. In advanced economies, firms may rely on formal insurance and hedging contracts to cope with such shocks, minimizing their need to scale back production and the indirect effects on their workers and input providers.
In low and medium-income countries, where such formal contracts may not be available, households running firms may engage in informal risk-sharing through the transfer of funds between households to attenuate shocks. By contrast, uninsured households may be forced to cut business spending to finance urgent health needs and that affects other businesses and workers. The study finds that shocks hitting well-insured households are mitigated while those hitting uninsured households are amplified. Because having access to insurance not only protects shocked households but also the firms and workers that transact with them, the social gains to expanding insurance are likely large.
Policies to Mitigate the Spread of Shocks in Local Networks
Given the pervasive effects of health shocks, investing in preventative health to reduce their severity benefits not only affected households but also others in the local economy. Improved safety nets, meanwhile, may increase access to insurance and help prevent shocks to a single household or firm from spreading.
Local networks alone may be unable to sufficiently spread risk, given that well-functioning insurance networks require the participation of multiple firms. Formal commercial insurance contracts or public insurance schemes could help small businesses better cope with risk and reduce the broader impact on others. Electronic payment platforms that identify key players in local markets could allow insurers to better target recipients whose shocks are more likely to spread. Because fully insuring against all types of shocks is infeasible, policy interventions should also strive to facilitate hiring and trading in local markets so that workers and firms can quickly adjust their operations and prevent the indirect effects of shocks. More broadly, interventions to improve contract enforcement or that integrate small firms and workers into regional markets may mitigate the spread of negative impacts.