With about 1.4 million people—including pre-trial detainees and convicts—held in penal institutions, Latin America is suffering from a dramatic incarceration crisis. Over the last ten years, the prison population in the region has grown by 76%, and today 241 people for every 100,000 in habitants are in detention, about twice the level of the European Union. Overcrowding and frequent prison riots lead to parole violations and recidivism. Poor living conditions, with prisoners crammed together, spread communicable diseases, including Covid-19, threatening the lives of both the inmate and general populations.
This situation is neither rational nor sustainable. Public opinion, often based on faulty information, largely drives harsh sentencing. And the eagerness of the general public and judicial authorities to jail offenders ignores the failures of social investment and law-and-order policies. The good news, as Fernando Cafferata, Dan Gingerich and I describe in a recent paper, is that providing better information on the prison population and the social causes of crime can shift public attitudes. It can lead to a greater emphasis on prevention than punishment.
The extraordinary growth in incarceration in Latin America has been spurred by growing arrests, convictions for non-violent drug offenses, and longer sentences (particularly for violent crimes). It is also due to a substantial increase in the use of pre-trial detention. About 41% of those in custody are yet to receive a sentence. Growing citizen demand for punitive policies plays a crucial role. Societies where public opinion favors harsh penalties tend to embrace politicians willing to enact them, as was the case in the United States during the 1970s. Such sentiments, however, are often at odds with reality. Gallup polls consistently reveal that since the 1990s a majority of respondents in the United States believe there was a year-on-year increase in criminal activity, when this is wholly at odds with actual crime during most of the period.
Opinions on Imprisonment Can Shift
My colleagues and I show how such attitudes can be changed. We use the results of a unique survey experiment designed and embedded in the 2017 round of the Americas Barometer Survey conducted by the Latin American Public Opinion Project (LAPOP) at Vanderbilt University. Respondents in the treatment group were presented with an infographic describing the low level of education of prisoners in Chile. Those in the control group did not get the infographic. The treatment and control groups were then asked to allocate a fixed budget among sets of specific public policies designed to reduce crime and asked about their acceptance of iron fist police tactics. Our findings show that preferences for anti-crime policy vary substantially with the information people get. Those in the treatment group who learned about the prison population's educational disadvantages assigned between 20% and 50% more of the budget to deterrence or social policies than to punitive ones. They were also less likely to accept the use of unrestricted force by the police.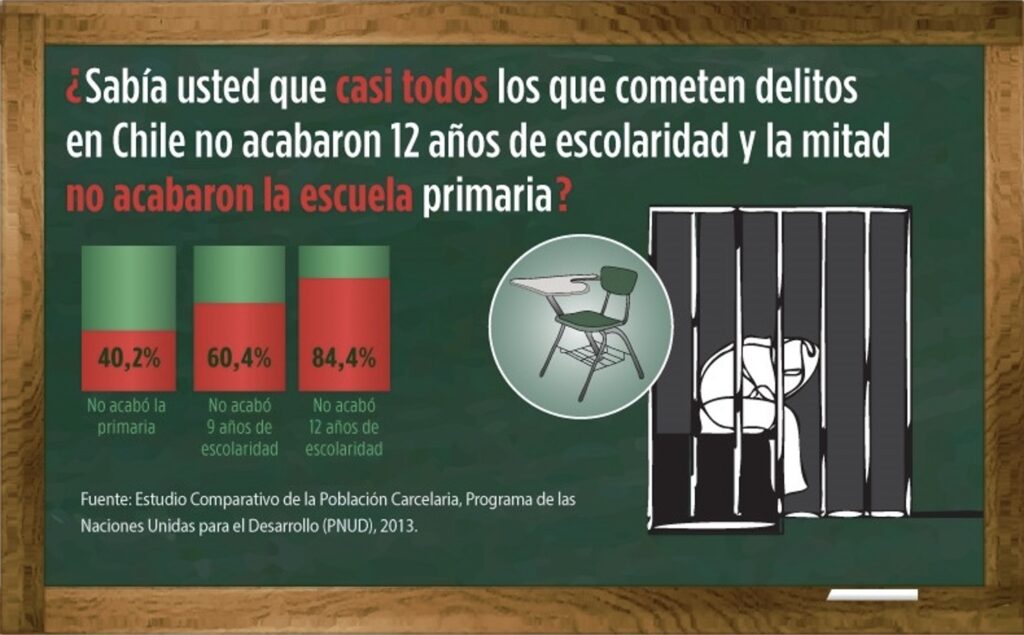 Serious punishments for crime are a necessary element of crime deterrence. However, single-minded anti-crime strategies that increase the severity of punishments but ignore social factors that contribute to delinquency are unlikely to be effective in the long term. In Latin America, for example, harsh penalties generate bottlenecks in the judiciary (more than two-thirds of prisoners in Chile have not yet gotten a sentence). If judges think that the penalties are disproportionate, stiffer penalties may also lead to lower rates of conviction.
The Failure to Impose Rule of Law
For many citizens, the desire to impose harsh justice on perpetrators of common (and commonly egregious) crimes is an emotional response to the failure of state authorities to establish the rule of law. Politicians respond in kind. Since effective measures require decades-long commitments to addressing social inequities and reforming dysfunctional criminal justice systems, it is easier for office holders –with an eye on the electoral calendar–to promise iron fist approaches that will deliver quick and miraculous results.
Thankfully, the policy preferences of citizens are not carved in stone. Preferences regarding law-and-order issues are malleable, even in societies with high levels of polarization around policing. In Chile, strong support for the police has been heavily influenced by lingering fear from the Pinochet dictatorship, an effective police communications strategy and backing by the media and political elite. The fact that providing more detailed information about prisoners modified policy preferences in that country suggests it is likely to do so in other settings as well.
More generally, our results point to the potential importance of personalizing information about those affected by policy decisions. In giving citizens a better sense of the real people whose lives, wellbeing, and freedoms are at stake, the way might be cleared for more thoughtful deliberation about how public resources should be used to solve important social problems.
Less Imprisonment, Big Gains
There are clear benefits to shifting preferences away from punitive policies to those that are more effective for fighting crime in the medium and long term. Doing so not only reduces the strain on the criminal justice system; it lessens inequities. The Covid-19 pandemic and the worldwide 2020 protests against police brutality underscore the importance of advancing in these areas: of helping to reconcile marginalized populations with their police forces and making the police more effective in rooting out crime in the process. Reducing overcrowding in prisons through more rational policies may also reduce the likelihood that prisons serve as superspreaders of disease. In a region with soaring crime and homicide rates, a swelling prison population, and a surging Covid-19 pandemic, that is a path well worth taking.