Latin America and the Caribbean has made real progress in expanding health services to its citizens over the last two decades, boosting spending, increasing overall life expectancy and contributing to a decline in mortality rates for children under five. But despite those improvements, the region needs to become more efficient to achieve its goal of universal health coverage in which all people can get the health treatment they need without enduring financial distress.
In a time of scarce resources, financial efficiency is especially important. It is essential to maximizing health gains for patients; ensuring that money is not wasted, and guaranteeing society's continued willingness to fund health services.
Nonetheless, according to an advance release of a chapter from the IDB's upcoming flagship report Better Spending for Better Lives, Latin American and Caribbean countries are not generally efficient when it comes to health. In fact, 22 of 27 countries in the region are in the bottom half of average efficiency rankings among OECD and middle-income countries, and 12 are in the bottom 25%. Achieving optimal efficiency could make a fundamental difference. Even keeping current health budgets stable, it could extend average life expectancy by four years and raise skilled birth attendance by 4.4 percentage points.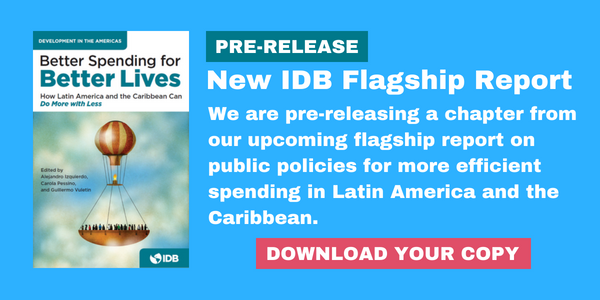 A few key takeaways from the health chapter of the upcoming report give a sense of the challenges ahead.
Pharmaceutical spending
Spending on medicines increased around 12% annually from 2013-2017, four times faster than in North America and six times faster than in Europe. And since  pharmaceutical expenditures are expected to continue growing, we need to be more efficient. Some governments have responded by comparing how much medicines cost in other countries and capping their own prices at the lower end of the scale. Many countries have also implemented systems of centralized negotiation and purchase of medicines, which give governments greater bargaining power. Incentives, ranging from lower tariffs to tax exemptions, also exist in the region for companies that produce equally-effective, but less expensive generic drugs.
Still, generic drugs are vastly underutilized, and expensive medications are too widely used. The common use of insulin glargine, a non-natural insulin analogue to treat diabetes is a classic example. It is up to 120% more expensive than human insulin, which provides similar benefits.
Primary and Preventative Care
Primary care, involving a physician who serves as a patient's first contact with the health system and coordinates treatment with specialists, often saves money by ensuring adequate medical attention before problems worsen. It plays a vital role, reducing, or even eliminating, the need for more expensive emergency visits, hospitalizations, or complex procedures. The reality, however, is that healthcare systems in the region still rely too much on specialists and hospital-based treatments. As a result, money is wasted. An analysis published in 2012 revealed that an average of 9.6 million hospitalizations (19% of total discharges) each year could have been avoided by access to timely primary care. All that adds up to large sums of money that could be more productively invested.
Part of the solution lies not only in making primary care more accessible but in providing and enforcing national guidelines based on international standards for treatments. In Colombia, for example, the Ministry of Health has issued guidelines for the treatment of diabetes that must be followed by publicly funded health insurers (Empresas Promotoras de Salud). But with only 15% of the diabetic population receiving the tests called for in the guidelines, too many diabetes sufferers may end up in costly intensive care situations, such as dialysis, amputations, or even death. Enforcing compliance could make the difference.
Health Service Delivery
Many health care services in Latin America and the Caribbean are paid for by retrospective reimbursement schemes in which the provider is reimbursed according to what it says its services cost. This means the provider has few incentives to minimize expenses. By contrast, pay-for-performance systems, like those adopted to some degree by Chile and Uruguay, base payments to providers on patient outcomes, like reducing hospital readmissions. Such systems can spur more data-driven decisions about how to efficiently allocate resources to health priorities and health providers that best achieve health goals.
Many more things need to be done, of course, and the pre-released chapter of the upcoming IDB flagship report delves into great detail across a wide range of areas. But a central message is that the region needs to produce better health metrics on everything from health care financing, to health care delivery, governance and resource allocation so it can employ them to develop efficient and effective policies. At a time of lower growth and fiscal pressures, and longer living populations pushing health care costs up, there is no better time than now to carry out the necessary reforms.
Click here to download your copy of the advance release.