Making societies more inclusive and fostering peace cultures is more important than ever in Latin America and the Caribbean (LAC). Many countries in this region face enormous challenges, such as social inequalities, widespread violence, and a lack of opportunities, especially for the youth. Promoting global citizenship education is key to tackling these challenges. To contribute to this endeavor, the Asia-Pacific Centre of Education for International Understanding (APCEIU), a UNESCO center based in Seoul, Republic of Korea, has worked with its regional partners.
What is Global Citizenship, and What Skills Can Be Developed Through Education?
UNESCO defines global citizenship as a sense of belonging to a broader community and common humanity. It puts special weight on the interdependency and interconnectedness of political, economic, social, and cultural spheres among various stakeholders at the local, national, and global levels.
The escalating interest in global citizenship has increased attention on global citizenship education, including its integration into national policy, curricula, teaching, and learning. Through global citizenship education, it is expected that learners can develop their global citizenship skills in three dimensions:
Cognitive: Knowledge of global challenges and universal values, understanding interconnectedness and interdependence, critical and multi-perspectival thinking.
Socioemotional: Understanding multiple levels of identity and belongingness to common humanity, empathy, solidarity, and respect for diversity.
Behavioral: Acting collectively and responsibly to find global-local solutions.
These skills are essential to equip learners to actively tackle various challenges that contribute to building a more peaceful, just, and sustainable society.
APCEIU's Actions to Promote Global Citizenship Education in Latin America and the Caribbean
Supporting UNESCO Member States in Integrating Global Citizenship Curriculum
One area APCEIU has focused on is mainstreaming global citizenship education in national education systems in the region. An initiative taken in this line was the Global Citizenship Education (GCED) Curriculum Development and Integration Project. Under this three-year project, APCEIU works with UNESCO Member States to assist them in integrating or reinforcing global citizenship education in their education systems by examining the current status of global citizenship education through situation analysis, identifying priority action areas, and accordingly developing curriculum guidelines, teaching exemplars, or teacher training materials.
From 2016 to 2018, APCEIU partnered with Colombia on this project, which resulted in developing the Teacher Training Guidelines for Citizenship as its major outcome. Global citizenship teacher training in Colombia focused on enhancing teachers' capacity to identify the concepts and practical measures to teach citizenship along with skills to articulate and integrate the concept of global citizenship education into the classrooms.
Colombia identified the promotion of reconciliation and a culture of peace through teaching and learning citizenship as its priority action area. Thus the Guidelines aimed to strengthen teachers' capacity for teaching citizenship. The Guidelines have been reviewed by 125 teacher training schools, 22 local education authorities, and representatives from universities and NGOs from the country through a series of workshops organized by APCEIU, the Ministry of National Education, and Corpoeducación. Participating Colombian educators have enhanced their capacity for the concepts and how to disseminate global citizenship education in the region. The guideline has also become a useful resource for teachers and teacher trainers when dealing with classroom global citizenship-related content.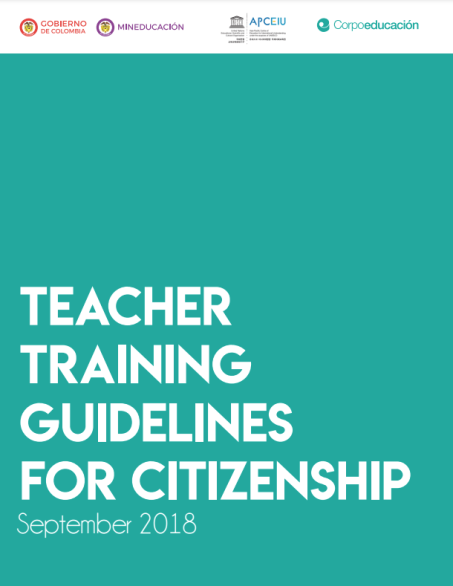 Developing Global Citizenship Online Courses
Another action to promote global citizenship education in LAC was collaborating with the UNESCO Santiago Office to develop a Massive Open Online Course (MOOC) on GCED for Youth. The online course was designed to enhance the awareness of young people on the concept of global citizenship, particularly in the context of the region, and stimulate discussions and exchanges about how they can play an active role as global citizens. From 2020 to 2021, more than 2,000 youths registered for this online course. The MOOC has also enhanced the participants' knowledge and critical thinking skills, particularly regarding the issues related to human rights in the region. They are also equipped with resources and tools to vocalize their standing and negotiation skills as agents of change.
Moreover, the learners also improved their capacity to utilize technology and work collaboratively with others via online platforms, strengthening the regional networks of young global citizens. The latest version of the MOOC is planned to be launched in the first half of 2023.
Given that global citizenship education is a broad concept, it is important for each community, country, and region to develop its own understanding of this educational perspective considering their particular needs and contexts. In this regard, the MOOC on GCED is expected to help young people in the region define global citizenship and practice it in their local contexts. For example, through the global citizenship MOOC course, the youth has been engaged to understand global citizenship as active participation in recognizing and tackling the ongoing challenges faced by youth at the regional and global levels, democratic participation and fight for social justice, and a sense of planetary belonging.
Capacity-Building for Educators and Youth
Another focus of APCEIU's work is the development of educator and youth capacity. It offers annual Workshops on GCED for Teacher Educators and Youth Leadership Workshops on GCED. These workshops bring participants from all over the world, including from the LAC region, to help them better understand global citizenship education and practice it. After completing these workshops, participants are invited to apply for small grants to support their global citizenship education projects to be implemented in their local contexts as a follow-up activity.
These projects include girls' empowerment in Haiti, youth education in Brazil, and peace education through early childhood education in Colombia. There have been 19 LAC participants out of 243 participants in the Workshops on GCED for Teacher Educators from 2016 to 2022. During the same time period, 39 out of 322 youth participated in Youth Leadership Workshops. 
Developing a Regional Global Citizenship Education Network
Lastly, APCEIU has made efforts to facilitate networking among various stakeholders to advance the implementation of global citizenship education in the region. APCEIU and the UNESCO Santiago Office have collaborated to promote Latin America and the Caribbean Regional Global Citizenship Education Network. Since its launch in 2017, the platform has helped global citizenship education stakeholders in the region share information and experiences, organize capacity-building workshops, raise awareness, conduct research, and build partnerships.
APCEIU's Global Citizenship Education Efforts in Other Regions
APCEIU actively promotes global citizenship education in other regions. Its main activities are capacity-building, research and policy, teaching material development, information sharing, and networking.
In the Asia-Pacific region, APCEIU partners with eight countries in the region under the Asia-Pacific Teacher Exchange for Global Education framework to facilitate the exchange of their teachers to enhance their capacity to practice GCED.
In its most recent initiative, APCEIU has launched the GCED Cooperation Centres (GCCs) in Cambodia, Malaysia, the Philippines, and Thailand. The GCCs aim to strengthen the capacities of teacher education institutions on GCED based on local contexts and needs. APCEIU plans to expand the GCC to other countries in the following years.
APCEIU also hosts the UNESCO Clearinghouse on GCED to share information and resources on GCED in several languages, including Spanish. For instance, the Clearinghouse has teaching and learning materials, journal articles, good practices, and other resources on GCED worldwide.
Next Steps in Latin America and the Caribbean
Based on our experiences in the region, we conclude that GCED is a powerful educational intervention to tackle difficult problems, such as hate, discrimination, and violence, by equipping people of young and old ages with critical thinking and problem-solving skills and empowering them to take collective action as agents of change. But these success stories should be shared more widely among policymakers, educators, and youth leaders in the region to have a multiplier effect.
APCEIU will continue collaborating with its regional partners, including the UNESCO Santiago Office. Particularly, a repository of good practices will be considered to facilitate the sharing of GCED experiences and demonstrate the impact of GCED on the ground.  
Did you know the importance of global citizenship education? Leave us your comments!