Mr. Sungwon Lee is the CEO of G-School based in Seoul, South Korea. Previously a public school teacher for 20 years, he established G-School based on the mission that education should reflect the changes in the society. It realizes the idea of what future education should look like and implements 21st century education through a network of collaborative teachers. Mr. Lee is a special guest to our blog series on the development of #skills21 in Latin America and the Caribbean.
---
Educational institutions around the world scrambled to address the global crisis the best way they could as the number of confirmed COVID-19 cases hit new records daily. Public and private responses to the pandemic only highlighted the limitations of the education sector around the world. In a time when school closures became the norm, how did G-School see an opportunity in the wake of the pandemic?
G-School is an unaccredited experimental school based in Seoul, South Korea. It provides education for middle and high school students, and because it is unaccredited by the government, it has the freedom to adopt and implement teaching methods as well as academic curricula it deems fit for its students. With its progressive education program, it is committed to fostering key future skills that correspond to a rapidly changing world. Its curriculum places heavy emphasis on self-guided learning and project-based learning, the latter to help students develop collaborative problem-solving skills. 2020 was a particularly meaningful year for G-School, as it successfully designed and implemented its online curriculum for all enrolled students in the wake of the COVID-19 pandemic.
Notable was the absence of learning losses over 6 months, from march to september—one of the primary initial concerns of teachers prior to implementing the shift to complete online learning. Not only did students' digital literacy soar during the short time period, but also did their communication and collaborative skills with their peers. Technology-based tools proved to be exceptionally useful for both teachers and students in keeping track of daily assignments and academic progress, and ultimately helped improve the students' skills, learning competence, and attitude.
9 principles of G-School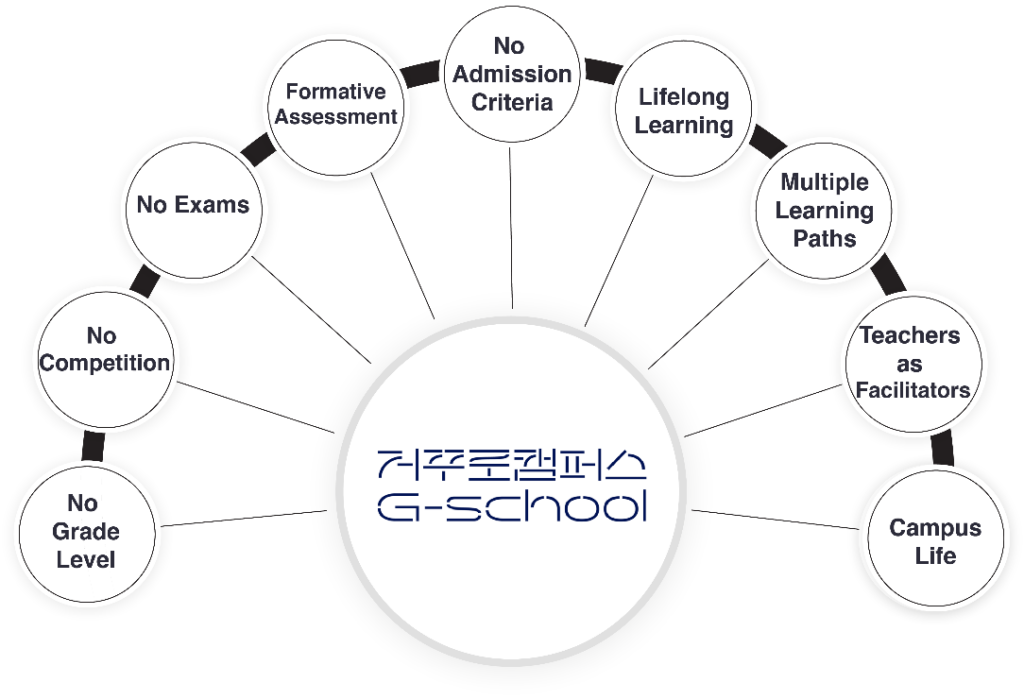 Nurturing Collaborative Problem-Solving Skills through Online Learning
The curriculum at G-School is designed to foster collaborative problem-solving skills, a challenging goal even in a conventional in-person learning environment. Students are encouraged to solve problems and overcome challenges by working together with peers. In fact, teamwork constitutes an integral part of the students' learning experience at G-School. In a time when in-person learning became impossible, G-School's collaborative learning model became possible through technology.
An example of an online tool frequently used by students at G-School is called Mindmeister. This application allows teams to build ideas from scratch, and individual thoughts and concepts become a vast web of information that offers the "big picture" at a glance. Through video conferencing, students further their discussions and ideas.
Hosting a 150-minute class for 35 students online? Not a problem. ZOOM has proven to be an invaluable tool during the time of the pandemic and its breakout room feature helped teachers to encourage small-group discussions. Students also conceptualize and document projects on shared digital workspaces such as Notion, spreadsheets such as Numbers and turn to Google shared documents to collaborate on team assignments.
Fostering Self-Guided Learning through Project-based Learning
Another key objective of G-School's education is to nurture students with a sense of self-agency. Teachers are committed to helping students discover their worth and potential to grow so they motivate themselves to work harder. That is why at G-School, teachers understand that every student grows at a different pace. Once a student finds a topic interesting, they will explore in depth. Once students discover they have what it takes to achieve their goals, teachers facilitate and motivate students to complete their academic journey autonomously with a high level of excellence and sense of purpose and responsibility.
Every semester, teachers thoroughly assess and document the students' growth in knowledge, competence and attitude. The detailed assessment then becomes a tool to determine a student's progress while also providing insights into his or her future growth potential. Therefore, G-School's ultimate mission is to foster critical thinking, communication skills, collaborative skills, creativity and empathy, the five key future skills that can help a student thrive in the world.
G-School's online education model does not owe its success purely to technology. Rather, the main reason behind the school's success story lies in its bold attempt to break away from conventional knowledge-based learning to competency-based learning – one of the founding philosophies of G-School. If the ways of the past do not blend in with the times of dynamic changes, they must go. It is time to open our eyes to new and innovative methods and experiment boldly to prepare humanity for the next generation to come. This is the true definition of education in the 21st century. There is no time to waste.
How can schools in Latin America and the Caribbean move towards competency-based learning? Do you know any examples of schools like G-School in your country? Leave us your comment in the section below or on Twitter mentioning @BIDeducacion #EnfoqueEducacion.
Stay tuned and follow our blog series on education and #skills21 in times of coronavirus. Read the first entry of these series here. Download the Future is now and don't forget to keep an eye out for our news!