Yolanda Ramos is the Senior Regional Director of for the Americas at International Society for Technology in Education (ISTE), and Casandra Woodall is the Senior Director for Business Strategy at ISTE. ISTE is member of the 21st Century Skills Coalition joined by different public and private organizations to promote the development of 21st century skills in Latin America and the Caribbean.
---
As the COVID-19 pandemic spread, officials and administrators jumped to action by closing the doors of classrooms across the globe. Overnight, teachers, parents and caregivers found themselves in unprecedented circumstances. Teachers have worked very hard to modify and adapt lesson plans designed for face to face exploration for an online learning environment. They have joined for the first time multiple virtual professional learning communities in search for answers, ideas, and online learning strategies. However, the disruption to learning for students living in under-resourced communities and with the highest needs and challenges during a critical time of the school year cannot be overstated. For example, a recent report published by the Northwest Evaluation Association (NWEA), projected a severe summer learning loss. Additionally, COVID-19 has exacerbated education inequities, and school leaders are searching for solutions that will help their educators and students be successful when they return in the fall.
Today, teaching with the effective use of technology is an essential competency for educators around the world, whether settings are face-to-face, blended learning or fully online. ISTE is supporting educators who are navigating teaching in digital learning spaces by providing a series of synchronous and asynchronous professional development experiences and supports that leverage foundational best practices for professional learning.
Responding to an urgent need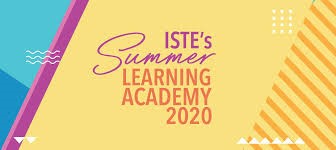 To help K-12 educators as they prepare to return to a school system that is more than likely to include a significant online learning component, ISTE launched a "Summer Learning Academy" that is providing thousands of educators evidence-based strategies for teaching online. Recognizing that the students most profoundly impacted by the move to online learning are the most vulnerable learners, and to make this program broadly available, thanks to the support from the AT&T Foundation and D2L, ISTE is offering this summer program to more than 16,000 educators from 19 countries at the low cost of $20, making this online learning experience the most-cost effective professional development available.
Program Description:
Given the urgency to support teachers' ability to address these shifts with high quality professional development and support, ISTE took advantage of the summer break to help educators significantly improve the quality and equity of their approach to online learning. This is achieved through the specific application of principles of using technology effectively for learning that are relevant in face-to-face, blended, or online environments.
As we seek to empower educators and build their confidence to teach in blended and fully digital learning environments, these courses and webinars are taking participants beyond a simple understanding of how tools work to ensure that they have the knowledge and confidence to implement evidence-based learning practices. The Summer Learning Academy also shine a spotlight on leading educators ready to share strategies, resources, and tools to help their colleagues build skills and improve their ability to deliver effective and engaging instruction in online and digital learning environments through a webinar series and a vibrant online learning community.
The Summer Learning Academy, developed with expert practitioners who are leading this work at the national, state, and school-level through these significant shifts, consist of a combination of online professional learning offerings that will include webinars, virtual interactive workshops and asynchronous online courses. The program last 3-weeks and features three components:
1. ISTE Microcourses: Four asynchronous, 2-hour courses addressing topics such as teaching special populations including students with special needs and English language learners, designing impactful instructional experiences, building community and nurturing relationships, and providing formative feedback and assessment.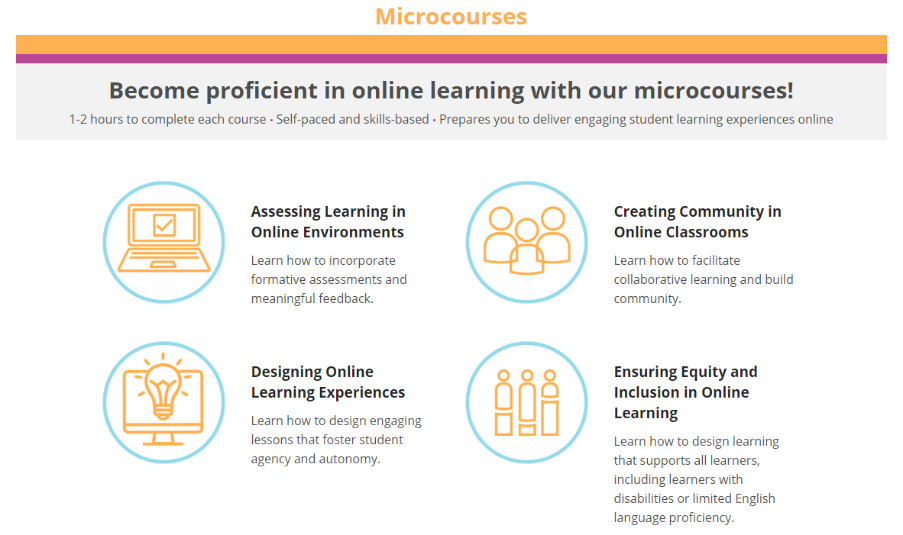 2. ISTE Webinars: Featuring education expert speakers from ISTE's education community modeling and delivering practical and explicit strategies for teaching in an online learning environment during synchronous webinar and live, interactive workshop sessions.
3. ISTE Learning Community: Participants join an online personal learning forum to engage in discussion, leverage their collective knowledge and collaborate on best practices for learning in digital environments.
Key topics addressed through the program include:
Access: build awareness of resources and strategies to narrow the digital equity divide
Collaboration: building classroom community that fosters collaboration and creativity
Equity: exploring explicit strategies to meet the needs of complex learner
Digital Citizenship: teach and model digital citizenship to help students be responsible and active in online communities
Formative Assessment: providing meaningful feedback and assessment
Learning Design: learning that empowers learners and fosters student agency
Universal Design for Learning: implement framework for designing instruction that meets the needs of every learner.
Educators who successfully complete the ISTE Summer Learning Academy receive a certificate of completion to apply to their continuing education units and there are also available ISTE microcourses for individuals. The ISTE micro-courses will also be available in Spanish.
Overall participants seem to rank the microcourses as most useful since they can consume at their own pace and take in information most relevant to them. The weekly webinars had overall satisfaction (satisfied or very satisfied) rating in the range of 75% to 80%. Due to the fact that we had over 16,000 participants, the more opportunities for differentiation, the better will be for future academies. This would have required more webinars. We are looking forward to the findings of our internal evaluation report by the end of October in order to share more outcomes and learnings from this amazing professional development experience.
Stay tuned and follow our blog series on education and #skills21 in times of coronavirus. Read the first entry of these series here. Download the Future is now and save the date for the book launch of What Technology Can and Can't Do for Education on September 29th, 2020, where ISTE contributed to discussing the promise of technology in personalized learning and what it takes for technology to be successfully integrated into education. Stay tuned!
What skills do you think teachers need to develop in order to adapt to the new normal in your country? Share your opinions below in the comments section, or in Twitter mentioning @BIDEducacion #EnfoqueEducacion.