Copyright © 2017. Interamerican Development Bank. If you wish to republish this article, please request authorization at sph-communication@iadb.org. 
By Min Ji Kang and Yyannú Cruz Aguayo.
Lee este artículo en español.
Mónica Martínez was 13 years-old when she brought back to her native Peru the gold medal for the Rioplatense Mathematical Olympiad. Though a great accomplishment for Mónica, it is unfortunate that she is one of the very few girls in Latin America and the Caribbean who has been able to stand out in this area.
Despite advances in gender equality in schooling in the past decades, concerning patterns have persisted, especially in math learning outcomes. Evidence from a recent report by the American Educational Research Association shows that, by the third grade in the US, the learning gap in math between boys and girls is already noticeable. By the time they reach the fifth grade, there are almost three times as many boys as girls in the top 5% with regards to math achievement.
These numbers worsen as we step into Latin America and the Caribbean, where the region has a drastically large math gender gap. According to 2012 data from the Program for International Student Assessment (PISA), which measures math scores for 15 year-old boys and girls, , girls' math scores in the region average 17 lower score points than those of boys, which equals to 5 fewer months of schooling. Moreover, in 2009, out of 1,700 PISA top female performers, only 2 students were from Latin America and the Caribbean.
PISA: Women Top Performers by Region (Top 1%)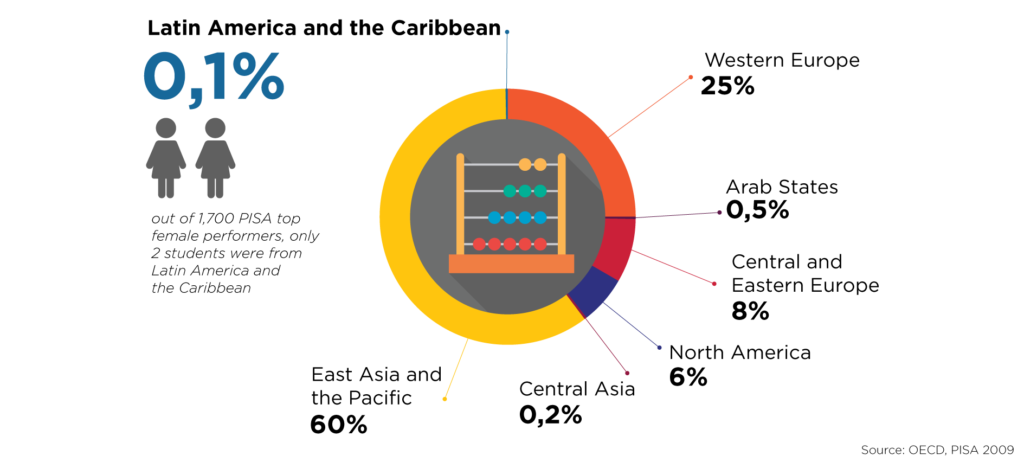 Considering such troubling findings, one can't help but wonder: When does this gap start to form? What causes boys to outperform girls in such an important area? And most importantly, what can we do about it?
Some scholars have hypothesized, not without plenty of criticism, that the math gender gap is innate and rooted in biology. Could this be true? Are girls innately prone to be outperformed by boys in math? To this day, there is no confirmed indication that women underperform in math due to biological differences at birth, rather, the gap seems to appear later. As the American Educational Research Association puts it: "(…) boys and girls began kindergarten with similar math proficiency, but disparities in achievement and confidence develop by Grade 3."
What causes the math gender gap?
The math gender gap continues to expand as boys and girls spend more years in school, and multiple studies have attempted to explain its causes. A recent study by the Inter-American Development Bank on early math achievement in Ecuador examined a group of children from kindergarten to 2nd grade. It analyzed the size and nature of the math gap and made three important discoveries:
Socioeconomic aspects surrounding children can cause substantial differences in math achievement between boys and girls. Differences between children of parents with more years of education are already apparent at the end of kindergarten and increase only modestly by the secondgrade. The difference between boys and girls, on the other hand, also already apparent at the end of kindergarten, roughly doubles in two years.
Home environment is an important determinant of the gender gap in early math test scores. When comparing the scores of math test in children whose mothers have university education, no differences were found in the average math achievement between boys and girls. This suggests that higher educational attainment from the mother's side could have a positive impact on girls leading to higher math achievement.
There is no evidence that shows that boys and girls respond differently to variations in teacher quality. This means that gender differences in the responsiveness to a better or worse teacher or classroom quality do not appear to contribute significantly to male outperformance in math.
While more research is needed to better understand the roots of math gender gaps, this study provides a sample scope of the climate that surrounds girls' math attainment in Latin America.
How can we reduce the math gender gap?
There is still no absolute answer to this question since the reasons for why it exists in the first place are still debatable. However, we can be sure of one thing: If we want our girls to become successful women and important agents of change in the region, it is critical that we encourage them to debunk hindering stereotypes, reinforcing their analytical aptitudes and helping them explore paths that will ultimately exploit their true potential, just like Mónica did.
What are your thoughts on the math gender gap? What do you think are the best ways to lessen this learning gap? Share your ideas and experience in the comments section or by mentioning @BIDgente on Twitter.
Min Ji Kang is a Research Fellow on Math Teaching and Learning in Early Grades within the Social Sector at the Inter-American Development Bank.
Yyannú Cruz Aguayo is a Senior Economist in the office of the manager of the Social Sector at the Inter-American Development Bank.