by Marta Rubio Codina.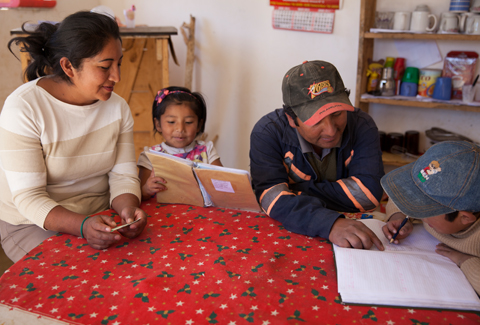 The pioneering work of Sally Grantham-McGregor and colleagues in Jamaica and the impressive results of the so-called Jamaican study involved 129 chronically malnourished or stunted young children and 32 non-stunted children living in poor households in Kingston. Recent research has showed that the short-term improvements found in IQ after 2 years of intervention have been sustained over time and translated into better educational outcomes and 25% higher earnings twenty years later!
To put it in context, as many have discussed in this and other blogs, the innovative idea was to send trained health aides to the homes of children in the treatment group for one hour a week to teach mothers how to engage in responsive parenting practices and promote children's development by playing, talking and praising. Some of the children in the study also received nutritional supplements.
In a recent interview, Grantham-McGregor was asked the dreaded question: is the Jamaican model the answer to improve children's development worldwide? She commented on a few successful replications of the model in countries as different as Bangladesh and Colombia with optimism. Yet, she noted a major limitation: to date, we do not know whether the positive impacts in child development from these incipient experiences replicating the Jamaican model, at larger scale, in such diverse environments, with children exposed to different levels of poverty and malnutrition rates, will be sustained in the long run.
So what, then, are the active ingredients for sustainability of early stimulation interventions? What are the active ingredients for sustainability when implemented at a large scale? Indeed, for a solution to be global, it needs to be viable at really large scale. That means reaching more in a cost-efficient enough manner.
Grantham-McGregor noted some of these key elements:
Adapting or 'translating' the intervention to the country's reality: redraw illustrations to reflect the ethnic and local environment of the children and their families; use local materials to make toys; introduce local games and songs; take into account the families routines and structure; amongst others.
Delivering interventions through existing social protection or health services—possibly through other mothers and women in the community of similar backgrounds to the beneficiaries' mothers.
Ensuring access to (quality) child care and education services, once the stimulation intervention has finished.
Implementing these "ingredients" together facilitates families adopting the practices involved in responsive parenting and eventually modifying their own behaviour in a permanent manner, which may have impacts within and across generations. It also contributes to families (and communities!) taking ownership of the intervention thus increasing chances for impact and sustainability. However, maintaining intervention quality and fidelity while doing this is critical. It certainly is the biggest challenge researchers, practitioners and governments around the world investing in early childhood stimulation programs risk facing.
After many years in the shadow, this type of interventions are now in vogue and it is the responsibility of those of us working on them to measure up to the potential they have scientifically been shown to have. We cannot afford to have them go out of style. We must pay attention to implementation—ensuring the personnel delivering the intervention have adequate training and mentorship throughout; that they are engaged and enjoy what they do, hence keeping families and children engaged. Compromising quality must not be an option.
We must also understand what is going on: we must rigorously measure final and intermediate outcomes so that we can credibly identify impacts and pathways; and equally important, we must measure implementation processes so that we can understand what worked and what did not work, and continue to work towards improving delivery so as to eventually achieve sustainable impacts at scale.
Are there early childhood programs in your country that may serve as models due to their success? Tell us about them in the comments section below or in Twitter.
Para leer este post en español, haga click aquí.
Marta Rubio Codina is a consultant in the Division of Social Protection and Health at the Inter-American Development Bank and a Senior Economist at the Institute for Fiscal Studies in London. She is a co-researcher in various projects that promote early childhood development (ECD) in Colombia, India and Peru and has done research focused on the measurement of ECD and existing socioeconomic gaps.