by Yasemin Sirali.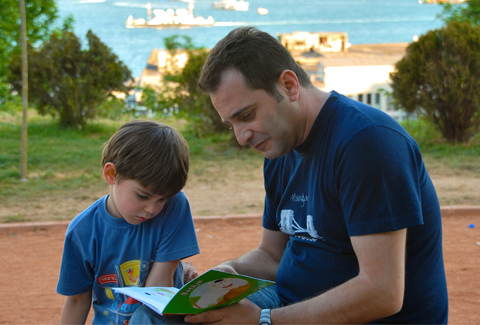 Encouraging fathers to take an active role in their children's education and development. This was a revolutionary idea 22 years ago in Turkey, when the The Mother Child Education Foundation (ACEV) was founded. ACEV started with only a few employees and since then has reached nearly 1 million children and parents in 3 continents through face to face programs, and millions more through both technology-based mediums and advocacy efforts.
It is crucial to build a solid foundation for anything one wants to create. The origins of ACEV lie in the Turkish Early Enrichment Project  conducted in 1982-86 by three academics at the Bosphorus University. Within this research, MOCEP (Mother Child Education Program) was developed to test an early childhood education model for children of families of low socio-economic status, as an alternative to center-based options. Back then, only 9% of the Turkish children received any early childhood education, with the majority of them coming from wealthy families in major cities.
Impact assessments demonstrated that MOCEP children were better prepared for and more successful in school later, resulting in higher university attainment rates and better life opportunities than their peers who did not receive any early education exposure. Mothers reported better relations with children and spouses, and higher civic involvement as a result of improved communication skills and self-esteem.
Pilot implementations reached only hundreds of individuals, but the scientific approach to developing, implementing, and assessing its impact, topped with excellent outcomes in evaluations, was pivotal in providing a solid basis for expansion through aligning funders, government officials, and quality practitioners in the upcoming decades.
In 1993, with the support of one of Turkey's foremost philanthropists, ACEV was established with a goal to scale up MOCEP. Along the years, ACEV's sphere of influence grew and became popular. One of the principal reasons was the inclination of ACEV to listen carefully and respond to beneficiaries' needs.
Based on the feedback received from thousands of mothers, ACEV developed additional adult training and early childhood education programs, such as Father Support, Summer Preschool, Female Literacy, and Rural Women's Trainings.
I would love to highlight the Father Support Pogram. It is noteworthy as an innovative program because it encourages fathers to take a more positive and active role in their children's development. Over 80,000 fathers and children have benefited from it to date, the only program in the world that has reached out to such a large number of fathers over a structured and detailed 15 weeks long training.
Keeping abreast of beneficiary needs and changing trends, ACEV took advantage of new media to deliver content by launching TV, mobile and internet-based trainings; thereby expanding its reach to millions more than what was possible through face to face services.
The most important factor enabling expansion was partnerships. In 1995, ACEV's negotiations with the Turkish Ministry of National Education and the World Bank resulted in a loan to expand MOCEP across Turkey. Mother Child Education Foundation provided local trainer and supervisor training, program management and quality control services. The Ministry provided its adult trainer staff to be trained by ACEV as group leaders and the in-kind space for courses to be held at the 500+ adult education centers all around Turkey.
Similar partnerships with the Ministries of Agriculture, Family and Social Services were built to deliver programs that followed MOCEP. The NGO was thus able to train over 10,000 group leaders, scale up its programs to all 81 Turkish provinces, and reach nearly 1 million children and parents. A few years ago, in 2010, ACEV's parenting programs were nationalized within the Ministry's larger National Family Program enabling an opportunity to go to a further level.
ACEV traveled out of Turkish borders sharing its program with international NGO and academic institutions. Through these local partnerships, ACEV programs have been translated to Arabic, English, Flemish, German, Lao, and Spanish and reached tens of thousands of parents and children in 13 countries other than Turkey.
ACEV's programs and practices also inspired scientific inquiry and policy discourse in various global platforms, including the establishment of the Center on the Developing Child at Harvard University and more recently within the Formative Childhoods and Peacebuilding initiative ACEV has been running with Yale University and UNICEF.
Main challenges faced while scaling-up ACEV's programs in Turkey were: sustaining governmental buy-in to the programs albeit frequent turnover in ministerial leadership and personnel, maintaining implementation quality and local staff sustainability, and managing continuous funding. The unwavering commitment and relentless efforts of ACEV's leadership and program experts were instrumental in managing these challenges.
Expanding ACEV programs has been the collaborative success of many actors involved in the process. However the most important partner has undoubtedly been the families ACEV reaches out to. Their active participation and experience is the most fundamental factor in the program's success.
Did you watch the Father Suppor Program video? What do you think about it? Do you think it is necessary to implement programs to encourage parental role in the care and development of children? Tell us here writing a comment on this blog or in twitter @BIDgente.
Yasemin Sırali is the Director of Özyeğin Social Investments at FIBA Group in Turkey and former Fellow of the Harvard FXB Center. Prior to transitioning to the third sector, Yasemin worked as a management consultant at the New York City and Philadelphia offices of Deloitte Consulting. She graduated from Swarthmore College in 2001 with an Honors degree in Economics and French Literature, and obtained her MBA at the Harvard Business School in 2006.