Este artículo está también disponible en / This post is also available in: Spanish
Four out of ten Latin Americans and Caribbeans live in food insecurity, that is, they lack regular access to food. The pandemic, and the war in Ukraine, have sharply pushed back already poor malnutrition rates. Transforming agrifood systems will be the main strategy for ensuring food security in Latin America and the Caribbean (LAC). However, the planning of our cities can play a very important role in achieving this goal.
When thinking of agriculture, most people visualize large fields in rural areas. But did you know that more than 800 million people worldwide practice urban (and/or peri-urban) agriculture? On the occasion of celebrating World Hunger Day last Sunday, May 28, we want to share the importance of urban orchards in providing sustainable food in our cities. To illustrate this, we will travel to Mexico City, where the Inter-American Development Bank (IDB) has supported the creation of urban orchards in the neighborhoods of Tlatelolco and Santo Domingo Coyoacán. Don't miss it!
More and more of us are living, and eating… in cities
The rapid growth of cities brings with it a host of challenges, one of them being the maintenance of the food system. By 2050, it is estimated that two-thirds of the world's population will live in cities. This means that the agricultural sector will have to produce between 50% and 60% more food to meet the required demand. However, the challenges do not stop there, as food production is threatened by factors such as: land use change (from agricultural to urban land), degradation and erosion, and extreme weather events such as droughts and floods. In addition, global shocks such as the COVID-19 pandemic have highlighted the fragility of urban food systems. A report by the High Level Panel of Experts (HLPE) of the Committee on World Food Security indicates that 161 million people (in addition to the existing ones) experienced chronic malnutrition during the pandemic; specifically in Latin America, the number of people in need of food assistance is estimated to triple by 2020
Are cities ready to feed us all in the future?
A food system can be defined as all those activities related to the production, processing, distribution, preparation and consumption of food. Can they all happen in a city? Do you know what your city does in each of these aspects?

Images: Urban orchards in Mexico City
You may think that food production has nothing to do with urban public policy. However, both the Food and Agriculture Organization of the United Nations (FAO) and several cities around the world are increasingly betting on including food production in the sustainable urban development narrative. A FAO publication, in partnership with the NGO Rikolto, mentions that "urban and peri-urban agriculture is a vital strategy for building resilience in urban food provision, reducing poverty and increasing employment, improving nutritional outcomes and mitigating environmental degradation of urban spaces". The publication indicates that in Quito (Ecuador) and Arusha (Tanzania), 26% and 23% (respectively) of food comes from urban and peri-urban agriculture. The data show that urban and peri-urban farmers consider that their income, community and family cohesion have improved thanks to the practice of this type of agriculture.
How can we increase the number of urban orchards so that they are no longer the exception in urban reality?
Urban agriculture, and its contribution to the sustainability of a city's food system, requires specific urban design and planning strategies. This includes adjustments to regulations so that urban gardens are recognized as an accepted, permitted and promoted land use, and even become part of architectural and urban planning building codes, so that this activity can be implemented at different scales.
Encouraged by this idea, during 2022 the NGO Organi-k, with support from the IDB, carried out an urban agriculture pilot project in Mexico City (CDMX). Its objective was to test different techniques for growing food and making organic fertilizers for soil regeneration, whose application would be compatible with the reality of the city's low-income neighborhoods.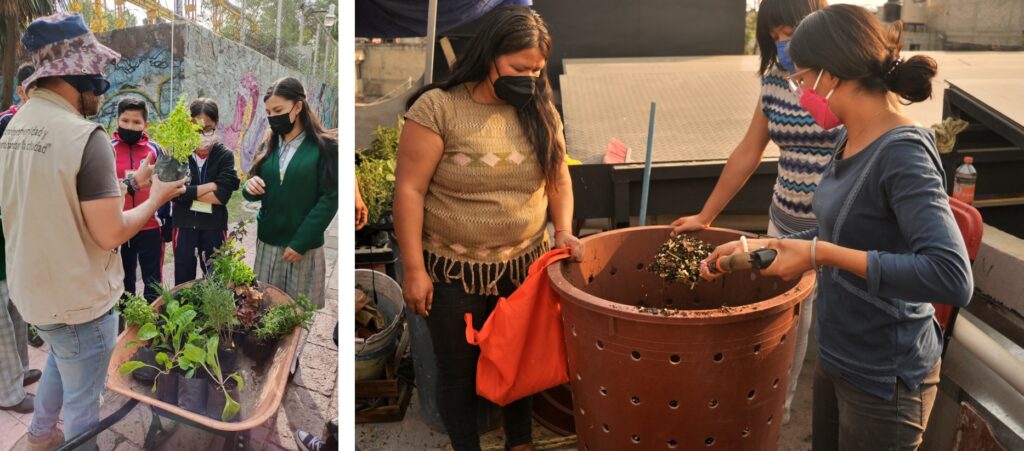 Images: details of urban community gardens in Mexico City
Specifically, spaces were rehabilitated in popular neighborhoods of Tlatelolco and Santo Domingo Coyoacán in order to install two urban orchards with direct (in soil) and indirect (in pots located on a terrace) cultivation techniques. The project included a training process for 49 people in both spaces, who, in turn, collaborated in the design and installation of the gardens. This initiative also had an experimental component in which soil analyses were carried out where the gardens were installed, to later carry out a comparative study with vegetable production by applying various doses of biofertilizers (MICROBAC) obtained in situ. Those crops that received the biofertilizer showed a higher amount of macro and micronutrients in the vegetables analyzed.
Recommendations for creating urban orchards
Based on the experience in Mexico City, we present a series of recommendations to be followed by all local governments wishing to create urban orchards in a sustainable manner: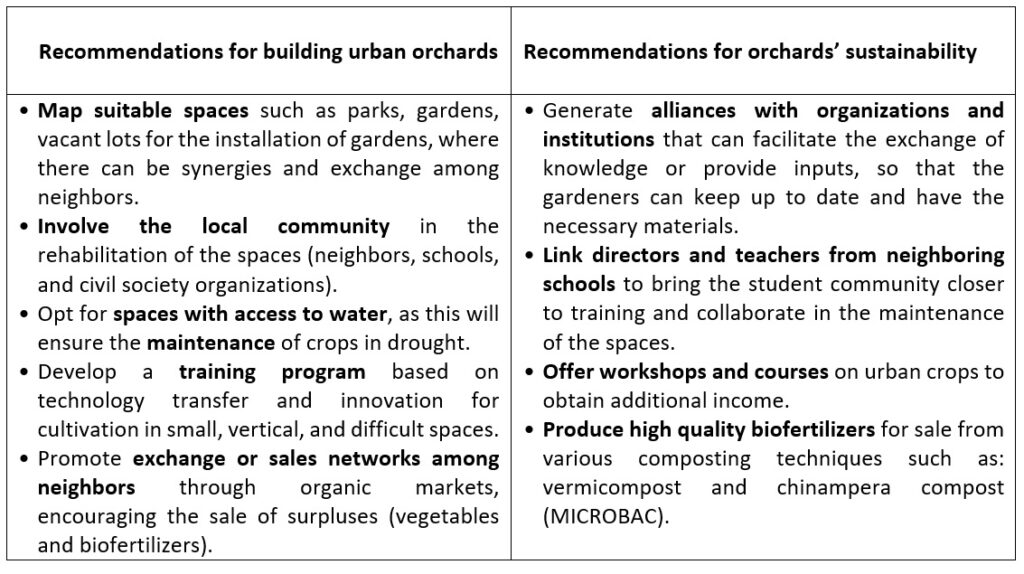 Are you ready to create your urban orchard?
Integrating these recommendations into urban policies and regulations can reduce the inequity gap in access to food and employment. It can also help increase climate resilience in slums.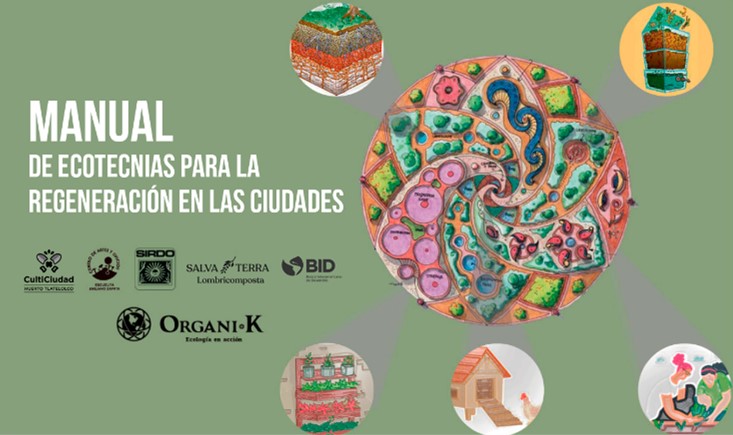 The experience of the pilot project in CDMX demonstrated that there is a high level of citizen interest in engaging in urban agriculture activities and that low-cost crop production techniques can be applied. If you are interested in learning more about how to create low-cost urban orchards, we invite you to review the Ecotechniques Manual for the Regeneration of Cities.
We also invite you to watch the video that summarizes the project in CDMX: