Este artículo está también disponible en / This post is also available in: Spanish
Much has been written and debated about the role of cities as one of the main causes of climate change. Indeed, urban centers are a major source of greenhouse gas (GHG) emissions, concentrating most of the world's population and most of the world's economic and industrial activity. However, cities have the potential to generate transformative actions aimed at addressing climate change, and play a key role in meeting the goals of the 2030 Agenda for Sustainable Development and the Paris Agreement.
In today's blog post we will address how cities in Latin America and the Caribbean (LAC) can become global leaders in addressing this problem that, although it has no borders, fully affects the growth and development of our region. Keep reading and don't miss any details!
Why should cities get involved in the fight against climate change?
Well planned and managed, cities, in coordination with national governments, can offer solutions to address climate change and lead the transformations needed to move us towards a more sustainable world.
The 2030 Agenda for Sustainable Development and the Paris Agreement (PA) set out to limit global warming to well below 2, preferably 1.5 degrees Celsius. Despite this, according to some studies, current Nationally Determined Contributions (NDCs) are estimated to result in 2.4 °C warming by 2100.
While national governments are called upon to manage and ensure the reduction of harmful emissions, cities play a key role in achieving climate goals. Why is it necessary to involve local governments in the climate fight? Decision-making at the local level is often more agile than at the national level, so cities can respond in a timely manner to global challenges. In addition, because they are in close contact with local citizens and businesses, subnational governments are often in a better position to influence consumer and producer behavior and implement climate policies at the city level.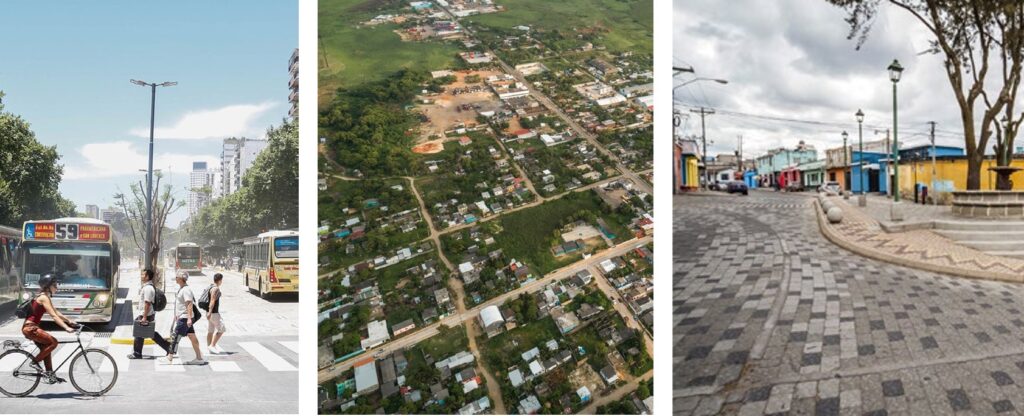 The importance of Latin American and Caribbean cities in addressing climate change
The importance of cities in tackling climate change in our region is undeniable, since they are the main ones affected by its devastating effects. Did you know that 80% of the total losses caused by disasters in LAC occur in urban areas? This is a fact to be taken into account, since climate events and their impacts claimed more than 312,000 lives and affected more than 277 million people in the region between 1998 and 2020.
Addressing this complex problem requires the implementation of mitigation and adaptation measures, regulatory frameworks at all levels of government to ensure the path to sustainability, specific financing and new technologies, in order to design innovative, replicable and scalable solutions. Therefore, cities in our region have a key role to play in leading climate action since many local decisions have a direct impact on the environment, such as:
transportation regulation
building construction
spatial planning
waste management
economic issues by local authorities
Strategies to address climate change at the local level
One of the main challenges of climate action is the vertical integration of NDCs at the subnational level. To advance this agenda, national governments in coordination with cities must promote policies and incentives to ensure that city-level initiatives have sufficient resources, adequate regulatory frameworks, and capacity to achieve meaningful change. The objective of these policies is to contribute, in a joint and coordinated manner, to the achievement of national commitments and global climate and environmental goals. As countries update their NDCs, cities have the opportunity to integrate their climate commitments with those of the national government, which in turn can leverage the proximity of local governments to citizens to increase climate ambition and effective action
Here are some recommendations for improving the localization of NDCs into local action:
Engage city governments in the design and implementation of NDCs, through strengthened dialogue between national and local levels, e.g., through stakeholder consultations.
Incorporate the efforts of city governments in both the development and updating of NDCs and during their implementation
Improve vertical coordination and cooperation between levels of government.
Develop a framework strategy for localizing NDCs with connected support for city governments
Address interlinkages between different agendas (e.g. SDGs, risk management, biodiversity, development plans) and leverage synergies
Establish local climate plans and support local implementation and financing
Strengthening technical capacity and knowledge at the city level, followed by adequate access to finance
Supporting joint efforts for data collection, processing and use
Promote city-to-city collaborations through partnerships and networks for ambitious local climate action, and create opportunities to bring mayors and city leaders together; showcase what other cities are doing; demonstrate how to implement best practices in other metropolitan areas
IDB´s Mayor Forum 2022: from C40 to COP 27
The Inter-American Development Bank (IDB) is working with LAC cities to strengthen their leadership in climate change action. Therefore, the IDB Cities Network will hold the Mayors Forum 2022, within the framework of the C40 World Summit Against Climate Change, which will take place from October 19th to 21th in Buenos Aires, Argentina.

The Mayors Forum 2022 is an invitation to share knowledge, visualize innovative mitigation and adaptation actions, and promote the collaborative work needed to address urban challenges and scale up climate action. It will be attended by nearly 30 mayors of LAC cities and local and international experts, and will address the key role of cities in the fulfillment of the climate commitments established in the framework of the PA.
These are the main objectives of this important meeting for the region:
Strengthen the leadership of LAC cities in climate governance and action through the exchange of knowledge and lessons learned
To make visible innovative climate change adaptation and mitigation actions led by LAC cities, highlighting success stories that can be replicated
Promote collaboration and synergistic work in the region to achieve sustainable growth of cities, facilitating networking, networking and working with the private sector
Share the IDB's work on climate change issues as the region's main partner
Create a space to strengthen the involvement and participation of LAC cities on the road to COP27
In a couple of weeks we will share in a blog post the results of the Mayors Forum. Don't miss it! Until then, we recommend you subscribe here to our newsletter to stay informed of all our blogs, events, and publications.