Este artículo está también disponible en / This post is also available in: Spanish
Latin America and the Caribbean (LAC) has been making progress in the development of the thematic bond market. This should not be a surprise, since green and social bonds, in addition to being a financial debt instrument that contributes to sustainable and inclusive development in the region, provide an excellent opportunity for investors to mobilize resources for initiatives with positive environmental and social impacts.
Cities have the potential to implement sustainable financial instruments in compliance with international sustainability standards and their own conditions for accessing the debt market. Do you want to know how green and social bonds can become an option for financing sustainable and inclusive projects in your city? Don't miss this article, where we will answer some of the most common questions for those interested in better understanding their importance and impact. Thanks to the technical assistance in Colombia and in the region that has been supported by the IDB with resources from the Swiss Cooperation -SECO-, it has been confirmed that there is a relevant and unexplored potential in these sustainable financial instruments, particularly by cities and municipalities despite the development of this type of financial instruments in the country in recent years.
What are green and social bonds?
Green and social bonds are financial debt instruments used to raise funds specifically for projects with concrete environmental or social objectives, aligned with the principles of the International Capital Markets Association (ICMA):
Green bonds are dedicated to financing environmentally sustainable initiatives, such as renewable energy projects or sustainable infrastructure, among others.
Social bonds address or mitigate social issues to benefit clearly identified vulnerable populations. They address problems such as poverty reduction, access to basic and essential services, and include cross-cutting issues such as closing gender gaps.
Illustration 1: Sustainable bond markets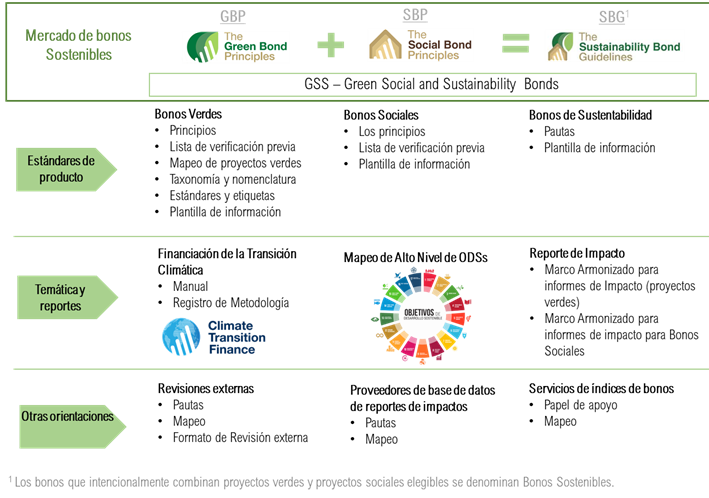 How are these bonds issued in Colombia?
In Colombia there is a broad regulatory framework for the issuance of green and social bonds, which for public issuers is governed in any case by the regulatory framework for the issuance of public debt bonds in compliance with Public Credit rules. Municipalities may issue thematic bonds backed by their general borrowing capacity, which could finance various initiatives defined as priorities by the municipality. Alternatively, bonds can be issued through decentralized municipal entities specifically to finance public infrastructure projects.
Illustration 2: Phases of Green Bond Issuance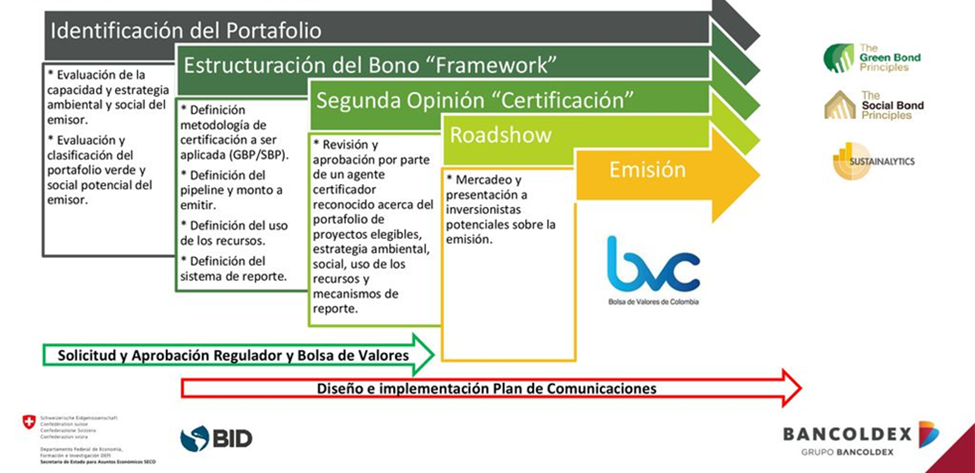 What are the categories of green bonds in Colombia?
Green bonds are classified according to the specific environmental objectives they seek to achieve. Some of the main categories developed in Colombia's green issues include:
Clean and sustainable transportation
Sustainable and climate change adapted agriculture
Ecosystem services and biodiversity conservation
Waste management and circular economy
Climate change-related disaster risk management
Environmentally sustainable construction
Non-conventional energies
Energy efficiency and connectivity
How does the taxonomy of green bonds work in Colombia?
Colombia is the first country in the region to design a green bond taxonomy that classifies investments and economic activities according to their significant contribution to the country's environmental objectives. In this way, Colombian issuers have an additional tool that constitutes a useful classification system for the process of identifying project eligibility in areas of mitigation and adaptation in eight sectors of the economy: energy, construction, transportation, waste management and emissions capture, water supply and treatment, livestock, agriculture and forestry.
What areas do social bonds focus on in Colombia?
Social bonds address a wide range of social challenges associated with Colombia's most vulnerable populations and where there are important gaps to address in order to contribute to the closing of gaps and the development of a sustainable economy. The social categories that have been developed in the Colombian social bond market focus on:
Poverty reduction
Reduction of social inequalities
Quality and access to basic services such as health and education
Promotion of peace
Promotion of productivity and competitiveness
Food security
Access to basic services and decent housing
Empowerment of women and girls to close gender gaps, as a cross-cutting theme in many cases
Social bonds play a fundamental role in the creation of a fairer and more inclusive society, by improving the welfare of vulnerable communities and enabling the socioeconomic advancement of the country.
Illustration 3 Population classification Sisbén IV

Conclusion:
Green and social bonds have become a powerful tool for financing sustainable and inclusive development in LAC.
In Colombia, its regulatory framework and technical references for green and social eligibility criteria enhance opportunities to scale and replicate the use of this type of sustainable and inclusive financial instruments by other public issuers, such as municipalities and cities. The IDB has been supporting potential new issuers to advance in their sustainable agenda through technical assistance in a joint work with specialized technical teams. Technical assistance to different issuers in Colombia and the region, which has been supported by the Swiss Cooperation-SECO, has shown the potential and opportunity for cities to adopt the development of thematic bonds as sustainable financing mechanisms, aligning projects to international market standards and best practices.
Thus, there is still ample room to develop the thematic bond market in this country, committing resources to projects specific to the issuing region, with a positive environmental impact and/or a contribution to closing gaps in the country's social problems that benefit the most vulnerable population. With clear categories and a well-defined taxonomy, Colombia continues to pave the way towards a sustainable financial ecosystem that aligns economic growth with the country's environmental and social priorities.
As LAC cities adopt bonds as a financing mechanism, the resource mobilization opportunities of green and social bonds will amplify the positive effects on different sectors of the economy, contributing to a greener and more inclusive society. The Housing and Urban Development Division and the Connectivity, Markets and Finance Division of the IDB will be happy to work together to support your city with technical advice to these types of financing initiatives. In the meantime, we invite you to follow us on LinkedIn, Facebook and Twitter so you don't miss any updates on these topics.