"Time is a promise and memories are a promise," are wise words from Haitian American artist Charles Jean-Pierre as he reflects on the meaning behind his latest art exhibit in Washington D.C.
Future Memories: Exploring the Diasporic Imagination II, the title of the exhibit running February 12 to March 27, 2020 at the IDB's Staff Association Art Gallery, was inspired by Jean-Pierre's travels around the world, books written by authors from or descended from the Latin American and Caribbean region, and his quest to piece together his own identity. Future Memories II is divided into two main themes: People and Place.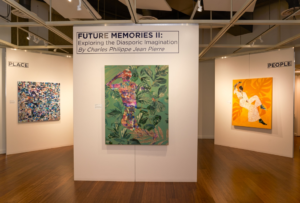 Future Memories II as the name suggests, is the follow-up to a previous exhibit that was showcased at the Haitian embassy in Washington D.C. Future Memories I dealt more with the artist's personal struggles and advancements as he filled in the gaps of his Haitian identity, while Future Memories II is an outward look at the region and how that also shapes his identity as well as that of the region.
Future Memories II was curated specially in celebration of Black History Month at the request of the IDB's Afro-Descendant Alliance Group (ADAG). ADAG, one of three Employee Resource Groups (ERGs) of the IDB, is an internal network that seeks to foster awareness of the ethnic and racial diversity of the Bank's member countries.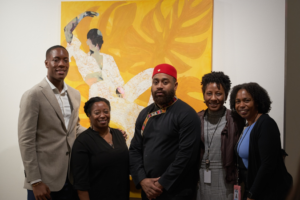 The exhibit recognizes literature's immersive quality, in that books allow us to expand our imagination and even create new memories. "These authors have helped create this pan-Caribbean-Latin American identity for me," affirms Jean-Pierre. He explains more in-depth about his journey to find and understand his identity as well as his observations about the inclusiveness of the Diaspora in the cities they live in, in our Improving Lives story Toward the Inclusive City Through Art.
The literature works that inspired the exhibit include: 'The Brief Wondrous Life of Oscar Wao'  (Junot Diaz),  'Breath, Eyes, Memory' (Edwidge Danticat), 'Black Skin, White Mask' (Franz Fanon), 'Autobiography of My Mother' (Jamaica Kincaid), 'The Fire on High' (Elizabeth Acevedo), 'Bad Feminist' (Roxane Gay),  'Sister Outsider' (Audre Lorde), 'A Brief History of Seven Killings' (Marlon James), 'The Black Jacobins' (C.L.R. James) 'City of God' (Paolo Lins) and the recently published 'Dear Haiti: You're Not Who They Think You Are' (Martine Harris). Harris will in fact discuss her new book at an upcoming Book Talk that will close this art exhibit.
Jean-Pierre further explains that while spending time in the countries where these novels unfold is important, "reading books about those places gives you a context that you'll never have, that you won't be able to have. It's like having a conversation with an author or with an insider right from that context, from that lens." The memories and experiences of these authors expanded his view and imagination of what the Caribbean and Latin America is and can be. "It does it better than an Instagram post. Literature does it better than a documentary. Literature does it better than a photo or postcard or a 2-hour conversation."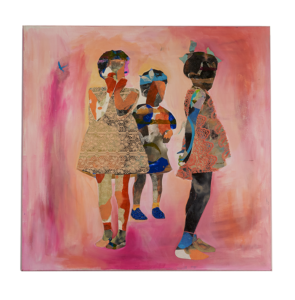 Jean-Pierre is a U.S. State Department Art in Embassies Artist.  His work is in the permanent collection of the U.S. Embassy in Cotonou, Benin and the new U.S. Embassy in Niamey, Niger. He has participated in two Smithsonian exhibitions and has been invited by the White House to speak on the role of the arts in youth justice. He has curated two exhibitions at the Embassy of Haiti and has been commissioned to create works for the International Monetary Fund and the Inter-American Development Bank. Jean-Pierre has created public art in Cape Town, Pretoria South Africa, New York, Chicago, DC, Istanbul, Panama, Port-au-Prince, London, and Paris.  Jean-Pierre holds a Master of Arts from Howard University. Jean Pierre has studios at STABLE Arts DC and 52 O St Studios in Washington DC.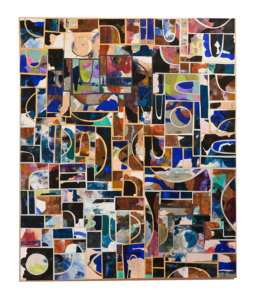 If you get the chance, be sure to check out the Future Memories II art exhibit on now at the IDB Staff Association Art Gallery in Washington D.C. until March 27, 2020.