On May 28, IDB President Luis Alberto Moreno hosted an event with Lord Nicolas Stern, professor at the London School of Economics and Political Science, on the importance of climate change policy and what a sustainable recovery from the pandemic could look like.
In his introduction, President Moreno said that despite the very difficult challenges countries face to protect citizens from the pandemic and restart their economies, we must also look ahead. The challenge will not only be to get back to growth but how to meet the Sustainable Development Goals and the objectives of the Paris Agreement.
Lord Stern recently co-authored a paper, which found that that long-term climate friendly stimulus policies are often superior in overall economic impact while simultaneously tackling the climate crisis. Here we provide four key takeaways from Lord Stern's remarks during the event.
Let's not downplay the magnitude of the pandemic crisis and risk of a global depression
Stern commented that the Bank of England reported that Britain is experiencing its deepest recession since 1706.  Our current situation is not like the global financial crisis 12 years, which primarily hit developed countries. The pandemic crisis is deeper and global with major health and economic impacts everywhere. Given the grave risk of a global depression, we must act quickly in a way that recognizes that danger and act strongly and in the right way to build a better future. If we fail to act the fall out could be very damaging.
The ill thought out response to troop demobilization following World War 1 combined with punitive measures against Germany lay the foundations for a nationalist response and ultimately the rise of fascism. Trying to restore the status quo and doing it badly can have terrible consequences. This contrasts with the end of the Second World War and the birth of the Bretton Woods institutions, the UN system, the Universal Declaration of Human Rights, which formed the basis for multilateralism last century.
The history of pandemics shows that we have a choice on how we respond to these crises. In this case, we should not be overly confident about how quickly we can bounce back given the scale of the challenges. Instead we must drive back with strong action.
We must not go back to the pre-pandemic world
Stern stressed that we must commit ourselves to not go back. The pre-pandemic world was a very dangerous place. It was fragile to economic crisis with vulnerable means of production and supply chains. Inequality and lack of inclusion was not only immoral but threatened the social fabric.
Our destructive relationship with nature and climate change has also made society more vulnerable and made pandemics one more likely as zoonoses become more frequent. We must not go back and resist those urging a rapid return to the old normal, which in many ways was the problem in the first place.
The path out of this crisis is through sustainable economic growth not austerity
Lord Stern went on to comment that the path out of this crisis is through economic growth not replaying the broken record of austerity. We need to take our time to rebuild public finances. We must finance the recovery and not attempt to bring down debt too quickly. Bringing down debt to GDP ratios slowly over the long-term is preferable to rapidly reducing them. We need to be careful with public finances and try not to reduce debt too quickly which will prevent growth. International financial institutions are going to be extremely important given the loss of confidence and liquidity. Regional development banks like the IDB can play an important role in financing the recovery. We need investment finance vehicles to push in a counter-cyclical way.
A sustainable recovery can restart economies faster while tackling other problems
Lastly, Stern said that a better future is possible where we can move and breath clean air in our cities and that ecosystems are healthy. The evidence clearly shows that long-term climate friendly stimulus policies can be very effective and support a rapid recovery, create jobs and lead to greater investment and innovation. A growing body of evidence and national experiences such as the expansion of renewable energy, efforts to reduce deforestation and promote electric mobility show that there is no trade-off between growth and a sustainable economy.
This should be the focus of the recovery today and beyond. We can retrofit buildings, make cities more friendly for walking and cycling, restore and protect forests, natural capital and ensure sound water management. This is the basis for decarbonization and resilience. If we go forward sustainably then this can create a more positive and attractive future. It can also help to rebuild social capital, cohesion and faith in democratic societies. For this to happen we need strong action, clear ideas and leadership.
Time to reboot?
Following these remarks President Moreno and Lord Stern held a discussion and fielded questions from the audience. The conversation touched upon issues such as strong global public support for a sustainable recovery, the need for greater transparency by financial institutions about their climate risks, tourism in the Caribbean, nature-based solutions, youth mobilization, stranded assets, country plans to achieve net-zero emissions, sustainable transport and mass transit, and the removal of fossil fuel subsidies and the creation of carbon taxes.
Finally, Lord Stern reflected on how quickly countries brought in lockdowns and put together vast rescue packages for workers unable to earn an income, which in calmer times would seem unfathomable. This period has reminded us of our common humanity and that everyone is vulnerable to the disease. It has also shown us the immense value of our health care systems, essential workers and clean air. The world can build a better future. It is time to start now.
Watch the full recording here.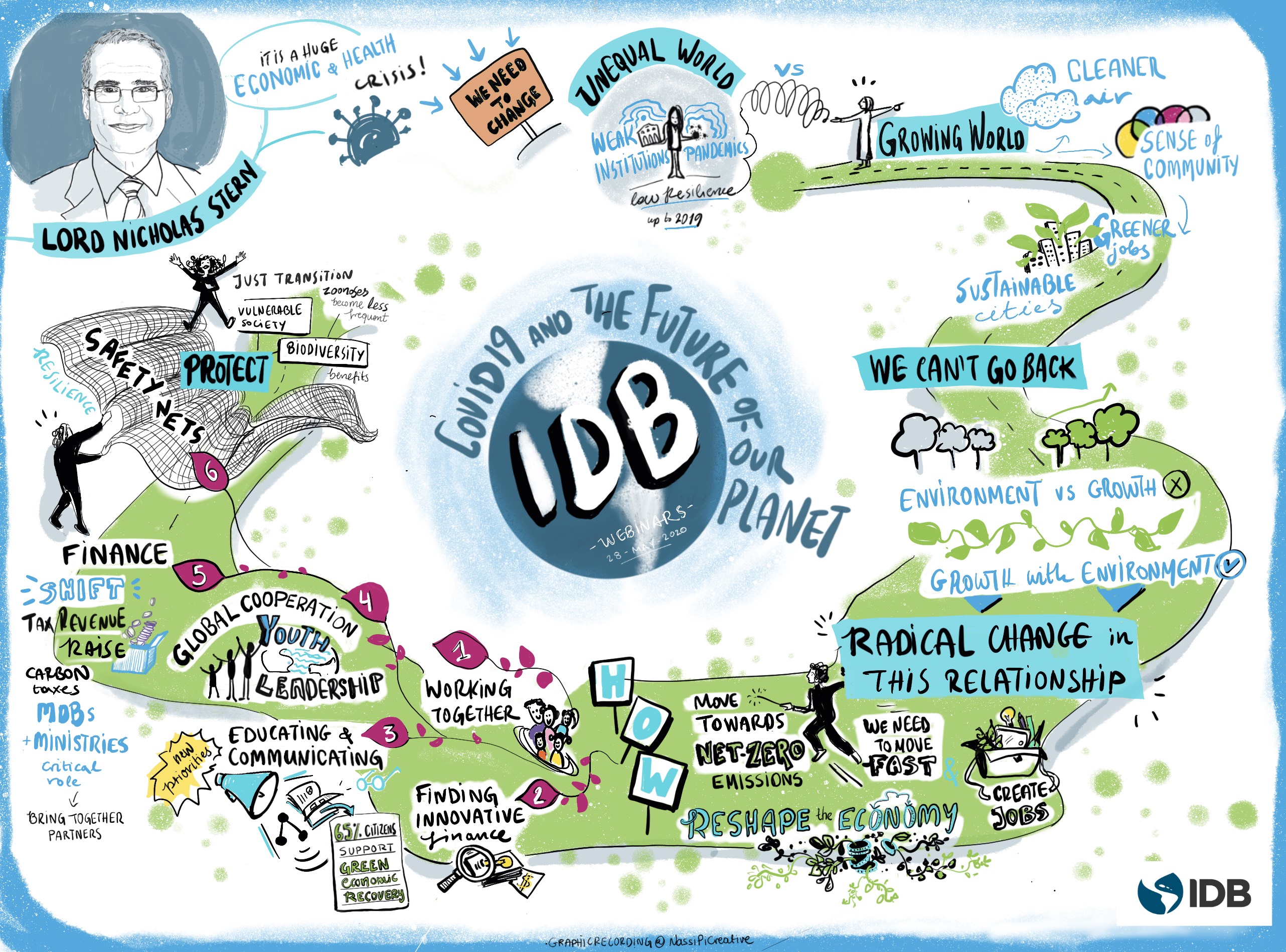 With thanks to Athanasia Panagiotidi and Catalina Aguiar for producing this infographic.
Download infographic
Further reading
Getting to Net-Zero Emissions: Lessons from Latin America and the Caribbean
Climate Risk and Financial Systems of Latin America: Regulatory, Supervisory and Industry Practices in the Region and Beyond
Nature-based Solutions: Scaling Private Sector Uptake for Climate Resilient Infrastructure in Latin America and the Caribbean
NDC Invest Annual 2019 Overview 
Follow us on Twitter: @BIDcambioclima
Primary photo by Mike Swigunski