Tobago is renowned for its sandy beaches, great weather, beautiful tropical landscapes, and friendly people. But the island is also home to transcendent nature-based assets such as the internationally known Buccoo Reef and the Tobago Main Ridge Forest Reserve, the oldest legally protected forest reserve in the western hemisphere. All of these characteristics will be key to a successful sustainable, and resilient post-COVID-19 recovery.
The island has a small economy dependent on the services sector, in which tourism accounts for about 12% of its GDP. Other predominant sectors are Finance, Insurance, Real Estate and Business Services (25%) and Government (45%). Agriculture, which includes the fisheries sector, only accounts for roughly 1% of the economy.
Forecasted impacts of Climate change in Tobago
Trinidad and Tobago's high could experience increased annual mean temperatures between 2°C and 2.1°C. It is also very likely that by 2050, the average annual rainfall will have decreased from the current 2000 millimeters and that wet and dry seasons will become drier. Finally, the sea level is expected to rise from 62 cm to 1.15 m by 2100.
The economy of the island as it's typical of island economies is at risk to the impacts of climate change and is also experiencing challenges related to deforestation, land-based and marine pollution, increased sedimentation and declining coastal water quality, and the influx of sargassum and invasive species such as lionfish.
In addition, the COVID-19 pandemic has tested the resilience of the society and the economy in Tobago. Safety measures such as lockdowns, social distancing, and travel bans have interrupted labor supply and demand, significantly reducing production, disrupting supply chains, and jeopardizing economic growth.
The outcome has been difficult. According to a survey undertaken by the IDB for Trinidad and Tobago, the most real economic consequences of the pandemic have been the loss of jobs and, hence, income. At least 70% of the households reported income loss in the second quarter of 2020, and more than 66% of low-income households were impacted by employment loss. Also, more than 55% of businesses have had to close due to government restrictions or lack of demand.
The solution lies in the oceans
To prompt an economic recovery from the coronavirus crisis, address the inherent socio-economic challenges of a Small Island Developing State (SIDS), and align with local development strategies, Tobago is rethinking using its marine and coastal resources.
In light of this scenario, decision-makers and the community have turned their attention to oceans and coastal ecosystems since they can provide an avenue for economic recovery and transformation of the local economy. The Blue Economy offers an island or coastal state great opportunities to rethink and harness its ocean and coastal resources sustainably and leverage its services beyond traditional business models and economic sectors. This approach allows for diversification into emerging ocean-based activities and sectors and generates employment and growth while ensuring sustainable and socially inclusive ocean resources use.
Mainstreaming this approach could include establishing and consolidating ocean-based industries in Tobago beyond those of fisheries and tourism. It also opens many opportunities to explore and establish innovative economic sectors aligned with innovation and digital transformation. The opportunities are vast, from biotechnology to marine services and the circular management of waste. With the economic diversification and dynamization prompted by the Blue Economy, Tobago is expected to foster the inclusion of all societal groups.
Several steps have been identified that are needed to create a Blue Economy framework, namely: (i) setting clear targets; (ii) creating economic and policy frameworks that provide an enabling environment for the Blue Economy to develop; (iii) effectively governing the use of marine space and resources; and (iv) developing and applying standards, guidelines, and best practices that support a Sustainable Blue Economy. The inclusion of sustainability in these steps is a key critical element to have a viable, environmentally conscious, and socially inclusive Blue Economy.
Tobago is working to boost its Blue Economy
Tobago is pioneering the mainstreaming of this innovative approach with support from the IDB. This collaborative work aims to support stakeholders from the public and private sectors in Tobago in mainstreaming the Blue Economy in the context of post-COVID-19 pandemic economic recovery and climate change resilience enhancement. Current efforts seek to generate inputs for informed decision-making to create an environment for economic inclusion, innovation, and diversification following the Blue Economy approach.
Tobago is generating the necessary resources to fill data and information gaps to guide interventions with the highest post-COVID-19 recovery impact regarding the provision of support for the growth of public, private, and hybrid initiatives. Investment opportunities are being identified to support decision-makers promote economic diversification and development in response to the pandemic's effects in alignment with the Blue Economy approach.
Also, best practices, approaches, and capacities required to design and execute Blue Economy ventures for relevant stakeholders are being addressed, with the expected result of enhancing the inclusion, empowerment, and capacities of diverse groups, especially of women and at-risk youth, in the process of mainstreaming the Blue Economy.
Stakeholders such as the local government, academia, community groups, and local entrepreneurs have already shown their interest in embarking on this journey to unlock the Blue Economy.
Together with other islands in the Caribbean with vast ocean and coastal resources, such as the Bahamas, Belize, and Barbados, Tobago is showing others the way towards a regional paradigm shift that will benefit societies in terms of economic recovery and climate change mitigation, and resilience enhancement.
Stay tuned as we witness the blue transformation in Tobago. The IDB will certainly be ready to continue supporting our clients to leverage their blue capital to move onto more sustainable and inclusive development trajectories.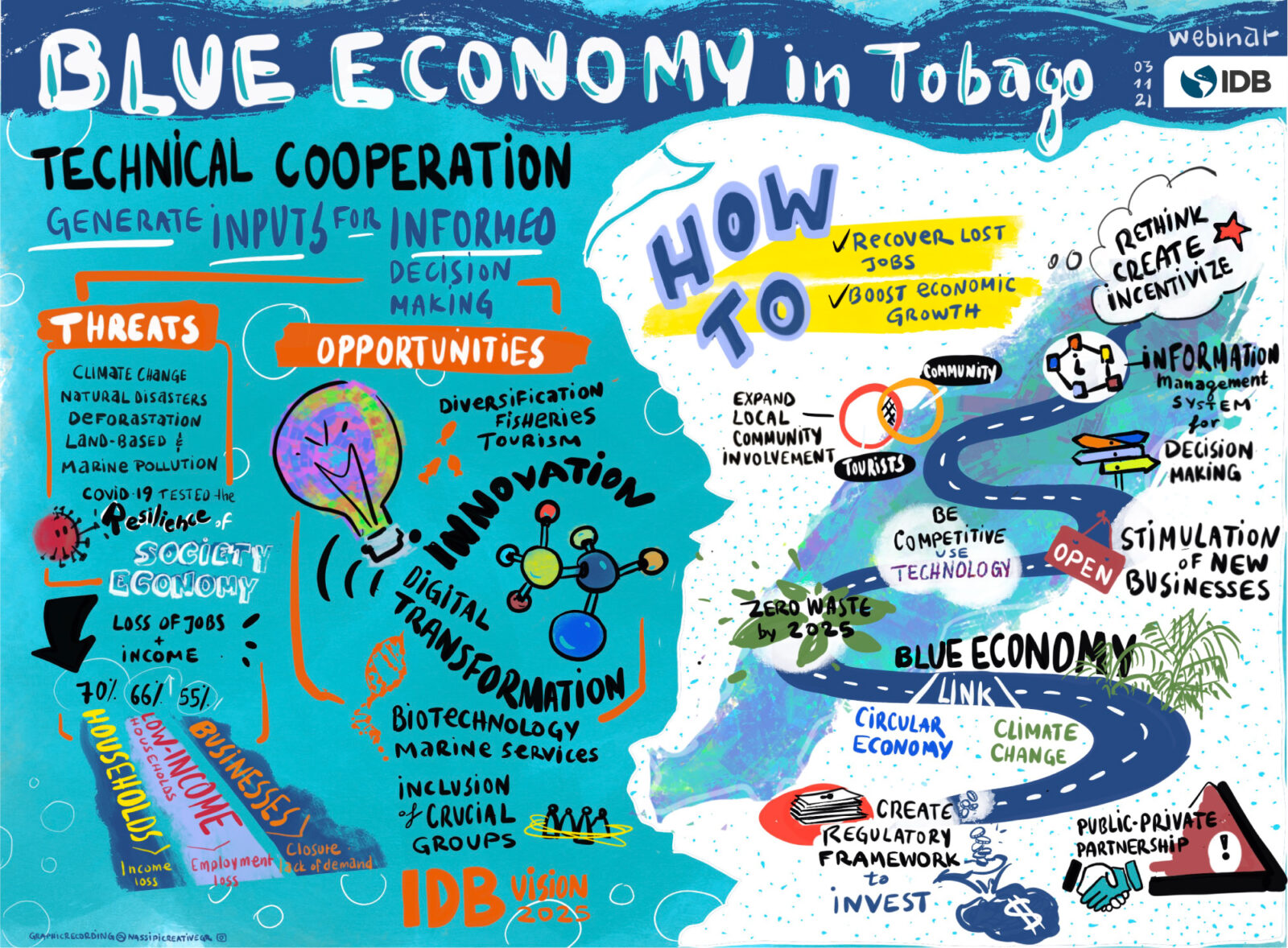 Further reading:
The Caribbean can make waves with a blue ocean economy
Can the Blue Economy spark a sustainable and inclusive recovery in the Caribbean?
Photo: Adobe Stock