Lupine (botanical name Lupinus mutabilis) is an edible plant that has been cultivated for centuries in the high Andes of South America; it is also known as lupine, chocho, tarwi or altramuz. Its impressive characteristics have been little disclosed, for example, its protein content reaches 47.7%, higher than the vast majority of legumes and the crop is able to enrich soils by fixing between 160 and 200 kg of nitrogen per hectare. A disadvantage is the need to remove the alkaloids contained in the seeds by means of washing and soaking, however, the genetic improvement currently carried out by several countries should allow for "sweet" varieties to become widely available.
The crop has enormous potential, no doubt comparable to the phenomenon that reached quinoa worldwide. It is an excellent food for humans and animals. For example, in Chile the protein for salmon feed has the potential to be replaced by lupine. When promoting the use of lupine at a global level, it is worth considering the protection of the new genotypes and technologies developed by the Andean countries and thus channeling benefits and royalties to the original communities of these countries.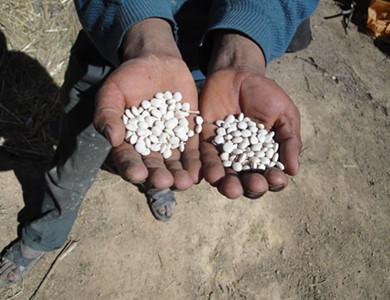 Grains of L. mutabilis harvested in the high Andean region
Photo: FONTAGRO
These "forgotten" Andean crops were the subject of a project initially promoted by the Regional Fund for Agricultural Technology (FONTAGRO) to develop technological innovations and strengthen the resilience of productive systems through the insertion of lupine and thus contributing to improve the livelihoods of Farmers.
The project was carried out by experts from Bolivia, Chile and Ecuador through the participation of the PROINPA Foundation of Bolivia, the Institute of Agricultural Research (INIA) of Chile, and the National Autonomous Institute of Agricultural Research (INIAP) of Ecuador. It was framed in a base project called "Mechanisms and Networks for Transfer of Climate Change Technologies in Latin America and the Caribbean (LAC)".
To strengthen the steps taken, in addition to the aforementioned agencies, the National Institute of Agricultural and Forestry Innovation (INIAF) of Bolivia was integrated into the initiative. The support of the Inter-American Development Bank (IDB) and resources of the Global Environment Facility (GEF) allowed the development of a roadmap for increasing the production and processing of several lupine species. The publication considers the context and objectives of the initiative, the obstacles to be resolved and the recommended actions.
Publication available in Spanish.
If interested, more information is available via secretaria-ftg@IADB.ORG.
Photo copyright: FONTAGRO