The Caribbean islands are among the 25 most-vulnerable nations in terms of climate-related disasters per capita or land area, and climate change is only expected to worsen this scenario. Only in 2020, there were 13 hurricanes in the Atlantic, second highest on record. In addition to human lives losses, these disasters take a deep toll on economic growth: in 2019, hurricane Dorian caused in the Bahamas approximately US$2.5 billion in losses, while in 2017, Maria, caused in Dominica almost US$1.0 billion in losses.
The IDB is committed to finding solutions for a more resilient infrastructure in the region and recently commissioned three reports to have a better understanding of the problem and potential solutions. The studies are published as part of the Series Building a more Resilient and Low-Carbon Caribbean. The First Report focuses on assessing the climate resiliency of buildings in the Caribbean, suggesting that those countries where certain resilient materials are more often used in constructions (such as cement walls, improved roof joints, etc.) do, indeed, have fewer losses caused by hurricanes and other climate-related events.
Climate events drag the ability of Caribbean countries to invest in infrastructure and social programs
The economic impact of climate events in the region is among the highest in the world, accounting for an average annual loss (defined as the expected loss per annum associated with the occurrence of climate events) of almost 2% of the infrastructure capital stock of the countries. In some countries, such as the Bahamas, that figure reaches 5%.
This impact is so relevant, that it implies that Caribbean countries would need, on average, to fully replace their infrastructure capital stock every 50 years due to climate events, with countries at the higher end that would need to do so every 20 years—well below the expected useable life of most infrastructure!
How can Caribbean Countries invest in social programs or new projects if they need to direct their efforts into rebuilding their entire capital stock every 20 to 50 years?!
The loss caused by climate events, besides the human impact it has, drags the ability of the Caribbean countries to invest in infrastructure and social programs, contributing to slower productivity growth, poorer health outcomes, and lower standards of living.
The IDB study sought to examine which sector was impacted the most every time a hurricane hits. The housing sector concentrates almost half of the total losses when compared with other sectors such as education, health, and energy & telecommunication, among others.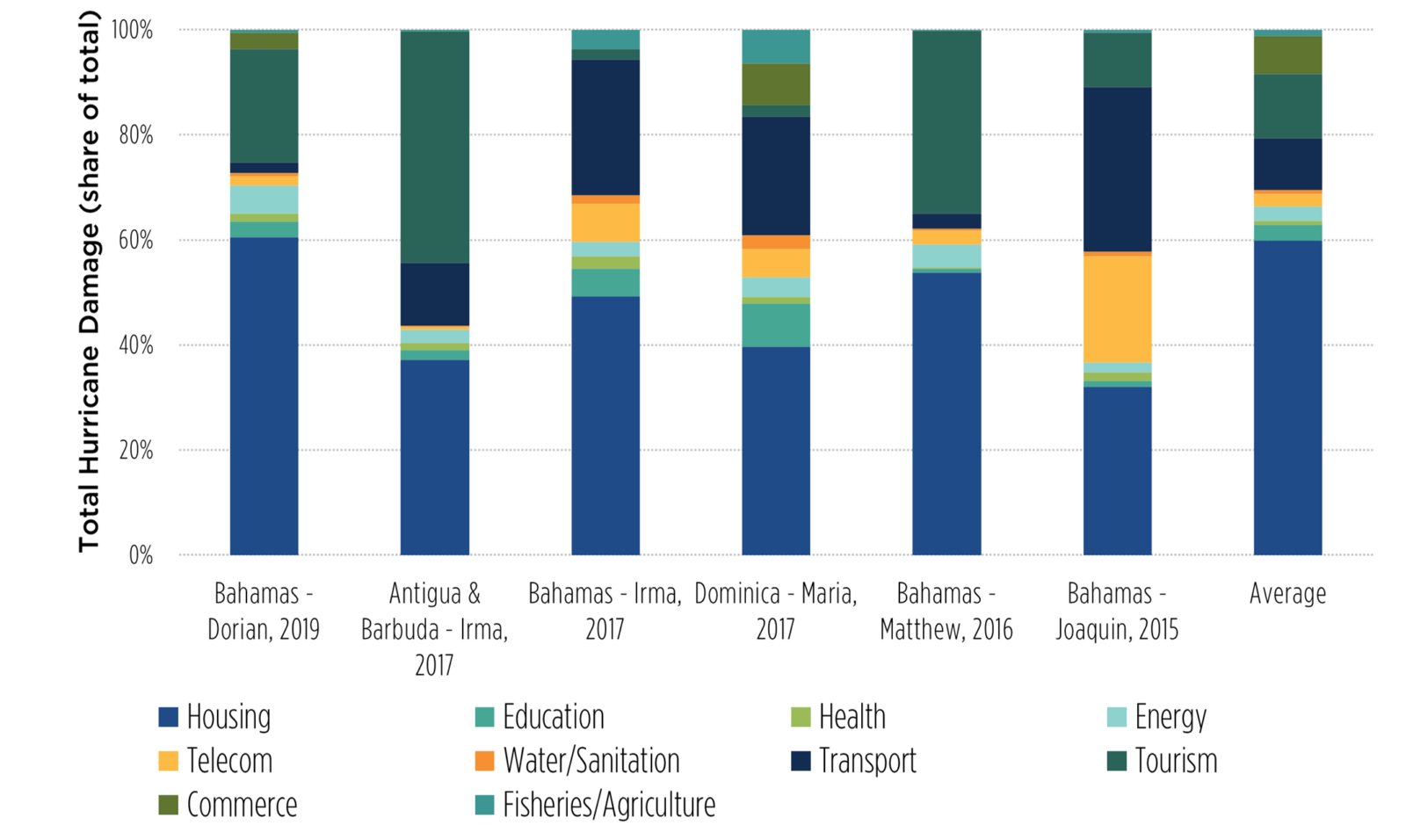 Countries with a higher share of concrete outer walls and roofs are, indeed, more resilient against climate events
Further analyzing the main causes of such losses within a building structure, the study points out poor roof-wall connections and light wall and roof materials, which can cause water infiltration when confronted with strong wind, with devastating effects on furniture, equipment, and supplies.
The study continues by demonstrating that those countries where resilient materials, such as concrete and stone for outer walls and concrete and metals for roofs are more common, perform better against climate impact and have smaller overall economic losses.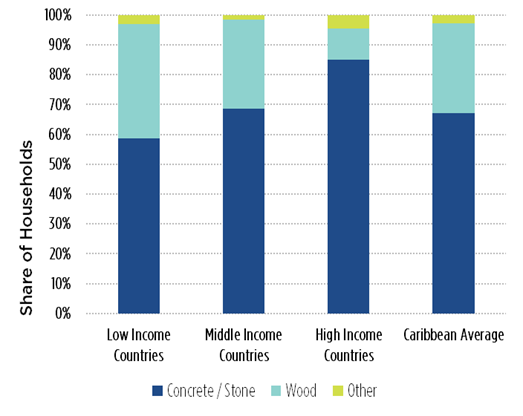 Throughout the Caribbean, outer walls are built with resilient materials such as concrete and stone in 67% of all dwellings, with wood in 30% and with other materials in just 3%, with the share of dwellings made of concrete and stone increasing with average income (in Low-income countries the share averages is 59%, rising to 69% in middle-income countries, and 85% in high-income countries).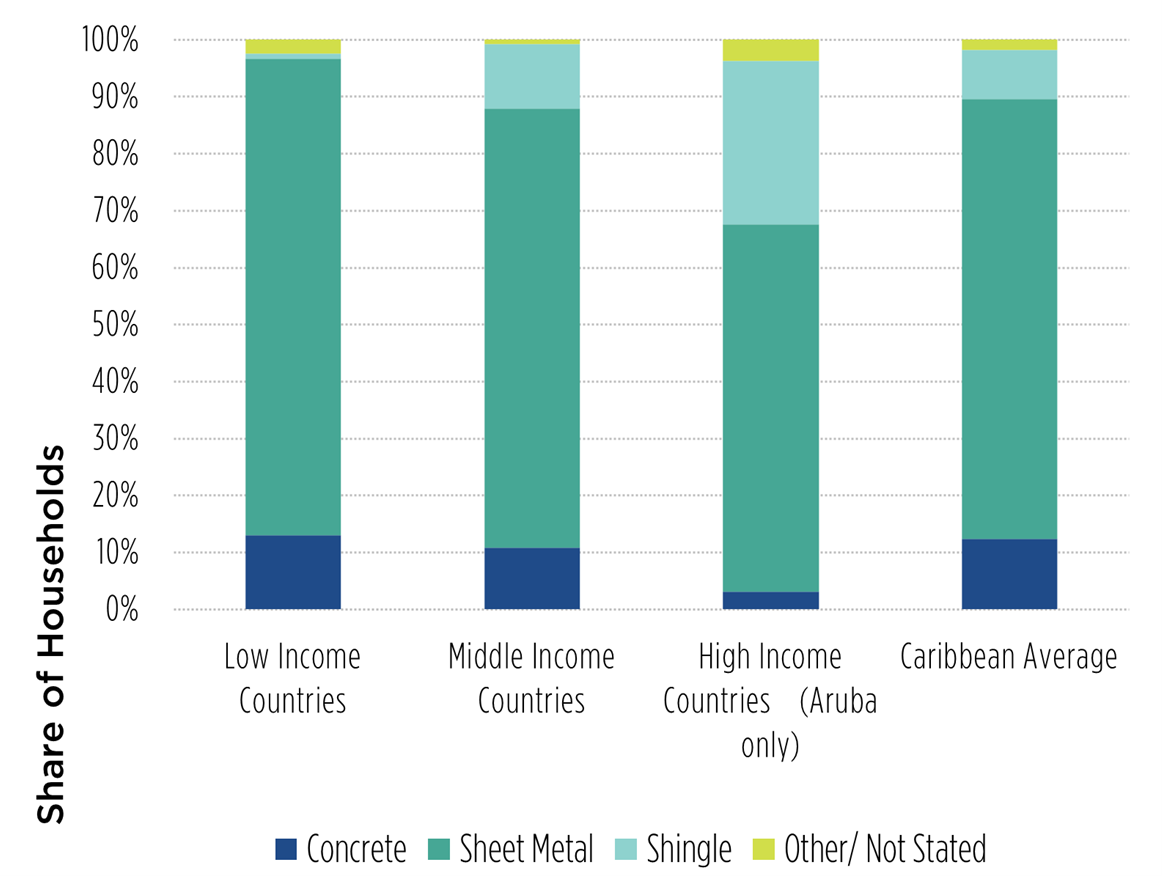 Roofs are built with concrete and metal in 90% of all dwellings buildings (with sheet metal alone accounting for 77% of the total), with shingles in 9% of cases, and with other materials in just 1%. The share of dwellings roofed with concrete and steel decreases with average income (in Low-income countries, the share averages 97%, falling to 88% in middle-income countries, and to 68% in high-income countries.
When comparing countries with similar locations, such as Montserrat and Antigua & Barbuda, St. Vincent & the Grenadines and Grenada; Anguilla and the British Virgin Islands; the Dominican Republic and Jamaica, it is observed that countries where residential buildings have higher use of resilient materials, such as concrete for the outer walls and roofs, present lower annual average loss (AAL) levels. For example, Monserrat, with 71.1% of concrete in outer walls, has a lower AAL (2.27%), compared to that of Antigua & Barbuda (3.26%), with 39.8% of concrete in outer walls.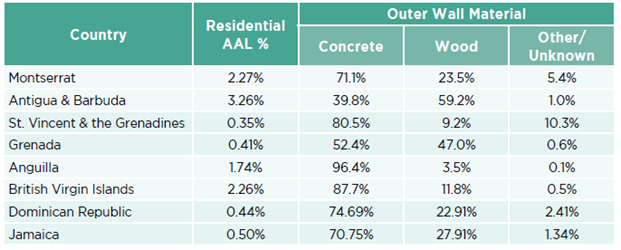 How to improve building resiliency in the Caribbean? Start improving the materials of outer walls and roofs!
The analysis suggests that using resilient materials in outer walls and roofs in Caribbean buildings could significantly reduce the region's vulnerability to hurricanes and other climate impacts, especially within the housing sector. And it is also economically beneficial for many building typologies.
In the context of high vulnerability, investing in more resilient infrastructure could help Caribbean countries generate long-term savings and increase the region's preparedness to the impacts of climate change.
Do you want to know more? Download our last publications Report 1: Climate Resiliency and Building Materials in the Caribbean and keep posted for the next entries!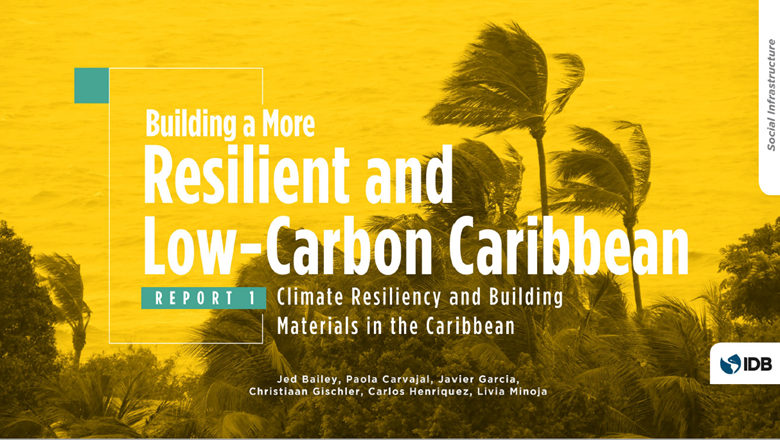 Photo: Adobe Stock