Mesoamerica is an isthmus land sandwiched between the Pacific and the Caribbean Sea, a world away from where the Gates Foundation focuses most of its attention. It is a socio-cultural region with a rich history that runs through Panama, Costa Rica, Nicaragua, Honduras, El Salvador, Guatemala, Belize, and Chiapas, MX. Much of the terrain here is rugged, mountainous, and lush – difficult to navigate outside urban centers. By some measures, Mesoamerica is doing well. But national averages mask some of the highest inequality in the world, including in health. Here, indigenous women have been 3x more likely to die in the perinatal period, the poorest adolescents are 3-4x more likely to become pregnant, children of uneducated mothers are 3x more likely to die by the age of one.
But things have begun to turn around, thanks partly to the Salud Mesoamerica Initiative (SMI). As a novel public-private partnership model to improve communities and the world SMI was recently awarded the U.S. State Department's P3 Impact Award. Since SMI launched in Mesoamerica's poorest regions we have seen:
preventative PHC visits increased by 35% in El Salvador – while reducing hospitalization by 12%
hospital births increase from 76% to 90% in Honduras (surpassing national average of 83%)
adolescent fertility rates declined by 11.4% in Costa Rica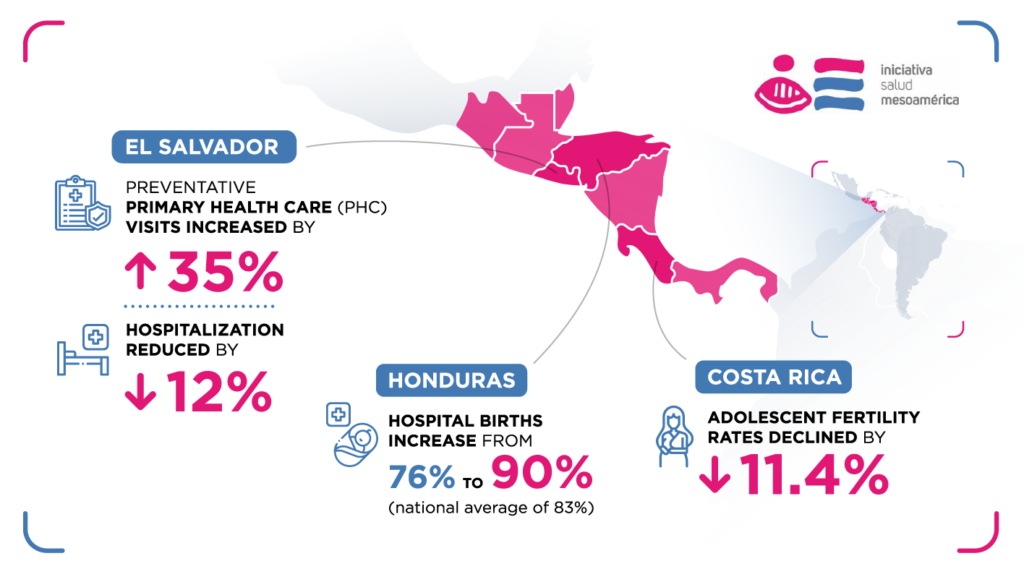 SMI was launched in partnership with national governments nearly a decade ago to close this health equity gap, spur political will to act, and to build capacity within the health systems to sustain improvements. The initiative also serves as a learning lab, experimenting with a new approach to development. Central elements of the design are (1) delivering essential PHC interventions in the poorest 20% of municipalities using (2) results-based investing built on (3) robust measurement and (4) an adaptive technical assistance approach that includes principles of responsive feedback and reimagining technical assistance.
​​​​​​​SMI ends within the next year. While we don't know if the gains will be sustained, early signs look positive. Multiple countries have begun to scale interventions from SMI municipalities nationwide using domestic resources. Some programs ended in 2018, yet they have continued implementation, again with domestic resources and in-kind support from the InterAmerican Development Bank (e.g., Chiapas, MX). We've also seen the SMI model exported to other geographies like Paraguay and replicated for other development topics (e.g. Education, Malaria).
The basic theory of the design was simple, if not a bit radical. It went like this: if we can align on goals with targets, create simple incentives and a good measurement system, then maybe a donor can step back from implementation and delegate more to local partners to figure it out. The donors did not have local offices, did not manage government relationships, did not hire and direct technical assistance, did not fly in and out on country missions. As the Program Officer overseeing SMI for the Gates Foundation, this caused deep anxiety for me – because doing this job well meant not behaving like a typical foundation officer. Instead, my job was to maintain the structure, block and tackle for the grantee, and provide hands-off support from a distance.
​​​​​​​What does SMI have to do with decolonizing global health?
Many of us have been following the debate over decolonizing global health, and if you're like me, you may be drawn to the values, yet stymied by what to do. SMI was not designed with this agenda in mind, but it has yielded lessons that might shed light on a path forward. The four design elements each played a part in its success, but measurement and flexible technical assistance (TA) may be especially relevant. Strong measurement can show funders (domestic or donor) if they're getting a return on investment and show implementers (government or local partners) if they're on track or need to course correct. It can also create reputational effects that influence political will. Flexible TA delegates the authority and gives autonomy to those implementers to set priorities, define problems, and find solutions. SMI helped create conditions that allowed donors to agree on targets, then cede control to those on the ground. As SMI winds down next year, we have an opportunity to continue leveraging this learning lab, not only for lessons on achieving impact, but how to embed our values of justice and empowerment in the process.
---
About Salud Mesoamerica and IDB

The Salud Mesoamerica Initiative (SMI) is a public-private partnership between the Inter-American Development Bank (IDB), the Bill & Melinda Gates Foundation, the Carlos Slim Foundation, the Governments of Canada and Spain, and eight Mesoamerica countries. IDB is the general administrator of the Salud Mesoamerica multi-donor Trust Fund. IDB manages the provision of technical, financial and administrative support to countries to implement the results-based financing model and the interventions to improve health outcomes of 1.8m women and children of Mesoamerica. Find more information in this video.
Do you know other initiatives similar to Salud Mesoamerica? Leave us a comment